Decor & Renovation
10 Things to Spruce up your Outdoor Space this Season
Cerca Striped U-Shaped 6-Piece Outdoor SECTIONAL SOFA with Ottomans, $6,594, Granada Garden STOOL in Black, $369, Onslow TRAY,
$70, crateandbarrel.ca.
Decor & Renovation
10 Things to Spruce up your Outdoor Space this Season
Privacy screens, comfy seating, colourful acces-sories, storage solutions—we've got everything you need to spruce up your outdoor space this season.
GET SERIOUS ABOUT LOUNGING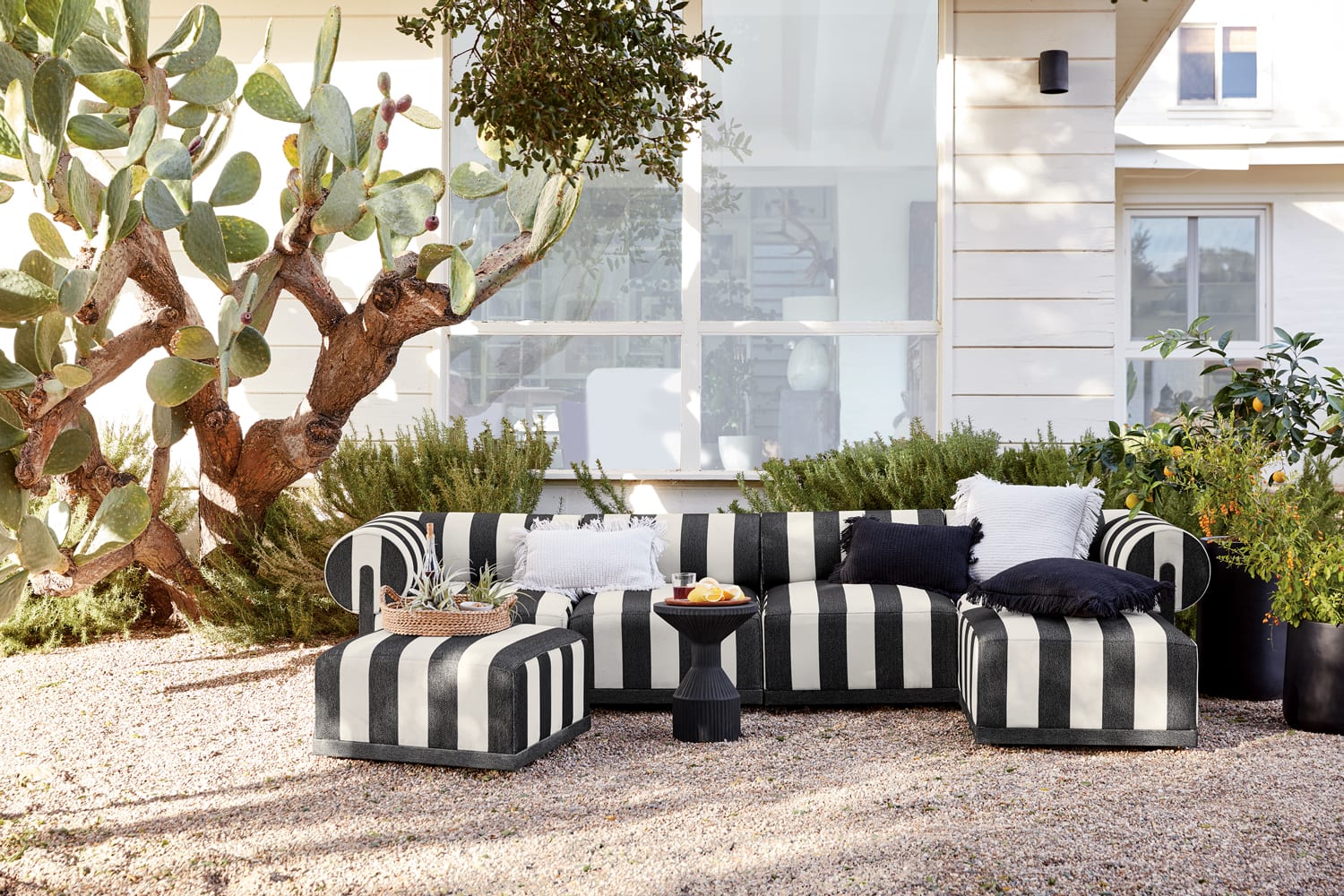 Cerca Striped U-Shaped 6-Piece Outdoor SECTIONAL SOFA with Ottomans, $6,594, Granada Garden STOOL in Black, $369, Onslow TRAY, $70, crateandbarrel.ca.
Contemporary, classic, colourful, neutral, plain, patterned, in fabric, wood, metal, rope…the design of outdoor furniture is now as neat and diverse as that of indoor furniture. The makers of these pieces emphasize ergonomic shapes, while padded cushions invite you
to sit back for hours, whether on chairs around a table or on a sofa in a lounge area. Our favourite? Modular sofas that are super practical because they allow several configurations depending on the space available, and the type of entertaining you're doing.
LIGHT UP THE NIGHT
Tinka Outdoor LANTERNS, $398 each, jardindeville.com.
Create a magical atmosphere by hanging lanterns and string lights in several strategic places throughout your backyard. Keep it interesting and relaxed by decorating with a variety of colours, shapes and sizes.
PILE ON THE POTS
Yara Two-Tone Small Outdoor PLANTER, $55, Yara Two-Tone Large Outdoor PLANTER, $85, Mayon Medium Outdoor PLANTERS, $179 each, Castino Charcoal Large Outdoor PLANTER, $449, Bola Medium OIL LAMP in Grey, $80, Bola Large OIL LAMP in White, $150, cb2.ca.
A terrace, balcony or patio can still be a great place to plant some greenery thanks to the wide variety of pots and containers on the market. We love to mix and match styles for an organic look.
START THE FIRE
Round Tuscan FIRE BOWL, from $460, homehardware.ca.
Outdoor fireplaces provide a chill atmosphere and a change of scenery from the typical patio dining area. This type of fire pit comes in many different styles and materials—you're sure to find one that fits your yard and your summer vibe.
TAKE TO THE SHADE
Foldable Tray Table, $70, Ficus in Rattan Pot, $150, Yellow Stripes & Tassels toss cushion, $25, Yellow Pineapples toss cushion, $23, Yellow Diamond Lumbar cushion, $23, Yellow/Grey Lumbar cushion, $25, Water Repellent toss cushions in Yellow, $23 each, Yellow/Grey Diamond Printed toss cushion, $23, Stripes & Tassels Lumbar cushion, $25, Mustard toss cushion, $23, Acapulco Outdoor side table, $140, Tropical Plant in White Cement Pot, $150, Ceramic Lantern Candle Holder in Yellow, $25, Ceramic Potted apple leaves, $25, Yellow/White Striped Outdoor RUG, 5' x 7', $40, bouclair.com.
Tired of the traditional patio umbrella? It's possible to use a sun screen or lattice to create a comfy shaded spot. Here, the simple woodwork can be left as is, or you could add removable shades or a climbing plant like Virginia Creeper. You can even attach a panel of sheer fabric to provide shade while letting the breeze through.
CREATE AN OUTDOOR LIVING ROOM
Black Rope 4-Piece PATIO SET, $2,500, Ixtapa Outdoor 3-Piece SEATING SET, $280, Blue Outdoor RUG, 9' x 12', $80, Sage Green Outdoor SIDE TABLE, $60, White Mosaic Outdoor COFFEE TABLE, $200, Blue and White Outdoor TOSS CUSHION with Tassels, $30, Blue Textured Outdoor TOSS CUSHION, $25, homesense.ca.
This geometrical scene is so inviting! A roll of bamboo screen fencing is a cost-effective way to create a privacy screen around your outdoor seating area, and it's a great design if you've got lots of vertical lines in your patio furniture.
BOHO YOUR BALCONY
Geo Print Outdoor RUG, 9' x 12', $200, Retro Outdoor CHAIRS, $40 each, Round White Ceramic STOOL, $40, Round Outdoor STRING LIGHTS, $35, Large Yellow PLANTER, $25, Three-Tiered PLANT STAND, $40, Wire Corner SHELF, $80, homesense.ca.
If your yard or balcony view leaves something to be desired, decorate it with a variety of potted plants and a vibrant mix of patterns and colours—it's the look you need to get your outdoor space feeling like a tropical getaway.
GARDEN AT NEW HEIGHTS
Wall Mounted Wood Herb PLANTER BOX, $100, sharonmforthehome.etsy.com.
Cultivating an edible garden in window boxes or hanging planters offers several advantages. First, you can work in a standing position, which is much more comfortable and less tiring than kneeling. Window boxes also provide the opportunity to grow fruits and vegetables to those with only a terrace or balcony, so long as the containers are sufficiently deep with good drainage. Allow a minimum of 15 to 20 centimetres for lettuces, radishes and herbs; 20 to 40 centimetres for beets, eggplants, zucchinis and peas;
40 to 50 centimetres for tomatoes, cucumbers, pole beans and carrots. What's more? It's a great way to showcase your produce as well as flowers.
CRAFT A QUIET NOOK
Outdoor Blue Pattern TOSS CUSHION COVER, $51, LUMBAR CUSHION COVER, $44, yourpillowhut.etsy.com.
We all need to escape to a serene little spot sometimes. If you've got a garden or some privacy in your yard, it's the perfect option. Make sure to add some seating of your choice, and don't forget to include toss cushions for extra comfort.
BRING ON THE MULTI-USE
Black Metal 2-Tier Outdoor PLANT SHELF, $400, Retro Pink and Green Outdoor CHAIR, $100, Roman God Stone Head PLANTER, $25, Black and Copper WATERING CAN, $25, Black Long Spout WATERING CAN, $15, Large Yellow PLANTER, $25, Blue Tropical Print PLANTER, $15, homesense.ca.
A versatile piece like this metal shelf can be used as a plant stand or potting table, and for general outdoor storage. Okay, maybe you're not such a green thumb—but that's no problem, either. This type of small-space furniture works wonderfully as a sideboard, buffet or bar when you're serving up dinner alfresco.
GET THE LOOK
Round Tuscan FIRE BOWL, from $460, homehardware.ca.
Natural Rattan PLANTER on Wooden Legs, $40, bouclair.com.
4 Box Wall Mounted Indoor/Outdoor PLANTER, $229, crateandbarrel.ca.
Brisa Rattan Outdoor Hanging LOUNGE CHAIR, $1,799, cb2.ca.
Lilly 3-Piece Nesting Outdoor COFFEE TABLE SET, $1,999, cb2.ca.
Spade Outdoor LOUNGE CHAIR in Charcoal, $1,089, mustsociete.com.
Apollo Outdoor DAYBED in Greyish-White, $1,369, mustsociete.com.
Navene Stackable Outdoor DINING CHAIRS in Blue, $549 each, cb2.ca.
Yellow TOSS CUSHION COVER with Bird Silhouette, $56, rocailstudio.etsy.com.

Lake TOSS CUSHION, $23, bouclair.com.
Wall Mounted Wood Herb PLANTER BOX, $100, sharonmforthe home.etsy.com.