Decor & Renovation
Amber Mac's home technology tips
Decor & Renovation
Amber Mac's home technology tips
Who knew buying a new TV, sound system or DVD player could be so confusing? Cut through the terminology and hype to choose the right tech for your lifestyle.
If you're looking to buy a new television:

The basics
Want a big-screen TV? For a comfortable viewing experience, including the best picture, make sure your room is large enough to accommodate the screen you're considering. The guideline is to allow a viewing distance that's 1 1/2 times the outside width of the TV. So, if your couch is four feet from your TV wall, you shouldn't go bigger than a 32-inch screen. If your sitting distance is closer to 7 1/2 feet, you can consider a 60-inch television.
With plasma TVs officially dead, you'll have to choose between OLED (organic light-emitting diode) and LED (light-emitting diode). An OLED will give you superior picture quality, but its price—typically starting at $3,000—
may knock it out of some families' budgets
. The more affordable LED will give you the 1080 pixels (or higher) needed for full high-definition TV at a more affordable price (as low as $400).
Most TVs are now smart—that is, connected to the Internet—so you can watch online content and use apps such as Netflix without having to hook up your home computer.
Set-top boxes—stand-alone streaming devices that can cost as little as $150—can make your TV smart, too. Apple TV now has easy access to new entertainment apps, interactive gaming and Siri (voice assistant) technology. So you can ask your Apple TV to search for (and play) your favourite show, without touching a keyboard.
For the movie lover
Samsung 58" LED smart TV
, $1,100,
samsung.com
.
- It's big enough that you'll get sucked in to your favourite movies and TV shows, yet it's the ideal size for most living rooms.
- It wirelessly accesses the Internet so you can stream content or get up to date on social networking.
- It can be
mounted on a wall
—a great space saver.

For the gamer family

Sony 50" 1080p HD 120Hz LED Android TV KDL50W800C
, $1,200,
sony.ca
.
- Fast screen-refresh rates mean there's less on-screen delay when you're playing action games.
- Works with your iPad or iPhone to access your personal content.
- The PlayStation Now feature lets you access popular PS3 games with a DualShock 4 controller—no additional console required.
For the budget-conscious
LG 43" LED TV - 43LF5400
, $420,
bestbuy.ca
.
- It's a good option if you want to spend $500 or less.
- It features full-HD TV, so you're not skimping on picture detail.
- New technology reduces power consumption.
For the tech geek
Samsung JS8500 SUHD TV 65"
, $5,300,
samsung.com
.
- It delivers top-of-the-line colour, contrast and brightness.
- It's excellent for watching 4K shows, such as House of Cards (the first 4K series on Netflix).
- You can easily plug in your USB drive to watch your personal library of movies or photos.
Sofa-distance guide
Use this guide to link screen sizes to how far your sofa is from the TV.
- Less than 4 feet: Up to 32 inches
- 4 to 5 feet: 32 to 39 inches
- 5 to 5 1/2 feet: 40 to 45 inches
- 5 3/4 to 7 feet: 46 to 55 inches
- More than 7 feet: 56 inches or more
The buzz
Expect to hear all about 4K—also called ultra HD—which boasts four times more pixels than a full-HD TV. Although the picture at this resolution is gorgeous, there is a limited library of 4K content available. Plus, since 4K files from streaming services such as Netflix are big, it's possible that you don't have enough bandwidth to enjoy the viewing experience. Full-HD quality is a solid choice if you're buying a TV in 2016, but 4K is the future.

If you're looking to buy a new audio system:
The basics
Think about your budget
. If you want built-in wireless speakers, things can quickly get expensive. A ready-made option from a big box is more affordable and less hassle on the installation front.
When you listen to speakers in a showroom, everything is set up for maximum sound quality. They might sound quite different at home, so choose a retailer with a decent return policy.
Don't hide speakers inside cabinets or other furniture. It might look clutter-free, but the sound will be muddy.
For the movie lover


Bose SoundTouch 130 home theatre system
, $1,600,
BoseSoundTouch130.com
.
- It includes a remote, a wireless adapter, an ADAPTiQ headset and set-up cables—a good bet if you want to turn your living room into a mini theatre.
- It works wirelessly, so when you're not enjoying your favourite flicks, you can stream your music library.

For the music lover
Sonos Play:3
, $330,
sonos.com/play3
.
- You can add on to this system.
- You can control your audio library from
your smartphone
or tablet.
- This single device with three speakers inside can play different music in different rooms of your house.
For the budget-conscious

Vizio 42" 5.2 Home Theatre Bar With Subwoofer and Satellite Speakers (S4251W-B4)
, $350,
vizio.ca
.
- With two rear speakers, this affordable system gives you an immersive-sound experience.
- A sleek sound bar sits below your TV and amplifies the sound.
- It includes a wireless subwoofer, which reproduces a thunderous-bass sound, and a remote.
The buzz
The biggest trend in home audio is invisibility. Some housing developers are working with home-automation companies to build in audio systems without bulky tech or visible wires. One company called ClearView has created a see-through speaker to pick up on this trend. Designer systems are also catching on; Bang & Olufsen's new wireless speaker, BeoPlay A6, looks like a large boomerang with stylish fabric on top, so you can mount it on the wall as a functional piece of techno art.
If you're looking to buy a new Blu-Ray disc or DVD player:
The basics: You may love your old DVD player, but it works best with a standard-definition TV. As we move to HD everything, consider a Blu-ray player.
Although these players have been around for a while, some people resist upgrading.
Blu-ray players can still play regular old DVDs, but they also provide a better picture and sound support—plus, some can stream content.
For the movie lover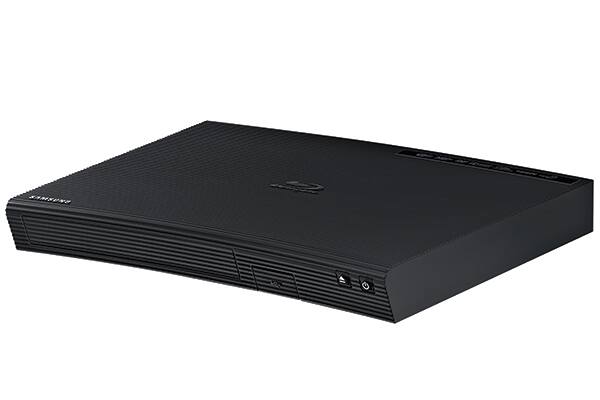 Samsung BD-J5700/ZC
, $110,
samsung.com
.
- It's extremely fast when you're accessing movies and streaming content (yes, you can watch Netflix with this product).
For the budget-conscious

Sony Blu-ray Player (BDPS1500)
, $80,
sony.ca
.
- Its ethernet port means you can access your favourite streaming content.
- Gamers will appreciate access to PlayStation Now (a cloud-based gaming service).
For the tech geek

For the latest in Blu-ray, watch for 4K players in 2016!
- Making the move to 4K? Samsung is launching a 4K Blu-ray player in 2016.
- Match it with a 4K TV, such as the Samsung 60" 4K Ultra HD LED smart TV.
Homes are getting uber-intelligent. Check out the
smart homes of the future
.
This story was originally part of "Enjoy The Show" in the January 2016 issue. Subscribe to Canadian Living today and never miss an issue!