Decor & Renovation
Bring the outdoors in with decor inspired by nature
Slatted 2-Door Dark Wood BUFFET in Natural, $600, Round Wooden Wall SHELF in Natural, $200, Potted Artificial Wall PLANT, $27, Mango Wood BOWL on Stand in Brown, $40, Artificial plant in Textured Ceramic pot, $55, bouclair.com.
Decor & Renovation
Bring the outdoors in with decor inspired by nature
Natural textures, touches of green and botanical patterns are a perfect way to bring Mother Earth-inspired freshness to every room in your home.
The entryway
Create a serene environment as soon as you open the door by introducing a piece of furniture (if you've got the space!) in rattan or light wood with a raw finish. If your entryway is a tight squeeze, opt for accessories like woven storage baskets and a jute doormat to achieve the effect. Greenery is also important in this part of the home, but if your foyer doesn't get much light and you're worried about your plants dying, there are many beautiful faux options that will work. The goal? To keep the look simple and spare so you can start unwinding the second you get home.
Storage BASKETS, Small, $40, Medium, $45, Large, $50, paniers-baskets.ca.
Jute DOORMAT in Beige, $30, hm.com/ca.
Rabbit-Shaped Braided BASKET, $25, simons.ca.
Wooden Multi-Branch COAT RACK in Brown, $300, simons.ca.
Wooden Multi-Branch COAT RACK in Brown, $300, simons.ca.
Potted Aloe Vera artificial plant, 11", $17, veronneau.com..
The living room
This area of the home offers a great spot for a couple of larger plants—or a variety of smaller ones. A mix of species, colours, shapes and sizes offers a pleasing verdant effect. Furniture in wicker and pale wood tones mingled with accessories with woven textures will keep the look calm and soothing. When it comes to lighting, keep it minimal but on point with neutral hues and warm-toned bulbs.
Wicker PENDANT LAMP in Natural, $75, Wood & Woven Rope Foldable CHAIR in Natural, $330, Wood Rope COFFEE TABLE in Natural, $400, Organic Textured VASE in White, $30, Natural Round Woven TRAY in Brown, $40, Terah Muslin Boho THROW BLANKET in Beige, $43, Auriel Blue & Beige Flora TOSS CUSHION, $40, Frans Fringed White TOSS CUSHION, $40, Haghen Fringe Natural TOSS CUSHION, $43, bouclair.com
Elma Macramé LUMBAR CUSHION in Beige, $35, bouclair.com.
Faux Fiddle Leaf Fig PLANT, $999, mobilia.ca.
Dry Decorative FLOWERS in Glass Dome, $20, bouclair.com.
Hemp Rope Tube FLOOR LAMP, $220, bouclair.com.
Buskbo Rattan PLANT STAND, $70, ikea.ca.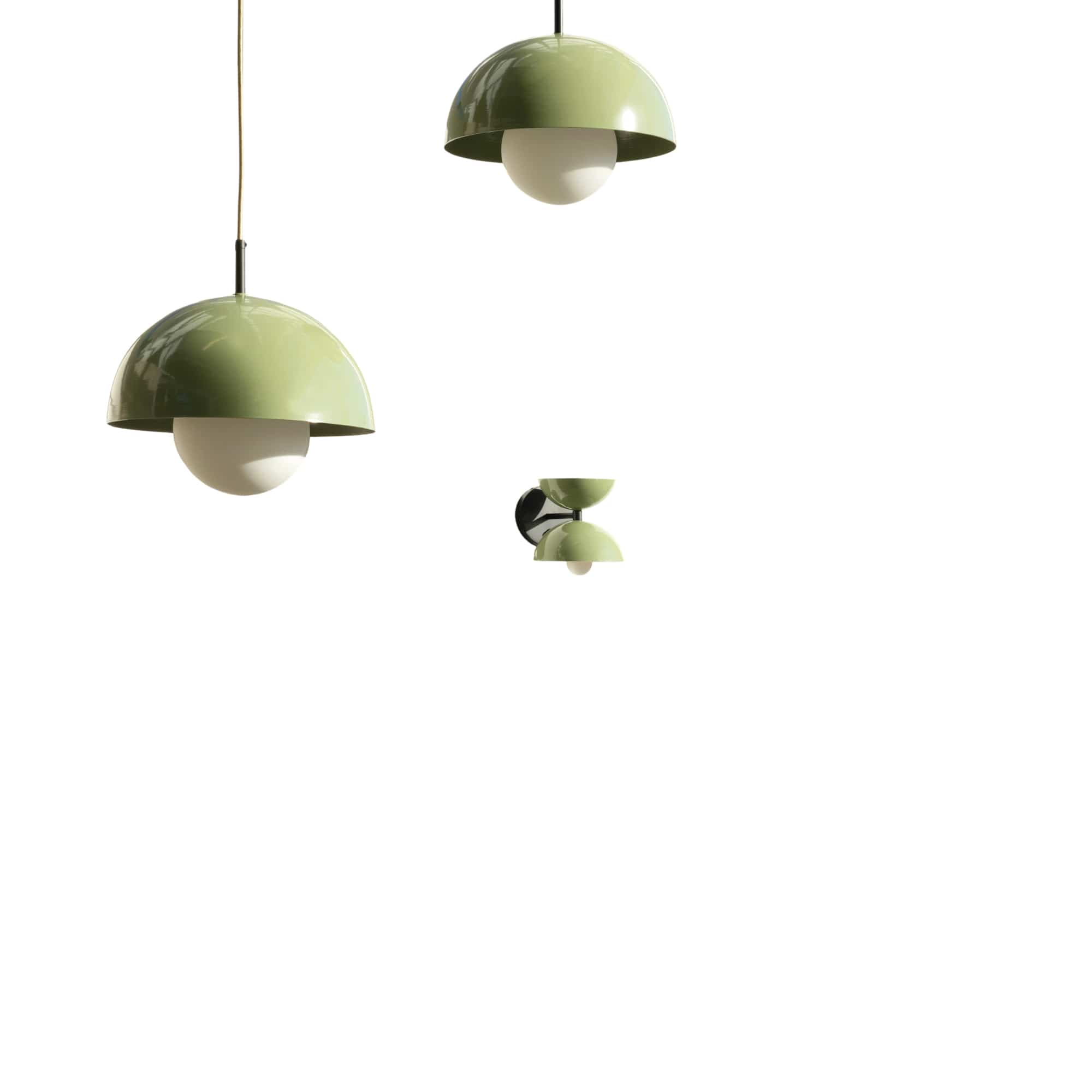 Norvegienne PENDANT LAMPS in Yesterday Green/GMY, $515 each, Lov WALL SCONCE in Yesterday Green/GMY, $350, luminaireauthentik.com.
Stasia Velvet LOVESEAT in Green, $899, structube.com.
The dining room
This is a room in which accessories can take centre stage. Pretty table linens, serving pieces and decor items can be switched out based on the aesthetic of the season. For natural botanical charm, arrange a few pieces of crockery adorned with delicate flowers or exotic foliage on a white tablecloth or wicker placemats. Use wooden utensils, a natural artisanal bread basket, et voilà!, you'll be dining al fresco style.
Carrot Print TABLECLOTH, 59" x 59", $70, zarahome.com.
Medium Table BASKETS in Red and Moss Green, $35 each, paniers-baskets.ca.
Dried Flowers Sage PLACEMAT, $8, bouclair.com.
Glass CANDLE HOLDER with Water Hyacinth in Natural, $25, bouclair.com.
The bedroom
Your sleeping quarters can easily be turned into an oasis of calm if you let nature inspire you. For ultimate serenity, keep materials light and neutral while throwing in beachy textures and a fun pattern or two. That's all you need to set the scene for a soothing space that encourages a good night's slumber.
Klätterkalla Full/Queen DUVET COVER SET in White/Green, $35, Regolit Pendant lamp shade, $5, ikea.ca.
Nella TOSS CUSH-IONs in Light Green, $109 each, Nalti Wool-Blend TOSS CUSHIONs, $159 each, mobilia.ca.
Wooden SIDE TABLE in Natural, $180, bouclair.com.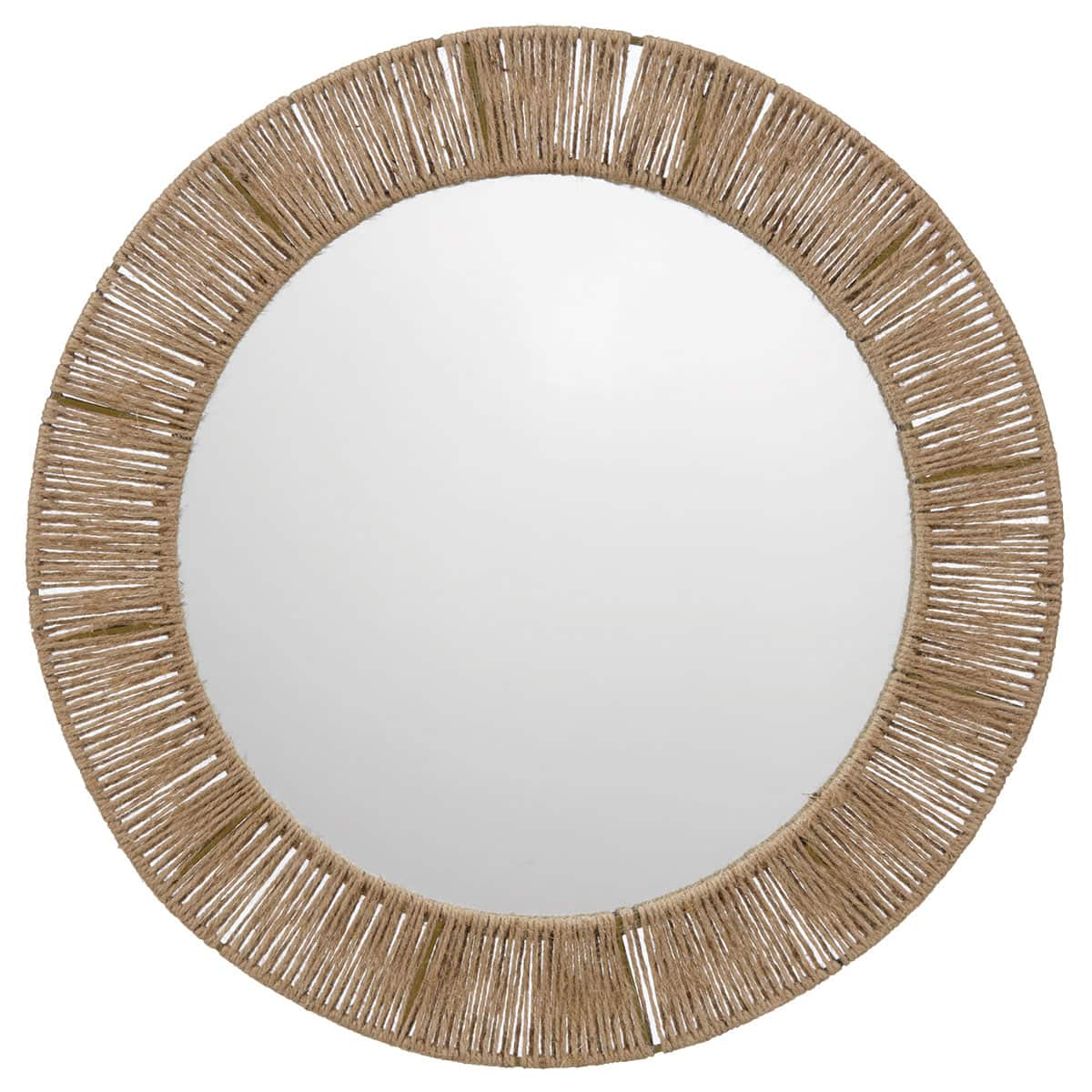 Round MIRROR with Jute Frame in Natural, $55, bouclair.com.
Wood & Rattan pendant LAMP in Natural, $200, bouclair.com.
Wood & Rattan pendant LAMP in Natural, $200, bouclair.com.
Buskbo Rattan ARMCHAIR, $189, ikea.ca.
The bathroom
It's hands-down one of the best spots in the home to have fun with playful, creative decorating ideas. The selection of small floral patterns complements the calming theme of light woods and woven materials, while offering the fresh, springy appeal of basking in nature's goodness.
Drawn Flowers shower curtain in Assorted, $25, simons.ca.
Long Laundry BASKET with Two Handles in Moss Green, $120, paniers-baskets.ca.
Yala HANGING POT, $25, vdevmaison.com.
Ficus Lyrata artificial plant in Pink Ceramic Pot, $25, veronneau.com.
Lateral Natural Teak BATH RUNNER, $229, cb2.ca.
Rustic Reclaimed Wood LADDER in Tawney Pine, $268, potterybarn.ca.
Bouquet SNACK BAGS, $15.50/2-piece set, vdevmaison.com.