Decor & Renovation
Budget bathroom makeover: Before & after
Decor & Renovation
Budget bathroom makeover: Before & after
With a budget of just $350, a first-time homeowner treats this tired-looking bathroom to a cost-conscious refresh.
Like most first-time homebuyers, Ryan Brook and Jenn Zlotos didn't have much left in their budget for a full bathroom renovation. But instead of turning a blind eye to their lacklustre loo, the savvy do-it-yourselfers embarked on a cost-conscious face-lift that set them back a mere $350. "It was a challenge to get it all done for that price, but we're pretty good deal hunters," says Ryan. Here's how they did it!

Before


After
Although the ceramic tiles lining the bathroom walls were still in mint condition, their dusty-rose colour was a dead giveaway of their 1980s origins. Instead of tearing the tiles out, Ryan painted them a truly timeless neutral, Behr's Polar Bear 1875. The secret to painting ceramic tile involves first cleaning it with TSP (trisodium phosphate) to remove any surface residue, then applying two coats of specialty primer designed for slick, hard-to-paint surfaces. "It's not a 'forever' solution, but it will last until we can afford to gut the bathroom and start fresh," says Ryan.

Polar Bear 1875 paint (on tile) and Bermuda Grass MQ6-57 paint (on walls), Behr. Zinsser Bullseye primer, The Home Depot.


Space is at a premium in the pint-size bathroom, so Ryan turned the dead space above the toilet into a much-needed storage area. The column of baskets—mounted to the wall with strong adhesive hooks—is the perfect place to stash fresh towels, shower accessories and spare toilet rolls.


Before
With little insulation to speak of, the bathroom's tile floors were unbearably chilly underfoot.

For a quick fix, Ryan and Jenn turned to grout-able vinyl peel-and-stick floor tiles. Not content with the somewhat artificial look of the 12-inch-square tiles, Jenn decided to put her own spin on the installation: "I cut up the squares into a few different sizes to give them a more realistic stone-floor look."

During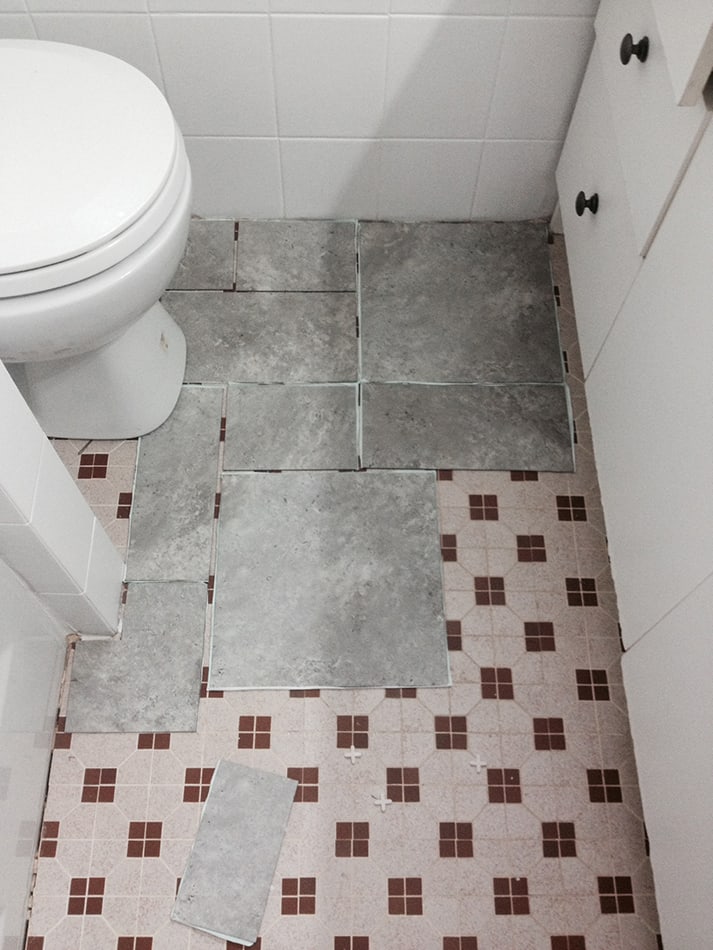 After
You'd never guess the new floor, fully grouted, set them back just $60!

12-inch-square vinyl peel-and-stick floor tiles, Lowe's.

Before
Having gone nearly 40 years without a single upgrade, the bathroom vanity was showing its age.

After
Replacing both the cabinetry hardware and the sink faucet went a long way in glamming up the grim bathroom. Counterscaping gave Ryan the opportunity to inject a bit of personality into the space : Canning jars were put to work as storage for grooming gear, and a potted jade plant added a welcome bit of greenery.


Believe it or not, that's the original medicine chest. Ryan simply mounted a vintage art frame around the mirror with strong adhesive strips!