Decor & Renovation
Colour Trends 2023
Benjamin Moore Colour Trends 2023
Decor & Renovation
Colour Trends 2023
Benjamin Moore Colour Trends 2023 palette was chosen for its  distinct presence and personality. 
Each of these eight confident hues offer inspiration and creativity, while encouraging a push beyond the traditional to experience truly exceptional colour.
Bring individuality to your space and discover the transformative power of paint with sumptuous hues inspired by the bold strokes of modern art, the natural changes that occur in metal overtime, and the desire to express ourselves through colour.
Set the stage with the Colour of the Year for 2023:
Raspberry Blush 2008-30
Photo: Courtesy of Benjamin Moore
Never a backdrop, Raspberry Blush is the definition of charismatic colour. This unapologetic shade of red orange had us thinking: bold, bolder, boldest. This sentiment flows through the rest of the palette as we immerse ourselves in hues that make a statement. Inspired by an artist's desire to communicate through colour, shape, and sound, Colour Trends 2023 was built to envelop you in vivacious colour.
Favourite Spaces
Bring a blushed update to the deep red dining room with Raspberry Blush walls and Onyx furnishings.
Create a lively living room with walls and wainscotting in Raspberry Blush.
Add a pop of colour to your home with a powder room or ensuite painted in this rich coral.

Tofino Sunset CC-156
Photo: Courtesy of Benjamin Moore
A gentle pink reminiscent of sepia tone, this dusty hue brings to mind thoughts of dusk captured by a vintage film camera. Tofino Sunset may bring a blush to your space, but this hue is not shy. This comforting colour balances out the bold vibes of this palette, appearing almost neutral alongside such striking shades.
Favourite Spaces
Use on hallways and entryways for a comforting hue in transitional spaces.
Paint your powder room with this pleasing hue for a complimentary cast.
Opt for a contemporary, peachy take on the neutral beige living room with Tofino Sunset walls and trim.
Cinnamon 2174-20
Photo: Courtesy of Benjamin Moore
A rich brown touched by orange undertones, this warm hue will have you questioning the very definition of a neutral. Cinnamon is an excellent bridge between neutrals and more saturated shades–if you find you're looking for a bolder neutral, or a more neutral hue that still feels like a focal point, Cinnamon is the spice for you.
Favourite Spaces
Bring warmth to the kitchen with Cinnamon walls and ceiling.
Entertain guests with Cinnamon in common areas and home hubs like living rooms.
Invite guests to stay awhile with a guest room in this rich hue.
Wenge AF-180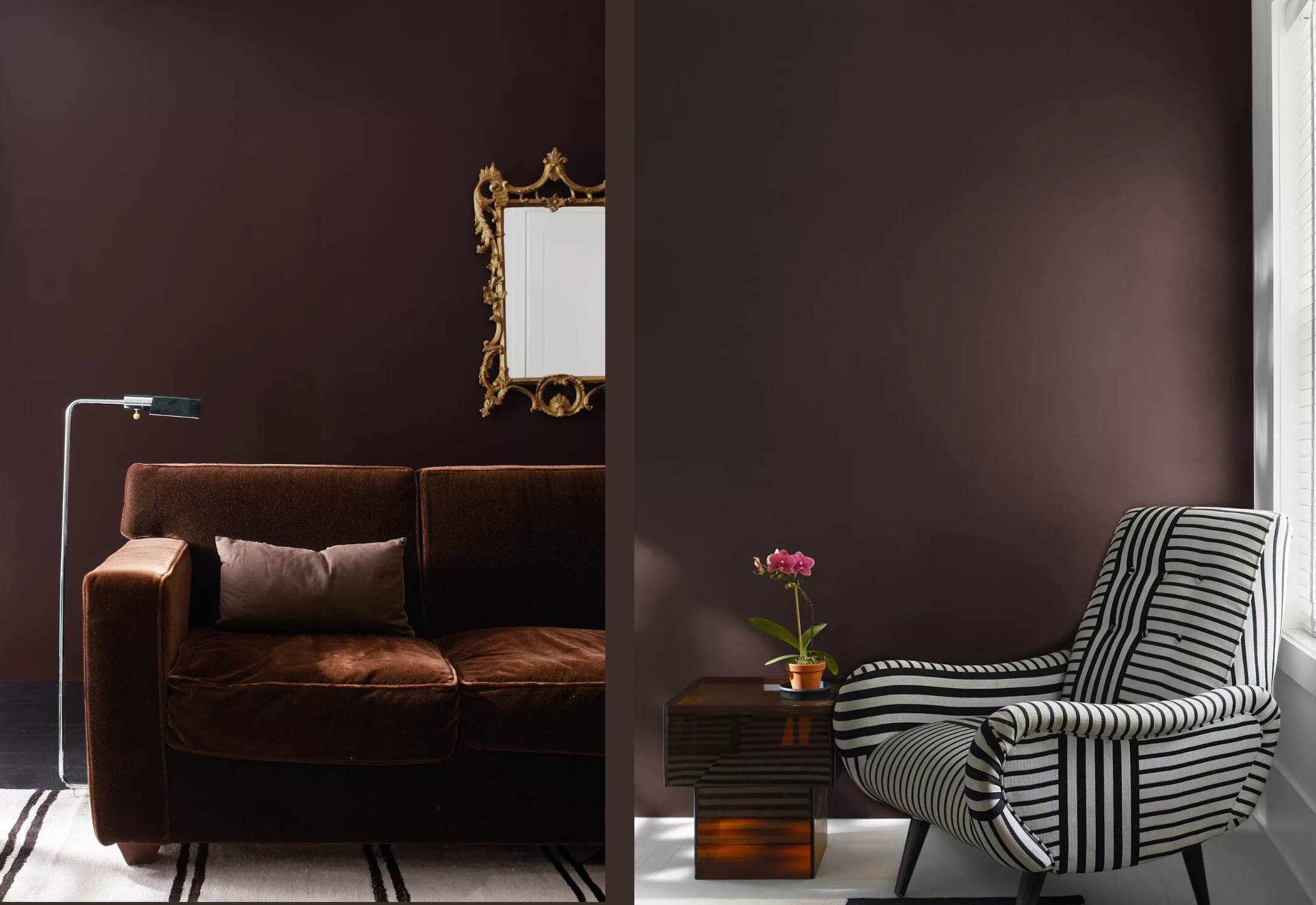 Photo: Courtesy of Benjamin Moore
A deep chocolate with hints of brown, black, and violet in its undertone, this enigmatic hue combines both comfort and drama. Warm and engaging, Wenge is ideal for amping up saturation in rooms with predominantly neutral walls or bringing balance to a space with a lot of colour.
Favourite Spaces
Use on exteriors for a rich update to traditional taupe exteriors.
Create a focal point with Wenge in kitchens to bring a velvety touch to the space.
Immerse yourself in this rich hue with living room walls and ceiling in Wenge.
Savannah Green 2150-30
Photo: Courtesy of Benjamin Moore
A rich ochre, yellow and green undertones balance out this unique hue. Similar to gold leaf for your walls, Savannah Green is a statement-making shade that plays well with neutrals and saturated hues. Offering both whimsy and drama, explore higher sheens for a lustrous take on this sprightly hue.
Favourite Spaces
Use in an art studio for an infusion of creativity and acidic inspiration.
Opt for Savannah Green walls in a home office for a citrus-infused take on the traditional earthen-green workspace.
Create an invigorating dining room, balanced by crisp White Heron, for the perfect space to entertain and indulge.
New Age 1444
Photo: Courtesy of Benjamin Moore
Soft and ethereal, this light purple is grounded by a drop of gray. It emanates a soft spiritual sensibility, leaning into the softer side of our Colour Trends 2023 palette. Appearing both gray and lavender, depending on the lighting, infuse a touch of colour into any space with this engaging hue.
Favourite Spaces
Infuse a gentle dose of calm into a sitting area or reading room with a New Age accent wall.
Use New Age on walls for a whimsical, dreamy take on the vintage mauve bedroom.
Create a soothing master bathroom with wainscoting in New Age for a relaxed space to unwind.
Starry Night Blue 2067-20
Photo: Courtesy of Benjamin Moore
A radiant navy akin to the dark indigo of dusk, this inky hue breathes romance into any space. Depth and dimension define walls painted in Starry Night Blue, a captivating hue with just a touch of violet in its undertone.
Favourite Spaces
Paint walls in a kitchen with White Heron, and use Starry Night Blue on kitchen cabinets for a saturated, ultramarine take on the deep navy-blue cabinet.
Use Starry Night Blue to create the serene oasis of your dreams, a playful twist on soft blue bathrooms.
Lean into monochromatic living rooms with Starry Night Blue walls and velvet blue furnishings.
North Sea Green 2053-30
Photo: Courtesy of Benjamin Moore
Sink into this saturated shade, which blends the relaxing vibes of gray-blue hues and the simmering pleasure of blue-green. Engaging and deep, this soothing teal has a delicate gray undertone that enriches this moody hue.
Favourite Spaces
An update to the tranquil green bathroom, turn your en suite into a spa with walls in North Sea Green.
Create a soothing getaway with a bedroom in North Sea Green.
Paint a cozy dining nook in North Sea Green, including the ceiling for an enveloping and intimate space to dine and entertain.