Decor & Renovation
How to makeover your front and backyard
Decor & Renovation
How to makeover your front and backyard
DIY expert Karen Bertelsen created two distinctly different outdoor spaces at her historic Dundas, Ont. home. Here's how she made over her front and backyard.
People didn't really have backyards in the olden days. They had a front porch, an outhouse and a lot of cough medicine that was, in fact, morphine. With no one else around for miles, you could do anything out front—even your laundry—because no one cared if you stood on your lawn, completely naked, hanging your wool bloomers on the clothesline. And if you happened to be treating that cough, chances are you didn't care, either.c

Now, of course, if you have a house, it usually comes with a backyard; that's where you destress, relax and entertain. Your front yard is for showing off aspects of your personality that you want the world to see. The backyard, however, is where the real you lets loose. The modern home is the residential version of the mullet: business in the front, party in the back.

The façade of my 1840s cottage looks a lot like it would have in the 19th century: a white painted porch, some rambling roses and a little vegetable garden. Up until recently, my backyard was similar; it matched the house but didn't necessarily match me. Making it over was a chance to express another part of my personality; to show that, even though I love the past, I wasn't stuck living in it. So, to provide balance, I paired my period-appropriate front porch with a decidedly contemporary urban backyard, one where I may or may not hang my bloomers out to dry…while nursing a cough.

How to grow your own privacy
Being in the backyard is great, but sometimes you want to grab your morning coffee, curl up on the front porch and watch the world go by—without the world watching you. A dense leafy perennial vine is a great way to create a green privacy wall. Certain ivies will grow quickly, while others, like this climbing hydrangea, will take several years before they provide enough cover for you to feel comfortable in your ratty pajamas.

Porch swing, amazon.ca | Timothy Oulton Canadian-flag cushion, upcountry.com | Lantern, homesense.ca | Galvanized planter pails, terragreenhouses.com
​​​​​​No-sew upholstery
Instead of buying new cushion covers for your outdoor seating, wrap sun bleached fabric in burlap.

Tip: Give small planter pots a boost by displaying them on various rungs of a vintage ladder.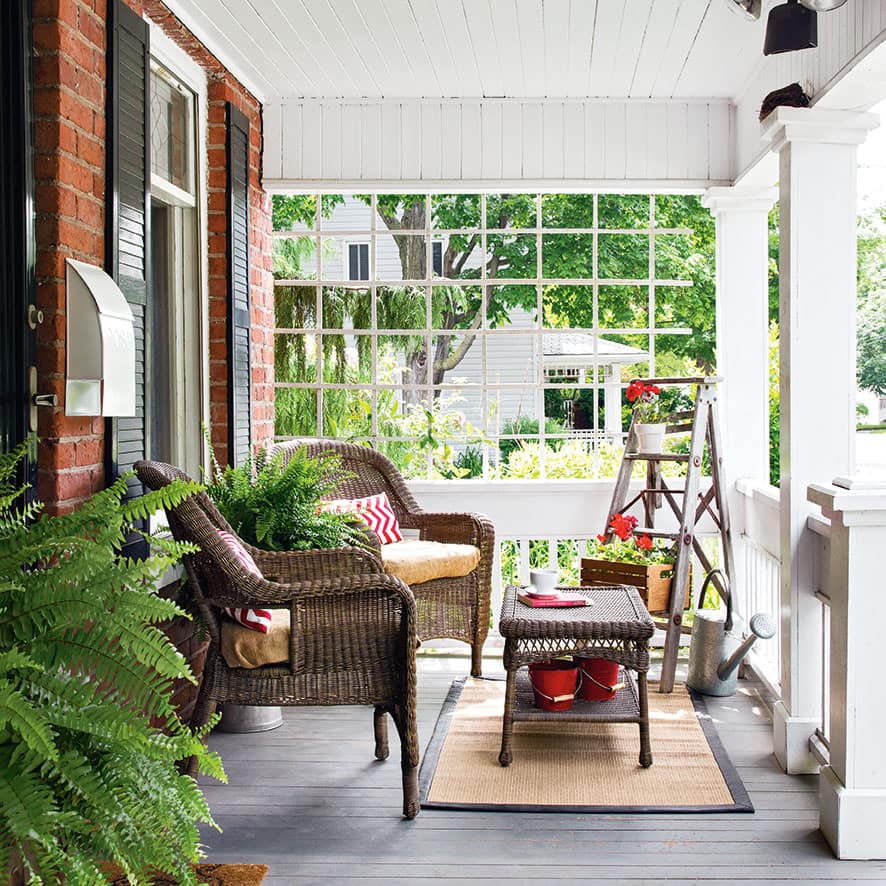 Ladder, aberfoyleantiquemarket.com | Outdoor chairs and table, walmart.ca | Burlap, hollandpark.com | Toss cushions, homesense.ca | Mailbox, terragreenhouses.com | Floor & Patio paint in Deck Grey 122-71 (porch flooring), benjaminmoore.ca

How to put a perpetually unproductive planter to work
My potting shed is packed with planters of every size that will never be filled with flora. (Mainly, they're filled with just spiders.) That's why I dragged a few planters out of storage, dusted them off and repurposed them as outdoor tables. Topped with a round sheet of glass, my black drum-shaped planter is the perfect complement to a pair of armchairs. And by setting an old pine plank on top of two smaller box planters, I created a custom outdoor coffee table without setting foot in a shop.

How to get a lawn in an instant
For most people, a lawn is nothing but trouble. In an effort to cajole their grass back to life every summer, homeowners arm themselves with lawn seed, fertilizer and a big bag of swear words. Save yourself the effort and fake it. Artificial grass is now sold edged and in rolls—just like indoor rugs—and it looks way better than it did years ago. You'll get beautiful colour and soft cushioning under your feet with minimal effort—simply roll it up at the end of the season.

Grass rugs, rona.ca | Design, theartofdoingstuff.com | Drum planter and lumbar cushions, homesense.ca | Outdoor armchairs, costco.ca | Wire lantern, rona.ca | Square-cut flagstone, ferrellbrick.net

How to create powerhouse planters
If you want a container garden that makes an impact, forget typical generic nursery plants—I'm looking at you, geraniums—and embrace the plants of the disco era. Tropical greens that were popular houseplants in the 1970s not only look great in planters but also tolerate dry conditions. Mix tall, spiky spider plants and wandering Jew with cascading creeping Jenny and sweet potato plants (Ipomoea batatas) for dynamic pots that command attention—especially if you're doing the hustle around them.

Planter pots, discountemporium.ca

How to hang a window box without a window
It wasn't just for esthetics that I installed my backyard fence planks horizontally; it was also for function. The boards allowed me to hang window box planters with nothing more than a few large S-hooks. Positioning planters at different heights lends a contemporary feel, while mounting them evenly enters more traditional territory.

Tip: Add draping spiller plants to window-box arrangements. They'll trail down fences and walls as the season progresses, creating a living-wall effect.

Stunning runner
Dollar stores often sell artificial grass in square tiles that clip together so you can design your own custom "carpet." Linked in a long, narrow strip, they make a chic runner for an outdoor dining table.

Candleholders, terragreenhouses.com | Window-box planters, hollandpark.com | Fencing, turkstralumber.com | Outdoor dining set, ikea.ca | Drink dispenser, indigo.ca
This story was originally published in the June 2015 issue of Canadian Living.