Decor & Renovation
Our paint collection was created for the Canadian home
Photography: Janis Nicolay | Design: Rebecca Lapres
Decor & Renovation
Our paint collection was created for the Canadian home
Canadian Living's debut paint line features lovely livable colours inspired by our nation's stunning landscape.
Oh, Canada! Our home and colourful land. From the Pacific to the Arctic to the Atlantic—and everything in between, all the way down to our southern border—this country boasts breathtaking beauty. So when the time came for us to create Canadian Living's first-ever collection with Beauti-Tone Paint, naturally we drew inspiration from the varied vistas of the provinces and territories. The 55 paints in the Coast-to-Coast Colour Collection have something for everyone, whether you want to warm things up, cool things down or make a saturated splash. Here, we share a few favourite hues and offer tips on how to use them.
WARM TONES
Photography: Michael Nangreaves | Design: Andrea McCrindle
From barely there beige to toasty tan to blazing auburn to rich cocoa, warm-toned colours have a way of welcoming and enveloping. In fact, they create an optical illusion of advancing forward, visually cozying up a room. Immediately effecting intimacy, these shades suit traditional interiors and well-loved patinated furnishings.
"I love taupe, tan and other warm colours for Canadian homes. With our climate, we can use all the cozy we can get!"
—Ann Marie Favot
How to use these colours
Even the palest shade in this colour family benefits from the richness and depth of a reddish undertone. Choose one of these hues to paint the walls of sleeping quarters and lounging zones—think den, family room or library—to fashion a comfortable cocooning atmosphere. The darker the shade you select, the cozier the space will appear.
Beauti-Tone Campfire CL32-3 Paint, Beauti-Tone Toasted Sesame CL29-0 Paint, Beauti-Tone Northern Midnight CL54-3 Paint, Beauti-Tone Sinking Sand CL25-4 Paint, Beauti-Tone Snow CL51-0 Paint, homehardware.ca.
COOL TONES
Photography: Virginia MacDonald | Design: Stephanie Lees
Like the mountain-fresh air, these colours radiate a crisp and refreshing vibe. Offering a receding quality, they also promise to open up a room, making it appear more spacious and expansive. The resulting clean esthetic is a fitting accompaniment to the minimalism of modern architecture and decor.
"Want a sleek and sophisticated effect? Select crisp whites, cool greys and fresh blues."
—Ann Marie Favot
How to use these colours
Look to these tones to impart a spic-and-span ambience in your home's utilitarian spaces, including the kitchen, the laundry room and bathrooms. The clean shades will appear brilliant when set against metal hardware, stainless-steel appliances, glossy tiles, porcelain fixtures and stone surfaces.
Beauti-Tone Chester Blue CL42-0 Paint, Beauti-Tone Craggy Mountains CL53-0 Paint, Beauti-Tone Angler's Blue CL18-4 Paint, Beauti-Tone Skipping Stones CL43-0 Paint, Beauti-Tone Diamond Mine CL52-0 Paint, homehardware.ca.
BRIGHT TONES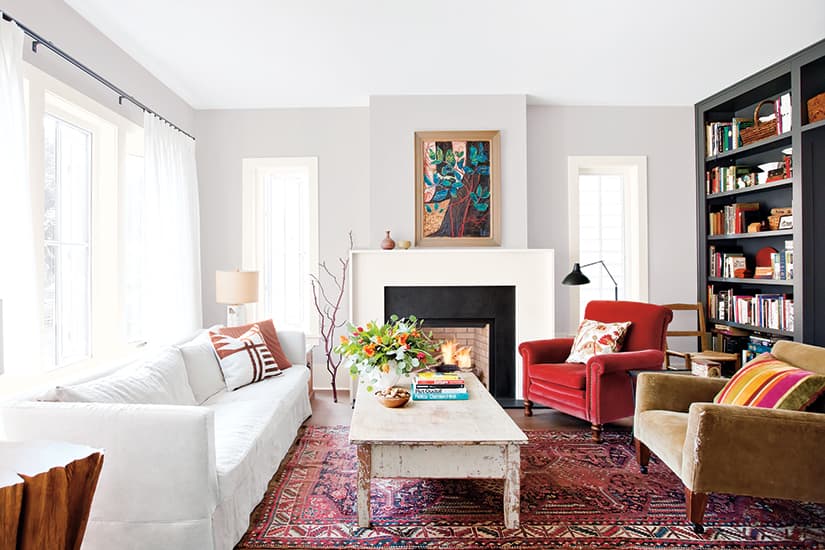 Photography: Janis Nicolay | Design: Rebecca Lapres
Just like in nature, floral and verdant shades captivate and command attention. Whether it's the cheerful pink of cherry blossoms, the deep green of maple trees or the bold indigo of wild blueberries, these saturated colours energize and excite, infusing any scheme with vitality.
"Every home can use some bright colour, like ruby red or emerald green. The key is to use it sparingly."
—Ann Marie Favot, home & style director
How to use these colours
Less is definitely more when it comes to assertive shades like these. Use tame mid-tones to liven up a small room or a single wall in a larger space. Reserve the bold, fully saturated hues for bringing personality to little accents, such as a door, a bathroom vanity or a piece of furniture.
Beauti-Tone Cherry Blossom CL28-0 Paint, Beauti-Tone Jellybean Row CL48-3 Paint, Beauti-Tone
Wildflower CL38-4 Paint, Beauti-Tone Deciduous Forest CL07-3 Paint, Beauti-Tone Wild Blueberry CL49-3 Paint, homehardware.ca.