Decor & Renovation
Pastel Christmas: Heather Cameron's DIY holiday décor
Decor & Renovation
Pastel Christmas: Heather Cameron's DIY holiday décor
In evergreen Vancouver,
a white Christmas
is the stuff of dreams. So, come holiday time at our family's farmhouse, we conjure up our own winter wonderland—indoors. Though the pale walls, light wood tones and neutral furnishings could be the jumping-off point for bolder accessories, there's something serene about decorating with white. Whether it's a dusting of faux snow or greenery that's been treated to a flocked finish, warm whites give the house a cozy, nostalgic feeling.
Added to the creamy white decor are raw, natural elements, such as boughs and branches, and our collection of vintage treasures. Almost all of our holiday pieces are handmade by local artisans or family members; each decoration holds a memory and makes us smile. The final wintry touch? My seven-year-old daughter, Lily, and I spend hours making paper snowflakes for the tree and to hang from the ceiling.
With our winter wonderland complete, the grass may still be green and the sun may be shining, but in
our holiday home
, it definitely feels like Christmas.
Dining room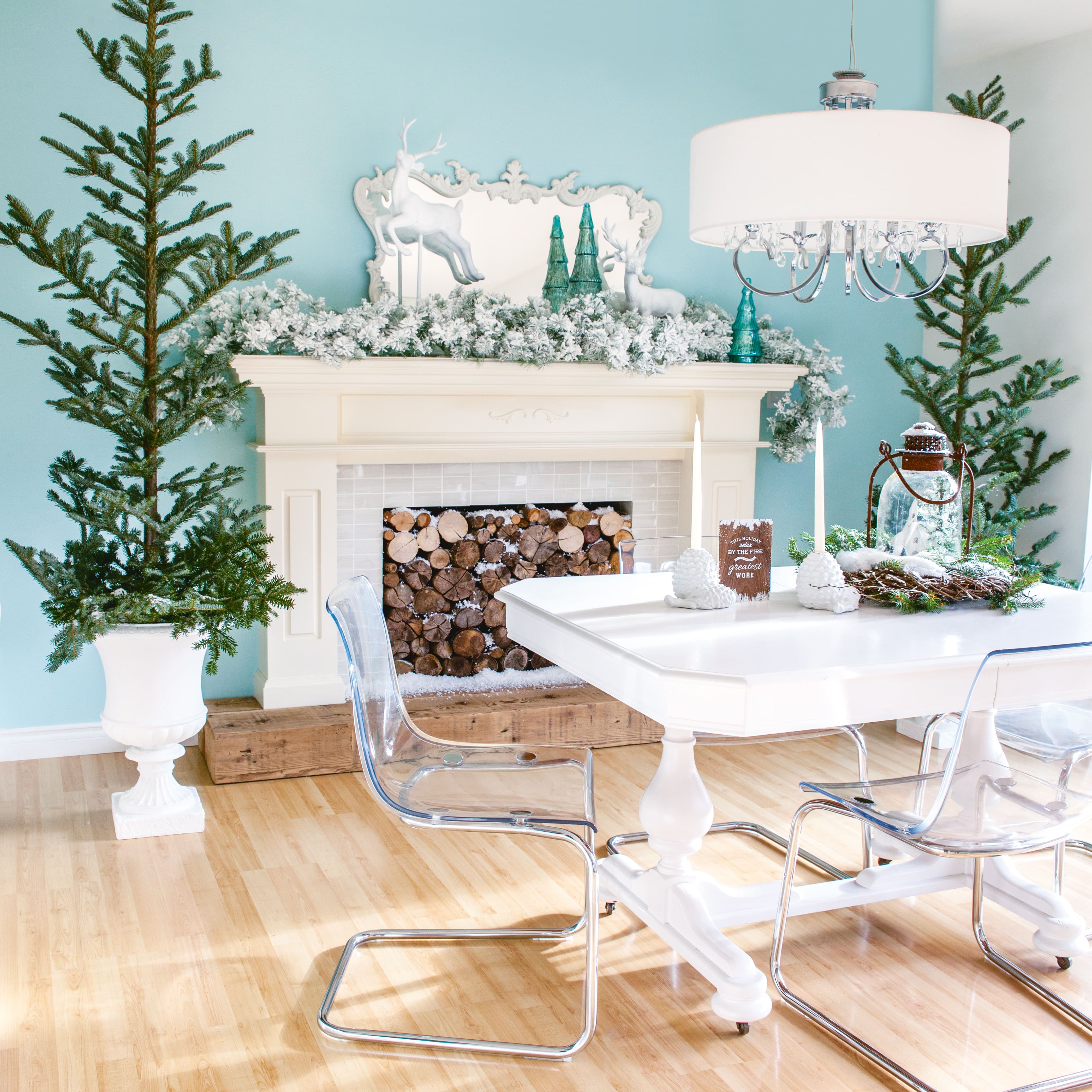 Clear Aqua P440-2 paint
(on wall),
behr.com
;
Tobias chairs
,
ikea.ca
.
Planter punch
These lightweight fibreglass urns normally sit on the front porch, but after a fresh coat of white paint, they look festive in
the dining room
. The secret to keeping tall freshly cut evergreen boughs upright is dense plastic foam, available at most craft stores. Cut the plastic foam to size and pack it tightly inside the urn, then carve a small hole in the centre with a knife and force the boughs through the hole until they hit the bottom of the container. If any foam remains visible, cover it with a layer of faux snow.
Wonder wall
Sometimes, a bit of contrast helps bring white pieces to life. Rolling turquoise paint onto the dining-room wall took serious courage, but I'm so glad I took the risk! Not only does it establish the fireplace as a focal point but it also makes the white elements in the room pop.
Two of a kind
The "less is more" philosophy works best for
our mantel
. The flocked evergreen garland is a HomeSense bargain, and the two thrift-store deer—originally mismatched in different shades of brown—are now a perfect pair, thanks to a few coats of white spray paint.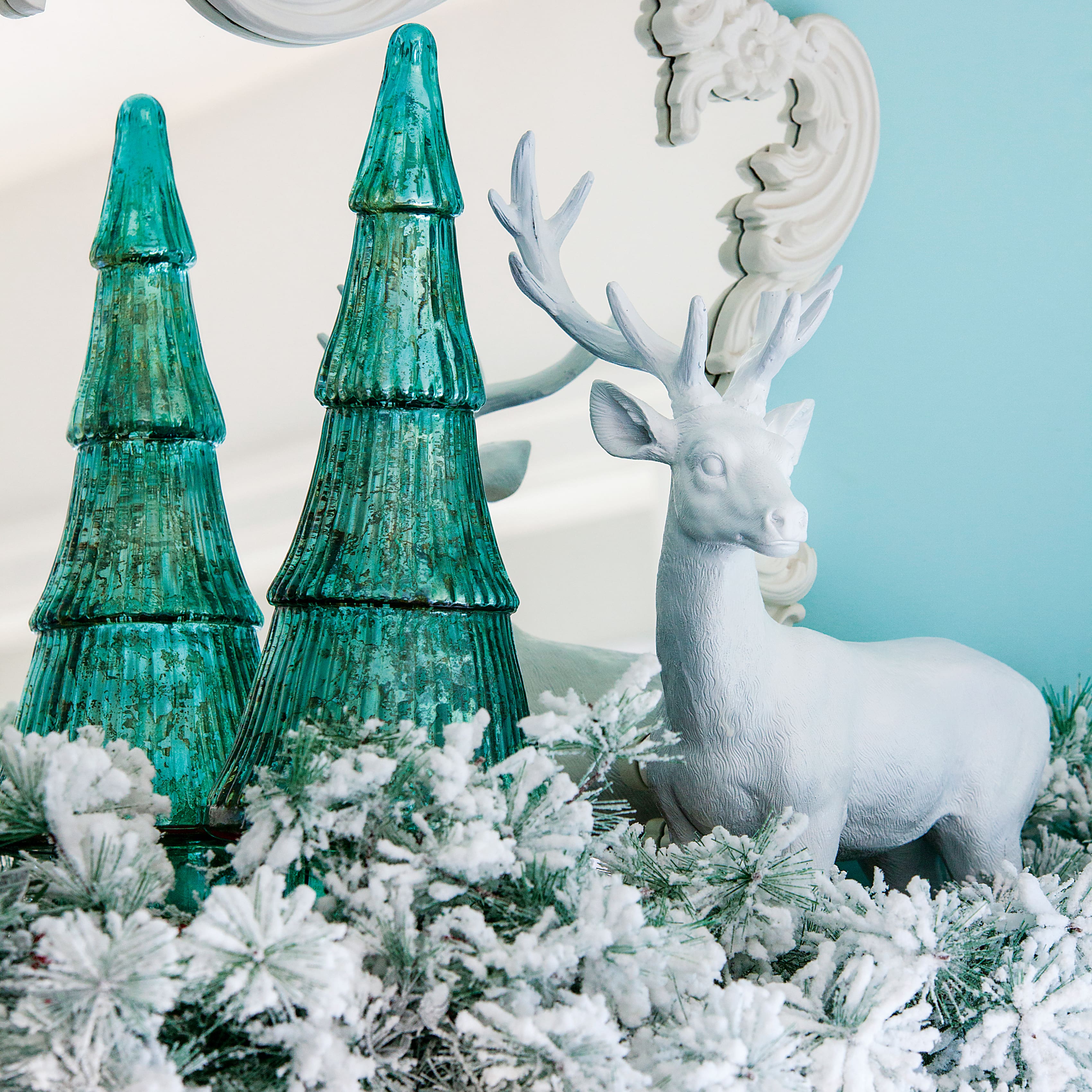 Hearth warming
The gas
fireplace was unattractive
, and it had stopped working. So we removed the insert, had the gas line removed and sealed up the opening with drywall. Then, we refaced it with ceramic tile and packed the opening with logs. Now, the fireplace has more visual warmth than it did when it worked, and it's become one of my favourite features of the house, especially during the holidays.
Table topper
A vintage lantern from the backyard suits the dining room's woodland theme; when filled with faux snow and a white paper house, the vignette looks like a rustic snow globe. I gave the lantern more visual weight by surrounding it with a grapevine wreath and cedar trimmings.

Kitchen

O Christmas treat
The cookie tree has been a tradition in our household for years, and we're all too happy to replenish the
edible ornaments
as needed. An old enamel bucket packed with plastic foam makes an ideal tree stand. Find small trees at a local farm or tree lot (remember to water the tree to keep it fresh) and decorate with classic gingerbread or sugar-cookie ornaments—but watch out, they'll disappear fast!

House party
Open shelving presents a fantastic opportunity to showcase my collection of glittery houses made by local artisan Angela Kent. Bottlebrush trees and a dusting of faux snow weave houses, glassware and dishes into a lovely seasonal vignette.
Mum's the word
It can be challenging to find an
affordable holiday floral bouquet
. That's why I opt for white chrysanthemums: They're inexpensive and readily available at the grocery store. Pop mums into clustered bud vases next to a self-serve eggnog station; they easily do the job of a more elaborate flower arrangement.
Bedroom

All snug in their beds
This year, my daughter Lily's Christmas stocking is at the foot of the bed. We've laid out Santa's cookies and milk nearby on a salvaged tree stump—they're much safer here, where our dog, Oliver, can't get them! The grapevine wreath on the footboard is embellished with freshly cut aromatic cedar, juniper and variegated boxwood, all secured with invisible fishing line.
For more holiday decor inspiration, visit our ultimate
Homemade Holiday guide
.
This story was originally part of "White Christmas" in the December 2015 issue. Subscribe to Canadian Living today and never miss an issue!