Decor & Renovation
The Bathroom: Some Inspired Design Choices To Create A Serene Haven
Decor & Renovation
The Bathroom: Some Inspired Design Choices To Create A Serene Haven
The bathroom can be the oasis of the house. All it takes is some inspired design choices like these to create a serene haven.
Nuances Porcelain FLOOR TILES in Coccio Avorio, ceragres.ca..
Lombarda Porcelain FLOOR & WALL TILES in Nero Lappato, ceragres.ca.
MATERIAL MATTERS
Hard surfaces are step one when designing a functional and beautiful bathroom. From floors to ceilings, tubs to sinks, natural materials offer a backdrop for the softer elements to come into play. Right now, the sky's the limit. Luxe textures, colours and patterns are plentiful on the market, whatever your budget.
Pedra Azul Porcelain FLOOR & WALL TILES in Ivory Natural, ciot.com.
Biscuit Ceramic WALL TILES in Cotto Mix, ceragres.ca.
DARE TO SQUARE
For years, curved organic shapes were the be-all and end-all of bathroom design. Now we're all about embracing graphic square tubs, sinks and fixtures that sport sharper angles.
Zen BATHTUB, produitsneptune.com.
Kalia Kareo SHOWER FIXTURES, kaliastyle.com.
NATURE RULES
Botanical elements and bathroom decor go hand-inhand—leafy and flowery prints have always been a no-brainer for adding soft organic appeal to a basic space. Luckily, towels, shower curtains and bath mats are available at every price point, and are simple to switch out as seasons, and tastes, change.
Reed Field SHOWER CURTAIN, $43, bouclair.com.
Organic Cotton Embroidered Flower TOWELS in Lime Green, from $6, simons.ca.
CUSTOM CRAVING
If you're going all out on a bathroom redesign, customizing everything can mean the options are endless. From intricate wall panels, a curved mirror and a luxe floating vanity, this blue-hued space is a luxurious lesson in individualistic design.
GO WITH THE FLOW
Uninterrupted floor tiles that continue into the shower are a recent popular design choice, giving the illusion of a larger room. When coupled with floor-to-ceiling glass shower panels, the aesthetic is both seamless and sophisticated.
ROOM ENVY
The most swoonworthy bathrooms incorporate more than just the basic elements—they're decorated spaces in their own right. Whether you highlight a gorgeous window, add wall panelling or display an artwork collection, design that fits your personal style is always a success.
Believe BATHTUB, produitsneptune.com.
LEADING EDGE
Design innovations, including eco fixtures,
barrier-free access, water-saving solutions and integrated shower systems are all must-haves. Form follows function in that all these modernizations can be as great-looking as they are forward-thinking.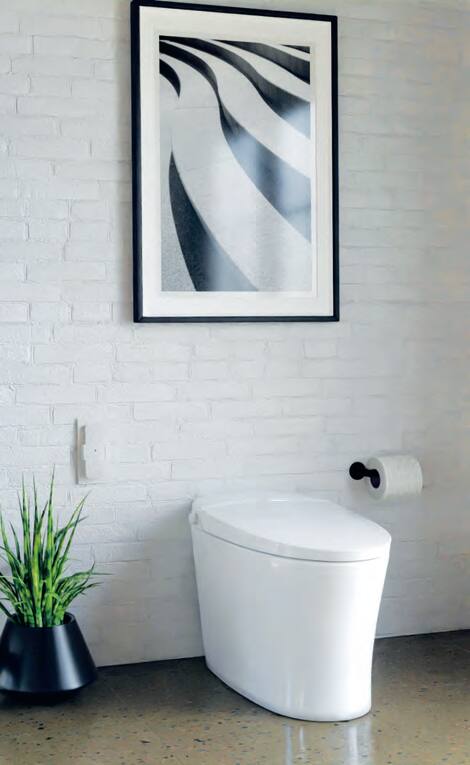 Crosswater Ressa SMART TOILET, batimat.net.
TAP INTO IT
Whether modern in black, playful in colour or sophisticated in champagne or bronze, faucets and fixtures can set the tone for the rest of the room's decor. Manufacturers continue to experiment with colour, shape and style. Switching out the taps is an easy way to update your existing aesthetic without renovating the entire space.
Vola FAUCETS, batimat.net.