Decor & Renovation
Your holiday decorating questions—answered
Pedestal Server, $40, Pebbled Glasses, $10 to $12, Hubbard Coasters, $27/set of 4, Marley Table Linens, $12 to $45, Fenton Pitcher, $70, and Faux-Olive Wreath, $129, crateandbarrel.com.
Decor & Renovation
Your holiday decorating questions—answered
Our home & style director Ann Marie Favot will help you get your home holiday-ready for yourself and guests alike.
Q: I love an elaborate spread, but I'm not much of a cook. What can I do to make my guests feel special?
It's all about presentation. With the right styling, you can elevate anything—even water. Serve chilled H2O in a sleek metal pitcher on a tray laden with pretty glassware. Include fruit and herbs in the display (think limes, kiwis and mint) so guests can infuse their own drinks.
Pebbled Glasses, $10 to $12, crateandbarrel.com.
Q: Any suggestions for creating a welcoming atmosphere for a holiday party?
Lighting plays a big role in setting mood. Whether you're after a cozy candlelit feel, a bright sunny vibe or even a coloured—yes, coloured!—effect, Sengled's new Element Colour Plus kit has you covered. Best of all, you don't ever have to rise from your seat; the smart device allows you to customize the colour, brightness and temperature of the lights from your phone or using your voice when connected to the Google Assistant or Amazon's Alexa (plus, you can schedule it ahead of time).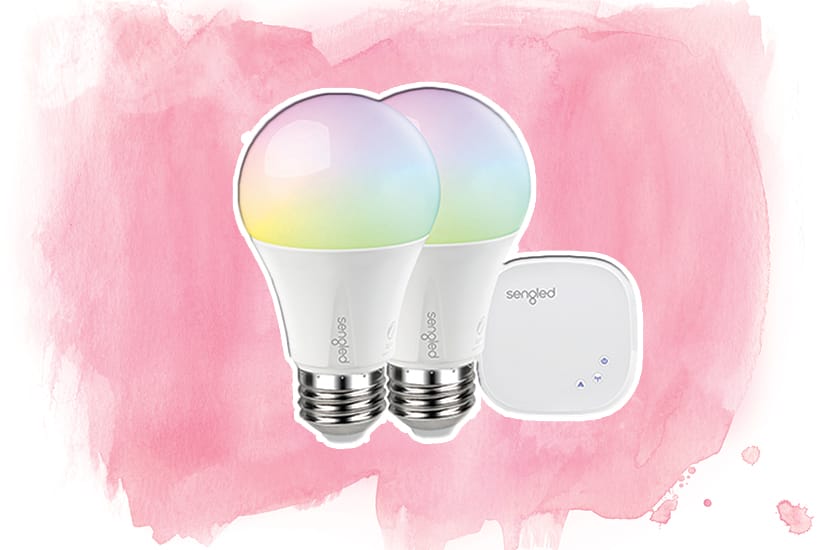 Sengled Element Colour Plus Lighting Kit, $120, lowes.ca.
Q: How do I achieve a festive feel without having to redecorate come Dec. 26?
Seasonal doesn't have to mean holiday. Choose items with wintry themes—like this embroidered toss cushion animated with a snowy ski hill—and you'll achieve a scheme that will look appropriate for months ahead.
Toss Cushion, $30, homesense.ca.
Q: My place is tiny. Is there a Christmas tree for me?
My philosophy is there's a tree for any space, be it a small room or a small home. This foot-tall glass conifer lit with wee battery-powered lights will brighten things up.
LED Glass Tree, $40, indigo.ca.