DIY & Crafts
Are you ready to raglan?
DIY & Crafts
Are you ready to raglan?
I am so pleased to see that our
Classic Raglan KAL
is gaining a following of enthusiastic knitters! It's so great to read your comments as they roll in, and I'm looking forward to working together and hearing from you as your balls of yarn turn into sweaters. [caption id="attachment_7932" align="aligncenter" width="214" caption="Photo, courtesy Jane Richmond."]
[/caption] The knit-along launches on Friday, so if you're still thinking about it, you've got plenty of time to check out the
original post
; peer at the
pattern details
; and ponder
colour choices
.
I went with Cerise. It's somewhere between red and pink – not even close to the blue marl I had in mind when I headed into the store, but I think I'm going to like it.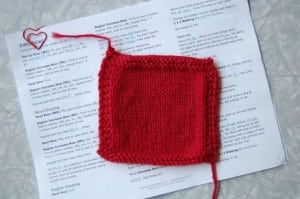 If you're anxious for a head start, this would be a good time to swatch. Mine worked up quickly on Saturday afternoon – working with worsted weight is always a treat after a stint of sock knitting.
I really think this sweater will be a satisfying knit for an experienced knitter and a great first sweater for someone who's new to big projects. I hope you'll
join us
!