DIY & Crafts
Crafty ingredients for a first birthday party
DIY & Crafts
Crafty ingredients for a first birthday party
The best thing about birthdays (besides having one) are the creative possibilities they offer – invitations! cake! decorations! And it's even more fun when it's a first birthday party, because you've pretty much got carte blanche. I know Baby Archie wouldn't care whether he had a Snoopy-themed birthday party, but I loved the idea, so that's just what he got. Invitations were easy: I searched for "kid party invitations" online and, using a few I found as inspiration, typed and printed my own. I used double-sided tape to stick the printed info to card stock, added a sticker or two, and mailed them out. Although I am definitely no Cake Boss, I took a chance and bought a Snoopy pan on Ebay. Wilton no longer makes the Snoopy pan, but it does have a lot of
decorating tips
on its site. The chocolate cake was pretty delicious, but it came out of the pan in two pieces. (Luckily no one cared that there was extra icing holding it all together.) [caption id="attachment_7124" align="aligncenter" width="360" caption="Thank you for the pic, Shannon!"]
[/caption] I think I've mentioned it a few hundred times, but this
printable alphabet bunting
is my go-to for instant party decor. I downloaded the letters, changed the colours to match the theme, and hung them with coordinating ribbon. Festive...and reusable!
Of course, at a kids' party, you can't forget the other kids. I busted out my box of crayons and markers (I mean, Archie's box of crayons and markers?), and searched online for "Snoopy colouring pages" to print. The kids were occupied and content (and so were the parents), and Archie was left with a bunch of super sweet drawings and notes from his little pals.
Last but not least were the treat bags. I decided to make reusable snack bags, copying the design from some I've seen around the Web: It's a simple pocket with a fold-over flap, like a non-zippable sandwich bag (leave a comment if you'd like the complete instructions, and I can put together a tutorial). Because they would be used to carry food, I used BPA-free
laminated cotton
(it's a hard thing to find – anyone know a Canadian source?). My plan was to fold and sew the raw edges of the pocket, but the laminated side of the fabric stuck fast to my machine (a walking foot and some tissue paper might have done the trick, but of course, this was the night before the party). At the very last minute I scrounged up some matching bias tape to finish the edges. Phew!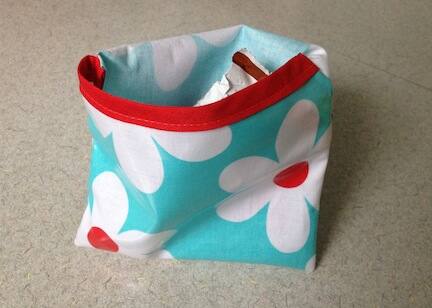 And...that's the last super birthday party I'm throwing till he's 16. Next year it's a pizza and grocery store cake!