DIY & Crafts
Do-it-yourself Halloween decorations
DIY & Crafts
Do-it-yourself Halloween decorations
There's no better way to get in the Halloween spirit than by decorating your home with ghoulish and spooky do-it-yourself decorations.
Make a spider wreath to scare your trick-or-treaters. Or, try your hand at making shifty-eyed snouts - bound to give anyone the creeps. Not into scaring the neighbourhood kids? Not to worry, make charming hanging lanterns from squash.
The Enchanted House
Transform your entranceway into a Halloween showcase with these spirited decorating ideas.
Witches in the window
Kids will love making harum scarum witch hat decorations.
Ghoulish Greetings
Spook your trick-or-treaters with these haunting halloween decorations.
Halloween magnets
Decorate the fridge with easy-to-make magnetic designs.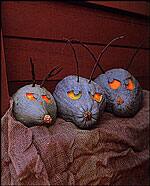 Shifty-Eyed Snouts
Hubbard Squash and a few twigs are all you need to create these creepy creatures.
Invisible man
Shock your friends silly with this surprise party guest.
Halloween decor
Create charming hanging lanterns from squash.
Fun and easy Halloween buckets
These easy-to-make Halloween buckets are perfect for festive decorations. Or, send them out with your little ones for trick-or-treating!
Halloween decor: How to make a spider wreath
Get in the Halloween spirit! Make this creepy, crawly spider wreath for your front door.



Page 1 of 1
---
Get everything ready for Halloween: homemade costumes, decorations and pumpkin-carving ideas, plus, party menus and bonus recipes in our complete guide to Halloween fun!