DIY & Crafts
Dying to dye more yarn
DIY & Crafts
Dying to dye more yarn
A couple of weeks ago,
Austen
and I zipped across town after work for a yarn dyeing class at
The Workroom
. I'd been hoarding some naked fingering weight and a bunch of dye pots at home, waiting till I was ready to face them. And a live tutorial sounded like just the thing to get me started. For this class, we used simple synthetic dyes mixed with hot water and dish detergent. Yes, that's right – el cheapo dollar store dish detergent. It acts as a surfactant, which lowers the surface tension of the water and allows the wool to accept the dye more readily.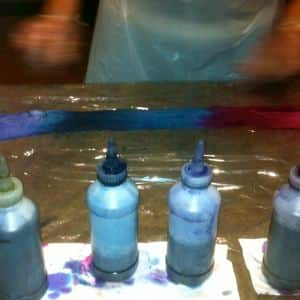 We laid out our hanks of naked fingering-weight yarn on long pieces of plastic wrap, then went to work massaging in whatever colours caught our fancy. Here's Austen working with some beautiful blues, purples and fuchsia:
When we were satisfied with our colours, we wrapped the yarn in the plastic wrap like a burrito and microwaved it for six minutes to set the colour. (You can steam your yarn in a steamer, too, but it takes around 45 minutes, and we knitters can be an impatient lot.) Then we gave the yarn a good long rinse in cool water to remove the excess dye and were rewarded with vibrant colours like these:
Beth Casey of
Lorna's Laces
led the class and shared a ton of wisdom she's learned over years of hand-dyeing yarn. A few of her gems I managed to remember:
Yellow doesn't play nicely with other colours.
Little accidental splotches of the wrong colour are No Big Deal (they don't show in your knitting).
Keep your eyes peeled for beautiful colour combinations in your everyday life.
Never wrap your yarn burrito too tight (it'll explode).
You can never use a container (or a microwave) that's been used for dyeing for food, ever again. On the bright side, everyone needs a rescued thrift store microwave for setting dye (and other crafting tasks).
Take the big gambles, because they're worth it – both in crafting and in life.
Now, how best to show off this beautiful hand-dyed yarn? Luckily a brand-new book just crossed my desk that deals with that very subject.
Sock Yarn Studio
(Lark Crafts, 2012, $23.95) by Carol J. Sulcoski offers a number of one-, two- and three- (or more) skein projects. Mittens, hats, capes, shawls, sweaters – you name it. If it's made with sock yarn, there's a project in here. I have a lovely butter yellow skein of Lorna's Laces Shepherd Sock yarn that contrasts beautifully with my hand-dyed skein. I think I'll turn those two into an Alexander Street Hat (or two) from the book.
Are you learning a new skill or craft this fall, too?