DIY & Crafts
Fabric Stash Wishlist - Part 5
DIY & Crafts
Fabric Stash Wishlist - Part 5
Looking for the perfect gift for the sewing enthusiast in your life? Think FABRIC. Here's the latest installment in a series of spotlights on amazing Canadian online fabric sources. Today,
Part 5: Warp & Weft
It's all in the name: "Warp & Weft Exquisite Textiles"
Warp & Weft
goes the extra mile to truly satisfy the sewist's love of good design. Owner Esmari Taylor is an Interior Designer by trade and a self-described "fabric junkie by choice" who collects fabric prints and sewing notions with an eye for heirloom quality and fine design. "To me they are little pieces of art that I can stare at for hours. Sometimes I can't even bring myself to cut into a beautiful design because it is just so perfect." Her top picks this year include the following:
1.
Merchant & Mills Selected Notions Box Set
Over the last couple of years I have worked exclusively with Merchant & Mills' notions for their quality and cool simplicity. It's almost impossible to pick only one favourite but this
Selected Notions Box Set
is a great way to get your first fix. Not to mention the fact that you'd win the best friend award if you were to gift one of these! [caption id="attachment_12473" align="aligncenter" width="600"]
Merchant & Mills Sewing Box[/caption]
2.
Merchant & Mills Sewing Book
If you have only one book on your shelf it should be this one. Carolyn Denham's beautifully illustrated publication will make any bibliophile swoon and as with all things Merchant & Mills this gorgeously bound book is all about improving the quality of your sewing through simple, practical skills and using the best possible tools. [caption id="attachment_12474" align="aligncenter" width="412"]
Merchant & Mills Sewing Book[/caption]
3.
Zak + Fox Textiles
If I had to decorate my house using textiles from one designer only it would be from
Zak + Fox
. This New York-based designer caught my eye about 3 years ago and I am always intrigued by the stories behind his designs and how they make me feel connected to parts of the world I've never even seen. I dream of having a tufted armchair in
Khotan in the Pembe
colour way! [caption id="attachment_12475" align="aligncenter" width="513"]
Khotan in Pembe[/caption] It was almost impossible to choose a favourite from this incredibly impressively curated and inspiring store! I narrowed it down to a few select choices: [caption id="attachment_12476" align="aligncenter" width="484"]
Up, Up & Away in Free Pollen[/caption] [caption id="attachment_12477" align="aligncenter" width="481"]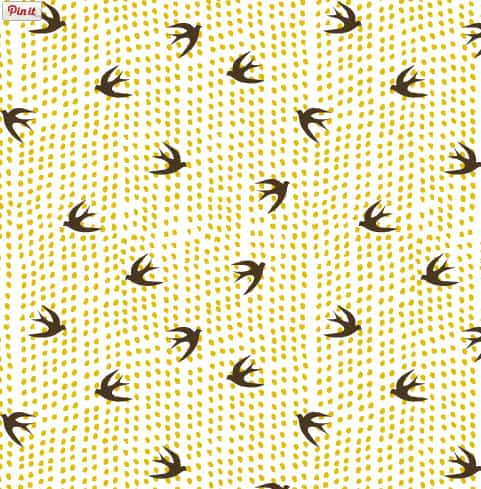 Up, Up & Away in Air Pollen[/caption] I
love
this lace trim: [caption id="attachment_12478" align="aligncenter" width="590"]
Sajou Guipure Lace 8[/caption] And if I hadn't already bought it for myself, I would deeply appreciate receiving this Merchant & Mills
pattern
in my stocking: [caption id="attachment_12479" align="aligncenter" width="408"]
Merchant & Mills Trapeze Dress[/caption]
What would you choose? www.warpandweft.ca