DIY & Crafts
Giveaway #40. (Times eight!)
DIY & Crafts
Giveaway #40. (Times eight!)
Hi again, Make+Do has recently passed a couple of big milestones: just last week, this blog published its 200th post, and not long after, it surpassed 3,000 comments. And here we are at Giveaway #40! We've come a long way in the nine months that I've been blogging here, and I couldn't have done it without you, the loyal Make+Do community. To say thank you for being here, I've decided to do an extra big giveaway this week. I've got all sorts of goodies that I've been saving up, waiting for the right time to share with you – well, this is it. Get ready, because it's a bumper crop!
First
up, I've got TWO
copies of
PrintMaster Platinum 2.0
printing software from Broderbund.
You could use this for scrapbooking, card-making, and all sorts of other paper-crafting, from making puzzles to creating personalized calendars to designing special party hats. I haven't tried it myself, but it looks like fun – something tells me that if you've got kids, you'd get a lot of use out of this program (hello, birthday parties!).
Second
, ONE box set called
Collage: Vintage Notecard Kit
by Maryjo Koch.
Use the goodies inside this box (including 12 blank notecards and envelopes, 96 sheets of images, a proportion wheel, a glue stick, and an instruction booklet) to create your own unique collaged art. This would be ideal for the cut-and-paste enthusiasts in the crowd!
Third
, a selection of
needle-felting tools
from
Clover
, plus a bag of assorted wool roving in natural and spring colours.
If you've ever contemplated learning how to needle-felt, this would get you started in fine style!
Fourth
, a copy of
Quilting in No Time
by Emma Hardy.
Emma Hardy is a crafting pro (I've given away books of hers before) and this book showcases her skills yet again, with a selection of easy, attractive quilted projects. Adorn your bed, your home or yourself – there's an idea for everyone!
Fifth
, a copy of
Kaffe Knits Again
by Kaffe Fassett.
OK, I have to admit that this book isn't brand-new: I've been hoarding it, trying to convince myself that it would be all right to take it home with me instead of giving it away. If you're a fan of dramatic colour work and are interested in a challenge...this might be for you. It's beautiful, trust me!
Sixth
, a selection of
craft punches
from Fiskars. I was lucky enough to meet with a Fiskars rep a few months ago, and when he was finished demonstrating the new line – he gave them to me! That means I have all sorts of goodies to share. Here's a sample (there are three border/corner punches, two 3-in-1 corner punches, and one squeeze punch).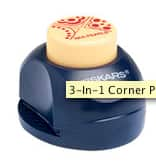 Again, these would be perfect for the scrapbookers and paper-crafters out there. They're so much fun to play with!
Seventh
, and finally, a copy of
The Complete Book of Polymer Clay
by Lisa Pavelka.
I had no idea there were so many things to do with polymer clay! Whether you're a jewelry-making pro or you've just been thinking you might like to give it a try, there's surely a project in here for you.
Whew! That's a ton of good stuff, right?
Because there's SO much (and because next weekend's a long one),
you've got until 11:59 p.m. on Monday, February 15th to leave ONE comment on this post.
This week I'd love it if you'd tell me how you found Make+Do...I'm always curious to know where you're from! Feel free to mention which prize you'd like – I'll try to take that into consideration when I'm doing the draw.
I'll post the winners here on Tuesday, February 16th.
(PS Have you subscribed yet? It'd be awesome if we could meet the 300 subscribers milestone, too!)