DIY & Crafts
Giveaway #68: Books for Fibre Lovers
DIY & Crafts
Giveaway #68: Books for Fibre Lovers
Hi again, My bookshelf has been tending toward overburdened the last few weeks, so I've got a bumper crop of books to give away this week. They're beautiful books from
Interweave
, and if you click on the title of the book you'll be taken to the
Interweave
page, which provides a Scribd preview of each publication (I know you like to have a peek inside.) Are you ready? Here we go!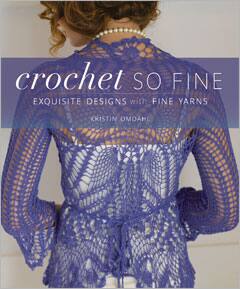 I have two copies of
Crochet So Fine
to give away. This book is full of beautiful projects. I can barely make a granny square, but the lovely designs in this book make me wish I was more competent with a crochet hook!
If you are a quilter, sewer, printer or dyer, you'll find lots of interesting information in
Art Cloth: A Guide to Surface Design for Fabric
. Each chapter teaches you a new skill, and concludes with a project that helps you put that skill to use. (One copy.)
Get Spun: The Step-by-Step Guide to Spinning Art Yarns
will be right up your alley if you're interested in spinning your own funky yarn. This book assumes a familiarity with spinning on a wheel, so it's not exactly for beginners (then again, I've always thought that aspirational reading is a great way to learn!). (One copy.)
Knitwear Design Workshop: A Comprehensive Guide to Handknits
is the book to have by your side if you're ready to take the plunge into designing your own knitted garments. There are even diagrams to help you with the math. (One copy.)
For your chance to win, leave ONE comment
on this post telling me your first and second choices and why you'd like to win the book you've chosen. Comments will be open until 11:59 pm on MONDAY, August 23; I'll post the winners here on Tuesday, August 24. Good luck!