Organization & Cleaning
Spring Cleaning : 9 Tips And Products To Get Your Home Spick-And-Span
iRobot Roomba j7+ Self-Emptying ROBOT VACUUM, $1,050, irobot.ca.
Organization & Cleaning
Spring Cleaning : 9 Tips And Products To Get Your Home Spick-And-Span
Who said cleaning has to be a chore? It doesn't take much to establish a routine that can make housework light, easy and—dare we say it?—fun! Here, we've gathered top tips and products to get your home spick-and-span for spring.
Sharing is caring
Children love to imitate adults, so take the opportunity to give little ones tasks appropriate to their age: wiping the table after meals, sweeping the floor, vacuuming, loading or emptying the dishwasher, or folding laundry. Clearly mark tasks on a calendar. It's one way to avoid being overwhelmed by drudgery while also teaching your kids to tidy up.
Go go gadgets
Make sure your entire arsenal of housekeeping helpers—washer, dryer, dishwasher and robot vacuum—is properly programmed before you leave the house. Auto­mated appliances can work while you're out, so everything is clean when you return home.
Fresh and clean
Mini Floral Print Duvet Cover, from $60, zarahome.com.
Baking soda has deodorizing properties, so sprinkle a little on your mattress when you're changing the sheets. After about 30 minutes, give the bed a good vacuuming and take a deep breath of fresh air.
Clean as you go
Umbra Buddy Squeegee, $12, umbra.com.
In the bathroom, quickly swipe the shower walls using a squeegee, clean the sink and lightly scrub the toilet bowl after using them. All simple actions that avoid having to scour encrusted dirt later. In the kitchen, do the dishes (unless it's better to soak) and wipe off the stove and counter immediately after use: an easy way to avoid the need for elbow grease. Splurging on fun tools, such as a cute squeegee or toilet brush, can make you feel more inclined to use them.
10-second tidy up
Corn Fibre and Cotton Rope STORAGE BASKETS, from $50, bouclair.com.
Okay, it'll probably take about five minutes…but every night before bed, pick up whatever's lying around. When things pile up, we spend our time tidying rather than actually getting to the cleaning. Arm yourself with a good-size bin or basket to collect everything and avoid too many trips back and forth. Kids can help with this one by gathering up their own belongings.
Domestic demigod
Housework moves your entire body, so it's a good way to stay active. Try doing lunges while vacuuming, and squats and deadlifts while picking things up off the floor.
All-in-one advantage
Attitude Nature+ All Purpose CLEANER in Citrus Zest, $4, All-Purpose Cleaning WIPES in Lavender & Thyme, $6, well.ca.
Don't clutter up the kitchen and bathroom with a ton of different bottles. Multisurface cleaners are where it's at—they make cleaning so easy and can be used just about anywhere. Quebec-based company Attitude offers a variety of eco-friendly household products from spray cleaners to disinfectant wipes. We love it!
First, we dust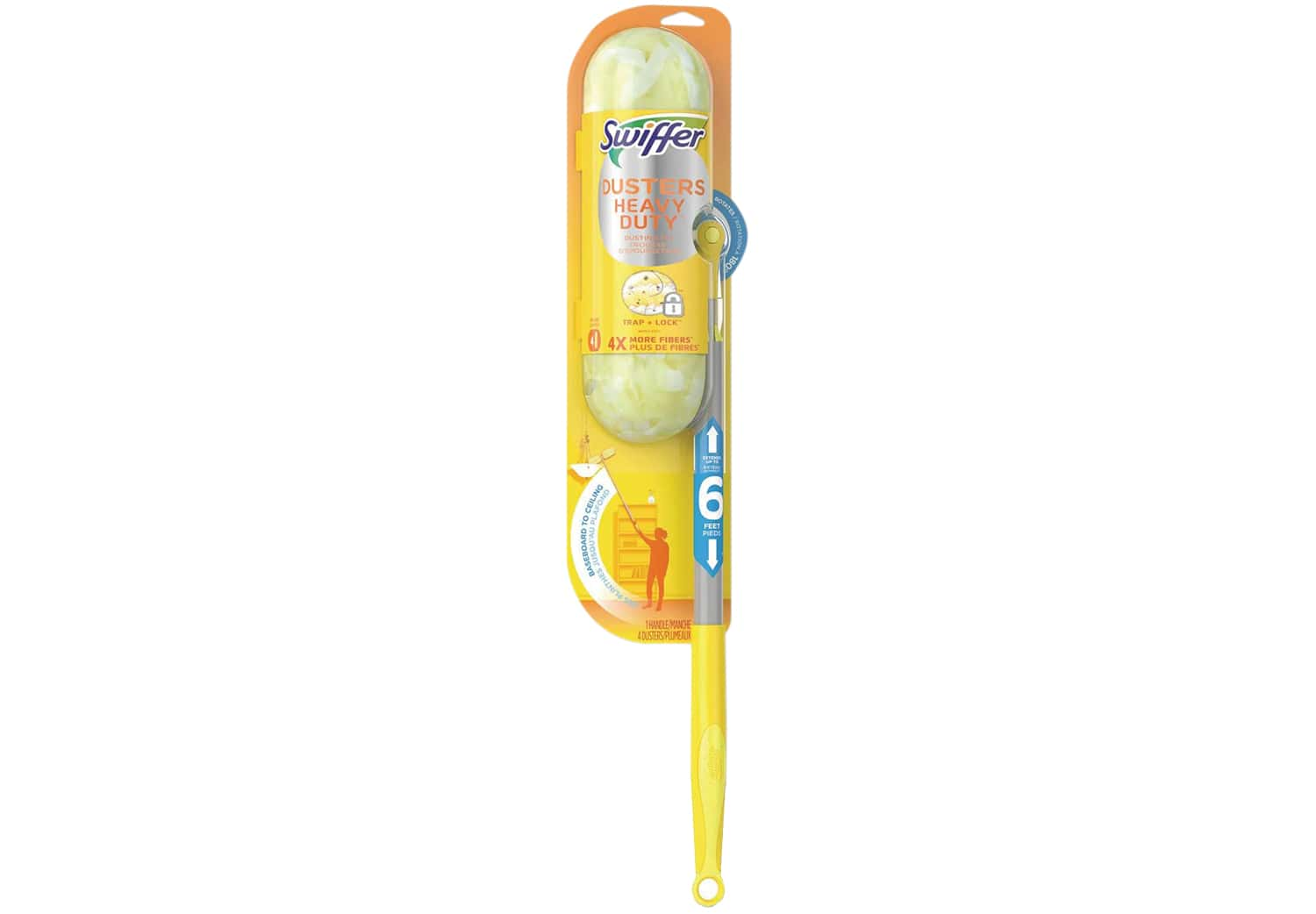 Swiffer Dusters Heavy Duty Dusting Kit, $20, canadiantire.ca.
Be sure to make dusting one of the first steps of your cleaning routine so you can then vacuum or sweep up the inevitable particles that settle on the floor. A high-quality duster like this one will capture grit in the blink of an eye.
Durable dirt catchers
Color&Geometry Doormat in Yellow, 32" x 40", $50, amazon.ca.
This colourful carpet is the perfect place to wipe your feet before taking off your shoes when you get home. Opting for a patterned and
textured rug means you'll see less dirt. However, vacuuming every couple of days to remove debris is always a good idea.
Daily duties
Take a moment to craft a calendar with daily chores for everyone in your household. Spread out over several days, the work seems much less laborious than spending your entire Saturday morning cleaning! Save time by keeping rags, sponges and household cleaning products in a bin. It's a good idea to keep a few around the house, so you always have them on hand, especially in the kitchen and bathroom.