Community & Current Events
7 female Canadian authors you need to read
Community & Current Events
7 female Canadian authors you need to read
Hear the phrase "great Canadian women authors," and such names as Margaret Atwood, Margaret Laurence, Carol Shields and Alice Munro might spring to mind. We couldn't agree more. But with so many talented female writers in this country, why not expand your literary horizons? Here are some of our favourites to get you started.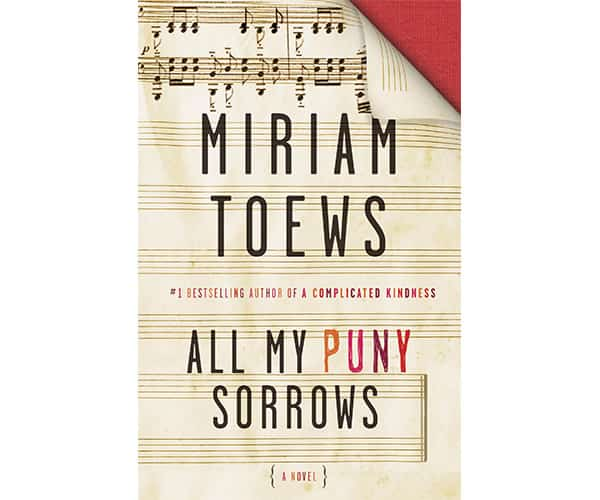 Miriam Toews
The second daughter of Mennonite parents, Toews grew up in Steinbach, Man. Though perhaps best known for her novels
Summer of My Amazing Luck, All My Puny Sorrows
and
A Complicated Kindness
, Toews has also written for the CBC and such magazines as
Canadian Geographic
and
The New York Times Magazine
. For all her literary success, Toews has dealt with deep tragedy: her memoir,
Swing Low: A Life
, was inspired by her father's suicide in 1998. Some 12 years later, Toews' sister, Majorie, also took her own life.
Must read:
All My Puny Sorrows
Toews' critically acclaimed novel is based on her experiences from her father's and sister's suicides, and is both heart-breaking and laugh-out-loud funny.
Jane Urquhart
Born in Little Longlac, a Northern Ontario mining town, Urquhart married Paul Keele, an Ontario College of Art student, in 1968 when she was only 19. Keele's death just five years later spurred her to return to school and shaped much of her subsequent writing. In 1976, she married visual artist Tony Urquhart, who had four children from a previous marriage, and then had her own daughter, Emily, the following year. While her own family life has influenced her writing, Urquhart credits the stories of her Irish ancestry as having a significant impact. Her works include
Whirlpool
,
Storm Glass
,
The Underpainter
and
Sanctuary Line
.
Must read:
The Stone Carvers
This book tells the story of a family of German immigrant woodcarvers in a small Ontario village whose lives, and those of their neighbours, are torn apart by World War One.
Sara Gruen
A dual American/Canadian, best-selling novelist Gruen only took to writing fiction after being laid off from a technical writing job in the U.S. She's a supporter of animal rights organizations—a theme that plays strongly in her writing. Her first two books,
Riding Lessons
and
Flying Changes
, for example, both involve horses. Born in Vancouver, she currently lives in North Carolina with her husband, three sons and seven pets.
Must read:
Water for Elephants
Set in the 1930s, Gruen's third novel follows the life of a veterinary student who winds up working with animals in a circus.
Emma Donoghue
This Irish-born writer has written more than 14 books—historical, contemporary and short-story collections—but has recently become better-known for her novel
Room
, which was made into an award-winning movie of the same name. Although as a child, Donoghue wanted to be a ballerina, she also wrote poetry and completed her first novel at age 19. She moved to London, Ont., to be with her now wife, Chris Roulston, and the couple have two children, Finn and Una.
Must read:
Room
This international best-selling novel tells the story of five-year-old Jack and his "Ma," who live as captives in a single room.
Anakana Schofield
Scholfield's 2013 debut novel,
Malarky
, won both the Amazon.ca First Novel Award and the Debut-Litzer Prize for fiction, which left readers hungry for her second novel. They were not disappointed:
Martin John
, published in 2015, was shortlisted for the prestigious Giller Prize. Such accomplishments are a far cry from the 44-year-old, Irish-born writer's days writing gambling news for a website, just to feed her then infant son, now a teenager.
Must read:
Malarky
When a middle-aged woman in rural Ireland discovers her farmer husband is fooling around on her, she decides to figure out what is motivating him.
Heather O'Neill
Born in Montreal and partly raised in the American South, O'Neill took the literary world by storm in 2006 with her debut novel
Lullabies for Little Criminals
. The book won the 2007 CBC Canada Reads competition. Her second novel,
The Girl Who Was Saturday Night
, came years later in 2014, quickly followed by 2015's short-story collection
Daydreams of Angel
s
—both shortlisted for the Scotiabank Giller Prize. Whether it's novels, poetry or screenplays she's writing, O'Neill takes great inspiration from Montreal, and admits a huge love of Quebecois culture.
Must read:
Lullabies for Little Criminals
The story revolves around 12-year-old Baby, who lives with her heroin-addicted father in various spots around Montreal.
Elizabeth Hay
This Giller winner is a multi-talented writer with more than five novels, a collection of short stories, non-fiction and essays to her credit. The Owen Sound–born Hay marks her beginnings as a writer at age 15 when she was at a girls' grammar school in London, England, when the teacher asked the students to read a poem by D.H. Lawrence and write whatever came into their minds. "I wrote easily for the first time in my life," says Hay on her website. "In that period in the classroom I found my vocation."
Must read:
Late Nights on Air
Drawing on her decade of radio broadcasting, Hay writes of the lives of the various characters working in a public radio station.
Read more:

5 more amazing Canadian books
Top books for the end of 2015