Community & Current Events
Behind the scenes at our live cover shoot with guest editor Lisa Ray
Photography by Michael Williams Image by: Photography by Michael Williams
Community & Current Events
Behind the scenes at our live cover shoot with guest editor Lisa Ray
What happens behind the closed doors of a magazine office used to be kept strictly secret, a mystery to all but the editors and photographers who worked to create those beautiful pages. Well, we don't think that's fair. Maybe it has something to do with turning 40, or maybe we're just so excited about our yearlong celebration plans—but we've decided to share some of the very best stuff with you before our pages are even sent to the printing press.
That was the thinking behind our first-ever live cover shoot, featuring actor, blogger and
health advocate Lisa Ray
. The Toronto-born beauty has 250,000 followers on Twitter, and she burns up Instagram with scenes from
her many travels
. Plus, she's uncommonly candid and comfortable on social media, which made her a perfect partner. You've probably heard of actors who retreat to the solitude of their trailers between scenes. That's not Lisa. She laughed and chatted with the crew,
answered your questions on Twitter
and liberally shared pics from her own phone throughout the day. Oh, and she happily said yes to an interview in situ. Here's an excerpt.
Canadian Living:
You've called yourself a "three-flag" citizen, dividing your time between Hong Kong, India and Canada. What do you appreciate about coming back home?
Lisa Ray:
The luxury of creating the kind of life you want is really powerful, and most Canadians have that choice. We should be really proud of that! Toronto, I think, is one of the world's greatest social experiments. You see couples of so many different mixed ethnic backgrounds, or same-sex couples, and it's no big deal here. But let's not forget that it's a big deal in the context of the rest of the world.
CL: All the travelling you do must be stressful. How do you stay centred?
LR:
Meditation is our greatest
spiritual technology—and there's a great app I use when I'm travelling and shooting called Buddhify. It'll give you a brief guided meditation that works with what you're doing in your day. Yoga is huge for me, and there are great online classes at
yogaglo.com
.

CL: How do you prep for a photo shoot?
LR:
Sleep! That's about it. And I would say sleep is one of my beauty secrets. I can't say enough good things about it. Your body can only
heal when you're sleeping
, and everything comes into balance. Eight hours for me is a bare minimum, and I could go even longer. I've been experimenting with power naps.

CL: You're known for your great style. What's your favourite thing to wear?
LR:
I'm really moody about my clothes, so there are times when I want to glam it up and I'm all over that! I have a lot of friends who are fashion designers in India, and Greta Constantine in Canada is one of my favourite designers, so I have a lot of choice. But, in general, on a daily basis, I like comfy pants—either jeans or this great pair of [eco-designer] Laura Siegel silk-crêpe pants that I love; I adore the drape on them.
Here's a sneak-peak of the cover shoot:
Lisa maintained peak energy on set...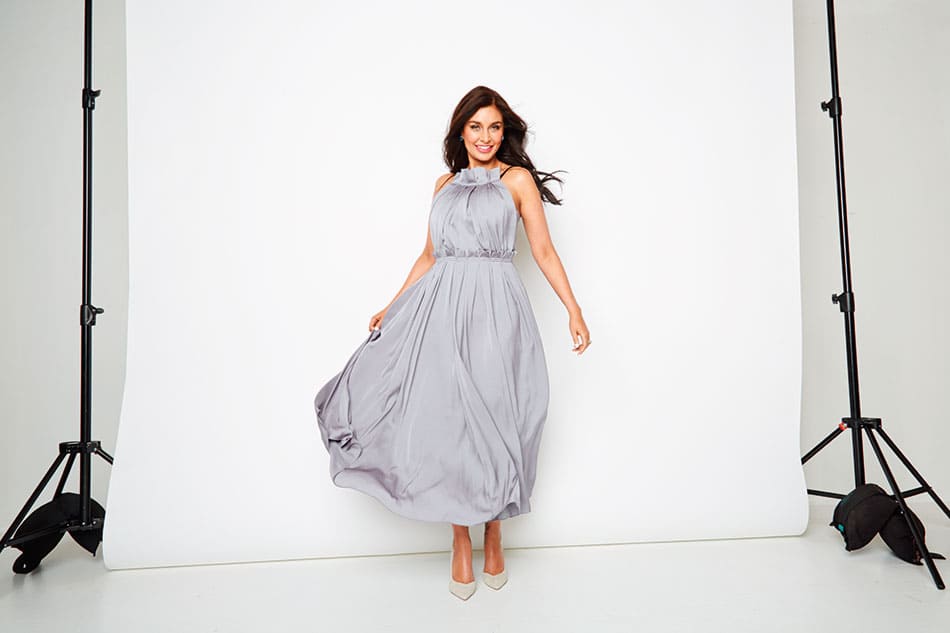 ...even through touch ups!
Our
Style team pulled colourful accessories from the CL closet...
...including these fabulous shoes.
Our live cover shoot, including Lisa's no-makeup selfie, generated more than 13.2 million impressions on Twitter.
Hair and makeup artist Sabrina Rinaldi enhanced our cover star's natural beauty.
The
entire crew tweeted furiously in support of our #CL40 chat.
Fashion & Beauty director
Julia McEwen
styled each of Lisa's five outfits.
Come celebrate our 40th anniversary
with us! Enjoy our favourite recipes, tips and trends from the last four decades.
This story was originally part of "Behind The Scenes At Our Live Cover Shoot With Guest Editor Lisa Ray" in the June 2015 issue.

Subscribe to Canadian Living today and never miss an issue!