Community & Current Events
Educate a girl, empower a nation: Back to school for women and girls around the world
Talitha Tolles, who creates leadership programs for rural and at-risk youth, is pictured with her mother, Joyce. Image by: Gilda Furgiuele, courtesy of WE
Community & Current Events
Educate a girl, empower a nation: Back to school for women and girls around the world
In a few short years, I'll join parents across the country as my daughter trots off to school each September. Ever since I became a mother, this time of year makes me think about the promise of education for women and girls in Canada and around the world.
Want to fight poverty? Educate girls.
Want to open doors for women on their way to the board room? Educate girls.
Want to end child marriage, eradicate disease and make sure the next generation is better off? Educate girls.
That goal has become doctrine in the world of international development, with studies from Harvard, USAID and the United Nations attesting to the social, economic and political benefits.
Every year a girl spends in school naturally increases her earning potential—but education is also associated with lower instances of child mortality, decreased rates of HIV/AIDS and improved literacy among the next generation. When space is made for women to contribute equally to society, we build stronger communities, here and around the world.
That's a lesson I've seen time and time again in the women I've met through WE who are cutting their own trails as leaders, pushing through obstacles, defying cultural norms and giving back.
Without a hospital in Eastend, 500 residents in the rural Saskatchewan town must drive four hours to Saskatoon in case of emergency. And when they need extended care, they're forced to stay overnight, making Ronald McDonald House an essential home away from home for those receiving life-saving treatment.
So, as a farewell in her final year of high school, 18-year-old Janise Michel and her friends in the WE Schools club decided to sponsor a room, providing the money to support programming and meals to bring the comforts of home to dozens of families in trying times.
This is no small feat. Funding a room in Ronald McDonald House runs around $30,000.
But Janise was determined. Her parents stayed there when she was born prematurely, and she grew up on stories of the kindness and community her family experienced.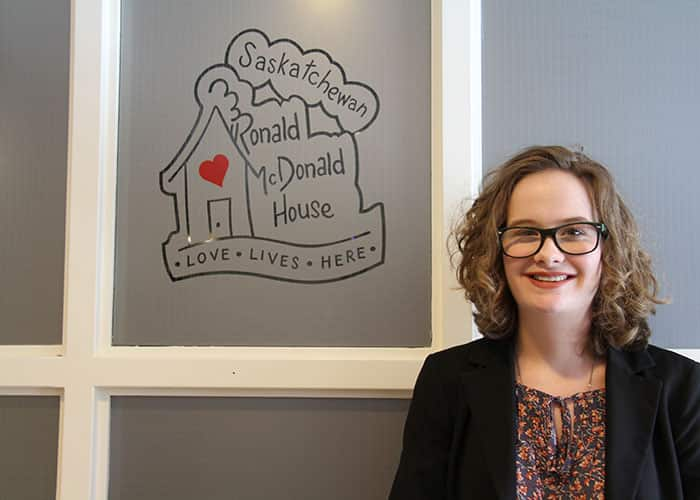 Janise Michel and her friends raised $65,000 for Ronald McDonald House. Image by: Jesse Mintz, courtesy of WE
Students organized a gala, selling tickets, soliciting donations for a raffle and organizing volunteer performances and pro bono catering services. By the time the last item had been auctioned—fittingly for a farming town, the big ticket item was two days' of combine harvesting—they'd smashed their goal and raised $65,000, enough to sponsor two rooms.
Janise says it was the lessons she learned in the classroom that gave her the confidence to pull off such a massive project. That is the power of an education. When women and girls are given space to learn and grow, they reinvest and give back.
This is especially true for developing communities, where the investment takes a different form.
At 19, Moseline Moravy is determined to finish high school—but she has to make it through elementary school first. The other students call her "grandma" after delays to her education to care for family left her behind her classmates, the oldest among the Grade 5 students.
Growing up in Manac, a small community in the upper regions of Haiti's inner hills, there is no health clinic or market in her village. There isn't even an official road.
But her community built a school with WE.
19-year-old Moseline Moravy from Haiti's remote community of Manac is the oldest student in her Grade 5 class. Despite taunts about her age, she is determined to graduate. Image by: Wanda O'Brien, courtesy of WE
Moseline already has more education than both of her parents, partly funded by her own makeshift convenience store. A budding entrepreneur, she buys and resells candy to pay for her school uniform.
The same spirit that drives Moseline to break barriers and stay in school is what pushes women to chip away at the glass ceiling here at home. To help them, we need to empower them as girls, early on in their education and careers.
I think about these girls and women every day.
Talitha Tolles already has her dream job. She started as an outreach speaker, travelling the country and inspiring thousands of Indigenous youth to become leaders in their communities. Now she creates leadership programs that run in northern and rural communities, in high schools and on reserves. In these at-risk areas, the programs offer skills that could help save lives.
Speaking on the WE Day Canada stage next to Gord Downie and Pearl Wenjack, Chanie Wenjack's sister, she shared what drives her to work with Indigenous youth: the lessons she's learned from the strong women in her life. Talitha spoke of the honesty, strength and compassion she learned from her mother and grandmother. Sharing that story onstage was a life-goal for Talitha.
Janise. Moseline. Talitha.
These women embody a favourite saying of mine: educate a girl, empower a nation.