Community & Current Events
Top 10 parks to visit during the Toronto 2015 Pan Am & Parapan Am Games
FlickrCC/Simon Carr Image by: FlickrCC/Simon Carr
Community & Current Events
Top 10 parks to visit during the Toronto 2015 Pan Am & Parapan Am Games
While you're discovering everything Toronto has to offer during the
2015 Pan Am & Parapan Am Games
, make sure you leave some time to visit the city's beautiful green spaces. Here's our roundup of the best parks in Toronto.
Riverdale Park; FlickrCC/Simon Carr
1. Riverdale Park
Located near Broadview and the Danforth on Toronto's east side, Riverdale Park has a beautiful view of the city's metropolitan skyline. At 18 hectares, the park features many sports facilities, such as a running track, tennis courts, baseball diamonds and a ball-hockey pad. This beautiful setting is ideal for outdoor exercise.
Adult appeal:
If you want to
kick back and relax
with your friends or your partner one evening, Riverdale Park is a beautiful place to watch the sunset. There are also coffee joints to enjoy close to the park on the Danforth. Try The Rooster Coffeehouse!
Why it's great for kids:
Riverdale Park has picnic areas, a playground and many trails for biking and hiking.
For more information, visit
Riverdale Park
.
2. Rouge Park
With its scenic views, wildflowers and multitude of birds, Rouge Park offers unbelievable nature photography opportunities. Located in eastern Toronto, the epic 3,800-hectare park also features a plethora of trails. Don't forget your binoculars and a field guide (the park is a renowned spot for bird-watching). There's also swimming,
canoeing and fishing
on offer; you can even set up camp at the Glen Rouge Campground and stay a while.
Adult appeal:
Rouge Park provides a fantastic getaway without leaving the Greater Toronto Area. Getting there is only a short drive or public transit ride away.
Why it's great for kids:
The bike trails and the beach will keep your kids busy for days.
For more information, visit
rougepark.com
.
HTO Park; FlickrCC/Tania Liu


3. HTO Park

HTO Park is located on the waterfront near the CN Tower and the Rogers Centre. Enjoy stroll along the boardwalk or lounge in the sandy area that sports sun umbrellas. This park is a great place to go for a jog—but don't get distracted by the gorgeous view of Lake Ontario.
Adult appeal:
After you've had your fill of this
urban-chic beach
in the big city, head to one of the many bars and restaurants nearby in downtown Toronto.
Why it's great for kids:
HTO Park is perfect for skateboarders, bikers and anyone with a Frisbee. It's also right across from the Toronto Islands and the Centre Island Amusement Park, a short 15-minute ferry ride away.
For more information, visit
HTO Park
.
4. Withrow Park
Withrow Park is located in Toronto's east end. Famed for its farmers' market (run by a team of volunteers), this eight-hectare park is the place to connect with Ontario farmers and food entrepreneurs to talk sustainable farming. As you shop for fresh greens and other delicious foods, expect to catch a glimpse of local musicians, crafts and other vendors.
Adult appeal:
At the farmers' market you can sample all kinds of produce from local vendors and bond with an engaged, friendly community.
Why it's great for kids:
The market offers kids' craft workshops, there's plenty of open green space to play in and outdoor theatre shows run over the summer months.
For more information, visit
Withrow Park
.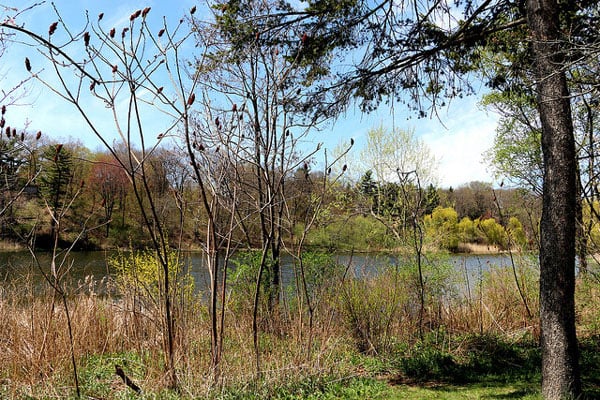 High Park; FlickrCC/Rina Pitucci


5. High Park
Situated in the west end of Toronto near Bloor Street West and Parkside Drive, this
family-friendly
park is all about hiking, picnics, greenhouses and a view of Grenadier Pond.
Adult appeal:
High Park is lovely for a romantic stroll with your partner at any time, but in April and May the cherry blossoms will be in full force. Bring your own picnic or have a bite at one of the eateries located conveniently within the park.
Why it's great for kids:
This park features a free zoo that's home to bison, llamas, peacocks and sheep. The kids will also enjoy The Jamie Bell Adventure Park and the large outdoor playground (with an ice cream truck that is often stationed nearby).
For more information, visit
highparktoronto.com
.
6. Kew Gardens
Running along Queen Street East and all the way down to the beach, Kew Gardens hosts many events, such as craft shows and The Beaches International Jazz Festival in July. Relax in the sun at the outdoor picnic areas or visit the bandstand for live music. This green space has a beautiful path linking Woodbine Beach to Balmy Beach, perfect for biking or rollerblading.
Adult appeal:
Kew Gardens is adjacent to Queen Street, so there are lots of eclectic stores and restaurants to discover.
Summer
events held at the nearby public library and the Beach Guild of Fine Art are perfect for date night.
Why it's great for kids:
Kew Gardens features many open grassy areas, tennis courts, a wading pool and a baseball diamond! It's also stocked with snack bars and has plenty of washroom facilities.
For more information, visit
Kew Gardens
.

7. Trinity Bellwoods Park
Just south of Queen Street West, Trinity Bellwoods Park is one of Toronto's most popular green spaces. At almost 15 hectares, there are eight tennis courts, baseball diamonds, an area for
off-leash dogs
, volleyball courts, a greenhouse and a summertime farmers' market. With so much to offer, why wouldn't you want to check it out?
Adult appeal:
This park is a
gorgeous spot for a walk
, run or even yoga. The farmers' market sells quality produce; hang out and mingle with the community!
Why it's great for kids:
The park has plenty of sports facilities, a playground and wading pool, but if you find that it gets too busy, venture off to the Trinity Community Recreation Centre to swim and play ping pong.
For more information, visit:
trinitybellwoods.ca
.
Centre Island; FlickrCC/Dennis Jarvis


8. Centre Island
Take the 15-minute ferry ride from downtown Toronto to Centre Island, tucked in between Ward's Island and Hanlan's Point. A popular destination with tourists and locals alike, Centre Island has lovely green spaces and bike trails, and during the summer you can rent canoes and kayaks.
Adult appeal:
This is a nice spot for a staycation if you can't actually get out of the city. But if you're looking for a more peaceful experience, explore the two islands beside Centre Island. Hanlan's point has a clothing-optional beach, volleyball courts and
picnic areas
with fire pits. The more residential Ward's Island offers walking and biking paths and a quiet beach.
Why it's great for kids:
Purchase a day pass or ride tickets and visit the Centreville Amusement Park with your family. Or stop by Franklin Children's Garden, an interactive garden inspired by the Franklin the Turtle series written by Paulette Bourgeois and Brenda Clark.
For more information, visit
centreisland.ca
.

9. Humber Bay Butterfly Habitat
Run by volunteers and community stewards, the Humber Bay Butterfly Habitat is a one-of-a-kind park. Located just south of the Waterfront Trail near Marine Parade Drive and Waterfront Drive, there's a home garden area filled with plants, a wildflower meadow, short-grass prairies and beautiful trails.
Adult appeal:
This park is a wonderful place to find inspiration for your own garden. There are also lots of opportunities for nature photography and wildlife sightings.
Why it's great for kids:
This is a
great spot to go biking
with your kids so they can get acquainted with nature and native butterfly species!
For more information, visit
Humber Bay Butterfly Habitat
.
Bluffers Park; FlickrCC/JasonParis


10. Bluffers Park
Stretching 15 kilometres along the lakeshore in Scarborough, Bluffers Park is a natural wonder. Unlike the manmade HTO Park, this park is a result of the accumulation of sedimentary deposit from more than 12,000 years ago. Formed by the natural processes of erosion of wind and water from Lake Ontario, the bluffs are majestic. Don't miss the trails, beaches, gardens, sports and recreation facilities and barbecue areas.
Adult appeal:
Bluffers Park is next to Bluffers Park Marina, where you can get on a boat and enjoy Toronto's landscape from the water. Or, if you prefer to stay on land, there are many restaurants, coffee shops and dessert spots surrounding the park.
Why it's great for kids:
Kids will love the beach areas and the volleyball courts. Take care, however, when you venture up to the bluffs. The edges are unstable so keep your kids behind the fences for safety.
For more information, visit
Bluffers Park
.
Check out these 10 Canadian athletes to watch at
Toronto's Pan Am Games
.