Community & Current Events
Zarqa Nawaz on what it's like to be Muslim Canadian
Image courtesy of Mark Taylor Image by: Image courtesy of Mark Taylor
Community & Current Events
Zarqa Nawaz on what it's like to be Muslim Canadian
Talking to Zarqa Nawaz is like
talking to an old friend
. The moment we meet she begins chatting a mile a minute about her morning wardrobe complications. "I should have never experimented with a new hijab style the day I was going on television," she groans, gesturing toward the knot at the base of the brightly coloured scarf on her head.
The writer and mastermind behind CBC's
Little Mosque on the Prairie
looks beautiful, with her bright eyes and
sparkly earrings
, but her dramatic gestures toward her head and her hyperbolic comparison of bad hair days and "bad scarf days" has me cracking up.
Luckily, I found Zarqa's book to be very similar to its author--charmingly candid, strangely illuminating and completely hysterical. In
Laughing All the Way to the Mosque
, Zarqa outlines her experience of growing up Muslim in Canada, from negotiating with her mom about school dresses to using candy money as reparations for her sons' circumcisions.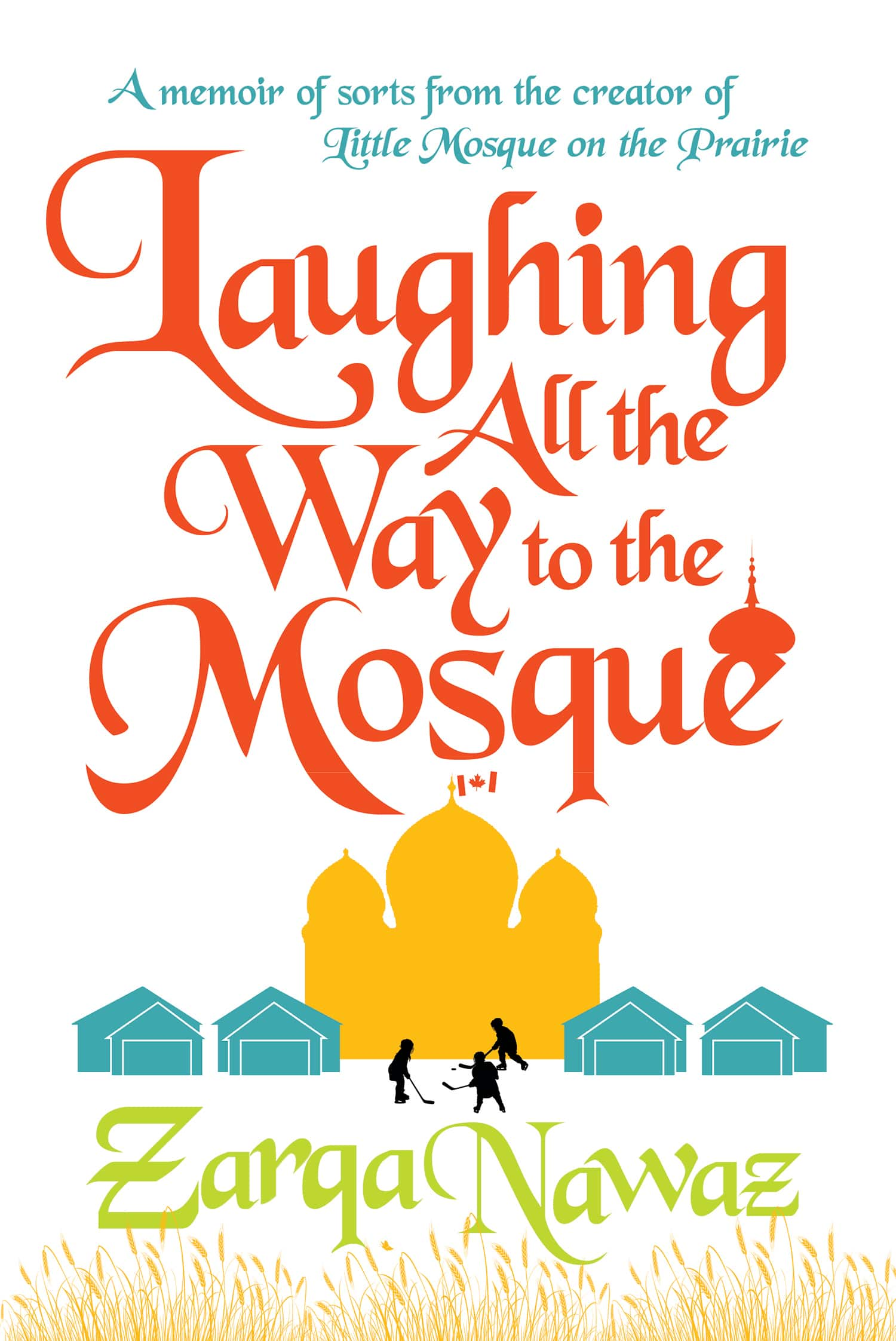 From the time that
Zarqa first opts for peanut butter
and jelly in her lunch bag instead of her mom's curry chicken drumsticks, her life is filled with cultural tensions. But as she grows up, she learns to embrace the very things about her traditions and faith that once embarrassed her.
In fact, Zarqa doesn't seem to have a shred of shyness left about her religion when she explains Muslim genital cleansing habits to the contractor who's finishing her bathroom. "We buff our twigs and berries and muffins as if they were the hood ornaments of an expensive European car," she writes. And she wears her hijab proudly--both for religious purposes and teenage rebellion plots. "Some people think
hijab is used to oppress people
. It's true. I used it to oppress my parents."
In some ways it's astonishing how well Zarqa barrels forward with her beliefs with unabashed conviction--and a good dose of humour. After all, she encounters a fair bit of misunderstanding, ignorance and even fear because of
her religion and heritage
. In a particularly telling anecdote, she recounts how, in the wake of 9/11, a suspicious neighbour calls the RCMP to look into her father-in-law. Zarqa, in typical dramatic fashion, decides to invite all the neighbours over to smoke out the person who called.
Zarqa can't quite explain why her reaction to such horrific events is humour. "I don't purposely do it. Whenever someone tells me something, I just think of the absurd," she says. "When something horrible happens, especially in the mosque--there are always crazy patriarchal men in a misogynistic culture--I just turn and think, I'm going to write about it. I use it as a mechanism to survive."
And religion is certainly not off limits for her humour. "I don't think God meant for us to be serious. I think he, or she, would like us to laugh and enjoy ourselves," she says.
Religion, patriarchy,
culture clashes
--there isn't much Zarqa is afraid of taking on in this book. In fact, she began writing it as a collection of essays about issues that affect the Muslim community, but soon realized she was meant to write a memoir. "There are a lot of misunderstandings about certain issues, and I thought, let's just clear them up," she says. "But when I tried to be serious, it rapidly became clear that my brain was not wired to write a book of intellectual essays." The comedian in her seeped through, and her editor guided her toward sharing her hilarious personal stories that highlight many of those very real issues.
Though the mother of four didn't set out to put her life on display, she was already used to it in some ways. "I wish I could just be anonymous, I really do sometimes, but I can't," she says. "That's the thing:
After 9/11 you knew your life would change forever
, to be the public face of your whole community."
Since making
Little Mosque on the Prairie
, Zarqa has, in a way, become the voice of the Muslim community. She used the TV show to represent Muslims who were like the ones she knew at the mosque, not some caricatures from Hollywood. And while she's had a lot to do with striking down stereotypes and sparking more intelligent conversations about Muslim Canadians, there are still a lot of negative perceptions out there (cue the blockbuster terrorism films).
"We really don't want worldwide domination and the destruction of the Western world. We really don't," says Zarqa, deadpan. "It's too much just to be able to
get our kids off to soccer practice
."
Zarqa isn't sure what she'll be writing next, but I'm hoping this will be the premise.
Laughing All the Way to the Mosque
(HarperCollins, $29.99) is available online and in bookstores.