Culture & Entertainment
10 Canadian-themed costumes for Halloween
Culture & Entertainment
10 Canadian-themed costumes for Halloween
This is how all Canadians should do Halloween.
What gets us more excited than Halloween treats? Halloween costumes. Not sure what you're going to dress up as this year? Look no further. We've rounded up 10 perfectly patriotic costume ideas to flaunt your Canadian pride this year. Whether you want to throw it back to your favourite 90s sitcom and whip out your vintage denim and hair scrunchies, or you're inspired by your favourite Canadian fast food joint, there is a costume idea here for you.
1. Céline Dion
Channel your favourite Canadian chanteuse and break out your short sequin number for this epic costume. Complete the look with your best My Heart Will Go On impression.
2. Breaker High
Gather up your friends and dress up as the cast of this '90s sitcom for a throwback group costume idea. The secret to achieving this look? Bucket hats, Hawaiian-print shirts and a whole lot of hair gel.
3. The Canadian Tuxedo
You can pull this costume together in no time with pieces you likely already have in your closet. Just pile on the denim and you're good to go!
4. Loonette the Clown
Remember The Big Comfy Couch? Take a clown costume to the next level and dress as Lunette. You can likely find the items—a pink one-piece, striped socks and a printed long-sleeve top—at your local thrift store. Don't forget the pigtails and a doll named Molly!
5. The Stanley Cup
Dressing as your favourite hockey team might be a point of contention but dressing as the Stanley Cup is fair game. This creative costume is made up of silver clothing, topped off with a metal bowl to complete the cup.
For more Stanley Cup costume ideas visit pinterest.com.
6. Anne of Green Gables
A smock dress, woven hat and lace-up boots are everything you need to dress up as this famous East Coast Canadian character. If your hair is long enough, braid it into two pigtails and tie them off with bows to finish off the look.
7. Mountie
While police officer costumes are overdone, Mountie costumes are not. A red jacket and brown cap are the essential pieces needed to get this look.
8. Busy Ramone and Amanda Zimm
Grab a friend and dress up as your favourite '90s besties this Halloween. Vintage denim, oversized patterned shirts, bowl hats, mini backpacks and a set of hair rollers will transform you into these Ready or Not characters in no time.
9. Tim Hortons Drive-Thru
This costume requires some expert-level DIY skills, but the final result will be worth the effort. Wear a Tim Horton's employee uniform, build a drive-in window out of cardboard, stock up on Timbits and voila!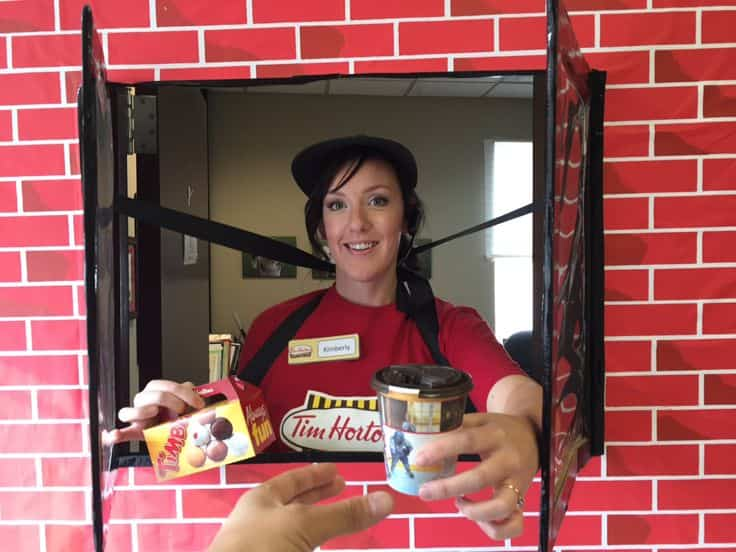 For more Tim Hortons costume ideas visit pinterest.com.
10. Sharon, Lois and Bram
Grab your favourite couple and be the third wheel for this epic group costume. Head to your local thrift store to pick up oversized sweaters in bright hues, neon pants, statement earrings and a few bottles of hairspray to tease that mane into a signature 90s' look. For Bram, find an embroidered vest and oversized basics and you're good to go.