Culture & Entertainment
3 ways to get through the rest of February
Culture & Entertainment
3 ways to get through the rest of February
If you are looking for the
Saturday Afternoon Book Club, click here
. How are we going to make it to March? All we have to do is get through February. Here's what I'm doing. Lemme know if it inspires you at all.
Thing 1: Something to look forward to
[caption id="attachment_15152" align="aligncenter" width="300"]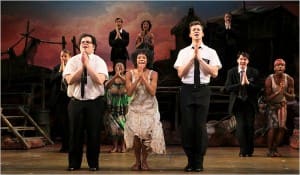 I did it. I bought two tix to "The Book of Mormon." It's finally coming to Toronto! Photo, Sara Krulwich/The New York Times[/caption] I read the
reviews
of the play on broadway. It sounded like the craziest thing.
Trey Parker and Matt Stone
from South Park creating a musical,
"The Book of Mormon."
It's about two modern-day missionaries from Salt Lake City who are sent to Uganda – where they end up confronting a genocidal warlord. The music is amazing. I have wanted to see this for two years. It's finally coming to Toronto. Yesterday, I got my tickets online. May 3. It gives me something to look forward to. Whether it's a vacation, a dinner date or a party, the anticipation gets me through the dark nights.
Thing 2: What I learned from a little kid
One thing I always loved about being a parent was teaching a kid something. So many opportunities abound in a day for those moments: everything from tying a shoelace to how to iron a shirt. And so, as an adult, it is still so shocking for me to be taught something by a kid. But we do. Listen to this
kid talking about why the world needs a pep talk.
[HTML1] Stop being boring. Be a better dreamer. Keep going. What if Michael Jordan had quit? What will you create to make the world awesome? Nothing if you just sit there. We were made to be awesome.
Thing 3: Do something outside your comfort zone
I was watching a reality TV show about an ER and every day at 3 p.m., whoever is working (and wants to) lace up their running shoes and run up and down the stairs for 10 minutes. One of the interns, who was working a crazy long shift said it helps her to focus and energizes her. It makes sense. So we started doing that at work. [caption id="attachment_15154" align="aligncenter" width="300"]
Nastasha, one of my coworkers, does the 3 o'clock stair climb with us every day. Random fact: When we got to the Nestle floors, someone had drawn pictures of people going up the stairs. It was so unexpected. It was like the universe supporting us. Or Nestle, anyway haha :) Photo, Simone Castello[/caption] We work on the second floor, but we are up to 19 floors already. We don't run. We walk. And we take breaks. It takes us about 10 minutes. But it's a great way to get a little energy during the midafternoon slump. And connect with other people doing the same thing at the same time thousands of miles away.
How about you? How are you going to get through the rest of February?