Culture & Entertainment
David Suzuki loves the ocean (and a giveaway!)
Culture & Entertainment
David Suzuki loves the ocean (and a giveaway!)
[caption id="attachment_1357" align="aligncenter" width="305" caption="Suzuki's takes an in-depth look at our oceans in his documentary series One Ocean."]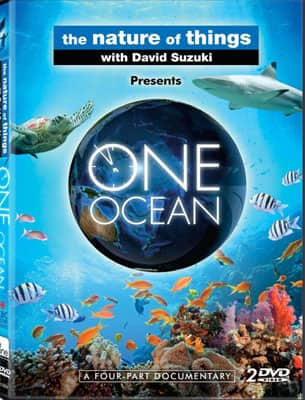 [/caption] If you're a David Suzuki fan, you already know how much he loves the ocean. And if you've seen his documentary series from The Nature of Things called
One Ocean,
you probably have taken
The Pledge
to do everything in your power to protect the ocean, because you love it too! One Ocean is an eye-opening four-part documentary that looks at our complex ocean and the devastating impacts humans have had on it. The documentary addresses such harrowing issues as: acidification, coral depletion, deadzones, overfishing and pollution. Suzuki also looks at the success of some sustainable practices implemented to protect oceans and the life within. Guess what?
I'm giving away one copy of One Ocean.
All you have to do is leave a comment here telling me if you are a David Suzuki fan. I will announce a winner Thursday November 18. You have to be a subscriber to be eligible to win. Good luck!