Culture & Entertainment
Getting In On The Anthem Action
Culture & Entertainment
Getting In On The Anthem Action
Though people may be starting to cool their heels a bit about the potential lyric changes, leave it to the marketers to get in on the changes. The debates about the lyrics were so hot and heavy, and yet no one's even mentioned this: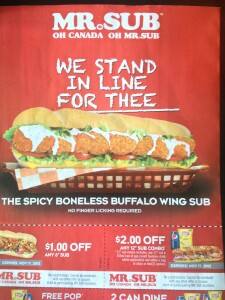 Except my kids. Who thought it was stupid.
"Why would they do that to the anthem, mom?"
asked Darling Daughter. Baby Boy piped in
"isn't it disrespectful?"
"Well, yes,"
I explained,
"it is. But, it also got your attention, so it means it was an effecive advertizing tool."
"So it's just another ad?"
"Yup."
"They shouldn't do that."
"You're right they shouldn't."
Now pass me a pizza sub...