Culture & Entertainment
Hands-on dining in Avignon, France
Culture & Entertainment
Hands-on dining in Avignon, France
Cooking with irreverence in Avignon, France
Legions of faithful come to Avignon for religious reasons. After all, thirteen popes (yes, 13!) made their home in the papal city of Avignon, in the south of France, in the 1300s. Such visitors often approach their stay in Avignon with a sense of reverence. I, on the other hand, spent an evening in this city that was quite the opposite. I got to meet the irreverent, artful, creative and and engaging artiste-restaurateur-entrepreneur Corinne Guyon of
Maison de Fogasses
. The gatherings around her table would quite likely draw raised eyebrows from stalwart popes of centuries gone by. Far from a religious experience, the evening chez Corinne was sheer indulgence, though I profess my friends and I were not guilty of the sin of gluttony – there was too much laughter for that.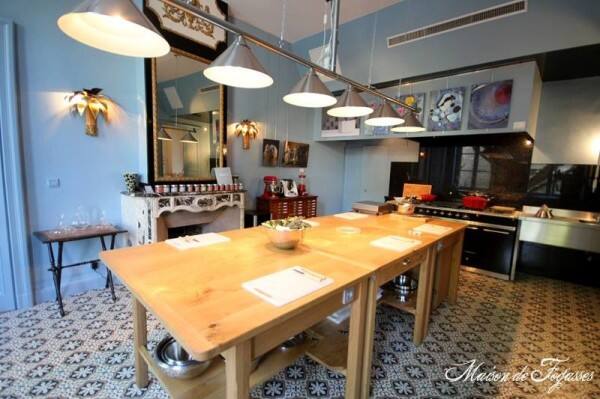 La Maison de Fogasses is in a 15th-century townhouse on a narrow street in the heart of Avignon, at 37-39 rue des Fourbisseurs. Certain days of the week Corinne and her team of helpers, who are a mix of artists and cooks, operate a restaurant. Other days, guests come for cooking lessons (Tuesdays and Thursdays). Other times it's for art exhibitions. Some describe the establishment as a designer boutique where local artisans create works for show and sale. When I first entered through the large nondescript wooden doors from the street, I thought I'd entered the Mad Hatter's tea party but then I wandered into yet another room on the second floor and thought I'd stumbled into the costume department for the movie "Moulin Rouge." The space is eclectic. The name is a nod to the previous owner of the rambling building(s) and tower, Gabriel de Fogasses, who lived here during the 16th century. Corinne's mandate for Maison de Fogasse is simple: "I wanted to create a place where I could promote and nurture creative exchange and friendship." And good food, of course. That's where chef Caroline Millet comes into the picture. She patiently nurtures our collective cooking skills during hands-on culinary evening while the witty Corinne entertains us with stories and anecdotes. Corinne lives in one part of the sprawling historic house with her daughters, alongside a menagerie of cats, dogs, and other assorted pets.
Booking an evening at Maison de Fogasses is much like spending an evening in a good friend's private home (she rents out three rooms and allows guests full run of the house, art studio, kitchen, lounge and back yard). In this case, the friend also happens to run a designer fashion boutique and an art gallery. .
And let us not forget the art. The exhibits change, based on a variety of themes. La Maison de Fogasses is also an popular venue during the summer theatre and art festivals.
For more on Avignon:
visit
Avignon Tourisme
.
Getting there:
Canadians no longer have to fly through Charles de Gaulle airport in Paris to reach the south of France. There are direct flights into nearby Marseilles with
Air Transat
. From there it's a fairly easy jaunt to Avignon, where a warm welcome and good food (with a dose of humour) await.