Culture & Entertainment
Jodi Picoult on ghost hunting and "Leaving Time"
Culture & Entertainment
Jodi Picoult on ghost hunting and "Leaving Time"
Jodi Picoult is a powerhouse author. At age 48, she has more than 20 books to her name, many of which have been bestsellers, and some of which have been turned into films (ever heard of a little movie called
My Sister's Keeper?).
Oh, and she's done it all while raising three kids. This month, Jodi is releasing her latest masterpiece,
Leaving Time,
which traces 13-year-old Jenna's plight to find her mother, Alice, an elephant researcher who went missing 10 years ago in the wake of a tragic accident at an elephant sanctuary. Not knowing whether her mother is dead or alive, Jenna enlists the help of a psychic and a private eye in this story that touches on grief, the bond between mother and daughter, and the mystery of afterlife. We're celebrating the release of the book with an exclusive evening with Jodi in Toronto on Oct. 30, during which she'll talk about the new book. The VIP event will include tea, treats, gift bags, conversation with Jodi and a signed copy of the book.
Reserve your spot here
. Since we just couldn't wait to read the book and talk to Jodi, we decided to ask a few burning questions. Here's what she had to say.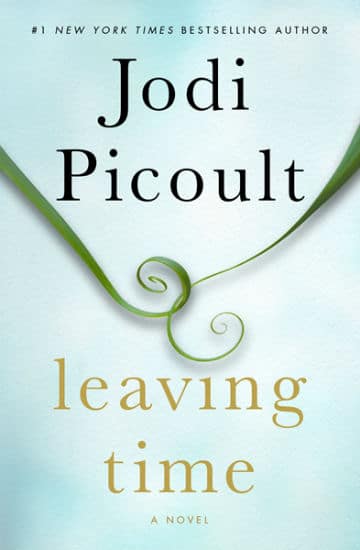 What was your inspiration for the book?
It actually began when I was in the process of getting ready for my last child to leave the nest. She was getting ready to go off to school. I was getting ready to be an empty nester and feeling really sad about it. And then I happened to stumble across this fact, that in the elephant kingdom, a mother and daughter elephant stay together their whole lives until one of them dies. I started reading a little bit about elephants and I realized that the way elephants examine grief and the way elephant cognition works would be a perfect metaphor for this book about being left behind.
You have another book that focused on wolves. Are you an animal person?
Oh God, yes. We live on a small farm. We have two donkeys, a bunch of chickens and geese. We have four dogs, two of which are rescues. So yeah, I'm an animal person.
Psychic ability plays a big role in Leaving Time. Do you believe in psychics?
I had the opportunity to meet a psychic while I was doing research for this book. His name is Chip Coffey. He said things while we were together that I couldn't dismiss. I was really amazed by his level of intuition. I had done research with ghost hunters for an earlier book. There were things that happened when I was out ghost-hunting that I still can't explain. I do think there is more to this world than what we can see.
Leaving Time has a big focus on afterlife. What do you think happens when we pass away?
The way that it was described to me by Chip is the way that Serenity describes it [in the book]. Basically, there are multiple layers to the world, so you and I might be living on one layer, but there are people on other layers, and we all overlap. That, to me, is a fascinating way of seeing it.
You've tackled a lot of ethical dilemmas—organ donation, bullying, suicide, gay rights. Are you inspired by the news or your personal life?
It really depends. Sometimes it's the news, sometimes it's a conversation I have. Sometimes it's just something that's keeping me up at night that I'm worried about. There is no shortage of controversial topics to write about, but they have to strike me at a certain point in my life in a certain way for me to want to write about them.
Do you write about certain topics to engage discussion about them?
Absolutely. I can't make someone change their mind, but I can make them ask why their opinion is what it is.
Can you tell us about what you're writing next?
It's about racism in America in the present day. Because God knows we need to start talking about that.
Love Jodi? Canadian Living is giving you the opportunity to meet her on Oct. 30 in Toronto and get a personalized signed copy of her latest release. Click here to buy your ticket.
(Photography: Adam Bouska)