Culture & Entertainment
Kate Middleton's bump: Three ways to distract prying eyes
Culture & Entertainment
Kate Middleton's bump: Three ways to distract prying eyes
Kate Middleton's bump hit the news this week as bikini shots surfaced showing her belly (this follows a report that she was shopping for yoga pants - guess which experience I relate to?) But how to dress for that bump when you're not quite ready for maternity wear, but your regular wardrobe is starting to feel tight? Here are three ways to distract from the bump. Just add leggings and go.
1. Boyfriend shirt
If you're pregnant right now you're in luck with the longer lengths and geometric prints. Love this teacup print from the
Gap: $59.95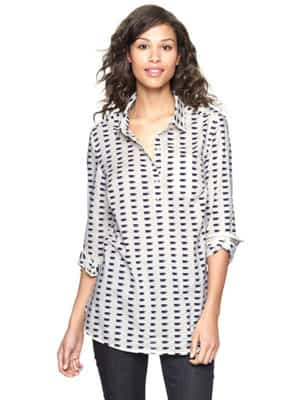 2. Great boots
Even pregnancy goes better with great boots: It keeps your leggings looking planned, and draws people's eyes away from the waist area. Enjoy them before your ankles swell.
Aldo, $140
3. Flowy cardigan
Layer your look and keep what's below to yourself with a great cardigan like this one from
RW&Co, $60
What was your secret early-pregnancy fashion find?
And if you're planning ahead, here's
how to pick a nursing top
. Trust me, disguising the bump may start to look easy in comparison.