Culture & Entertainment
Lil BUB's Lil Book: Good job, Bub!
Culture & Entertainment
Lil BUB's Lil Book: Good job, Bub!
Good job, BUB! It was a magical day on Earth (read: the
Canadian Living
office) when our lovely
pets editor, Simone
, agreed (or rather, indulged me) to review a book by the Internet's cutest kitten-in-residence, Lil BUB. Her book is titled
Lil BUB's Lil Book.
Naturally. If you didn't know, Lil BUB is the
#mostamazingcatontheplanet
. She is real! She is a girl!
Maybe it's her dainty tongue, or the way her eyes can see into the future. Either way I'm sure you've never seen anyone like BUB before. And as you flip through the pages of her book, you, too, will fall in love with BUB. (Yes, even the cat-haters out there will love her. Hi Boss!). Lil BUB met her Dude, Mike, as a tiny six-ounce kitten. A mom of Mike's friend found a litter of feral kittens and BUB was the runt of the litter. She has extreme dwarfism, extra toes on every paw, and an underdeveloped lower jaw (and no teeth--they never grew in), so that's why her tongue hangs out. Her Dude was told by veterinarians that cats with BUB's types of birth defects might only live several months and that she might have a lot of medical problems. But guess what? None of this dissuaded her Dude, and they've been best friends ever since. <3
You've probably guessed by now that BUB is special. In fact, she's from another planet named Bub Ub BUB where everyone looks like her. (Cute!!) This story depicts BUB flying her space pod from Bub Ub BUB when she crash lands on earth. (Sometimes that happens). She sends a message back to her friends to let them know what happened, and they respond by telling her that she's working on Monday. It's just like real life!
Bub decides to start looking for fishes, and that's when she meets her Dude. After visiting the park, eating dinner and getting a bath, BUB goes to sleep. One of the best parts of this book are the various stage sets upfront and during BUB's dream sequence. We get to see BUB at Stonehenge, with giant avocados and with the pyramids! It's adorable. My favourite photo is Lil BUB in her lil bedroom, in a lil wrought iron-style bed with the word "BUB" written in cursive on her headboard. Did I mention BUB has a poster of the band RUSH on her wall? We should probably just
give her Canadian citizenship now
. This book made me, and everyone else who saw it smile. I've introduced Lil BUB to my office and now it's over to you dear reader. Lil BUB's Lil Book is perfect for the dude or dudette who likes animals, who's into pop culture, or if you want to have more people visit you at your desk! You should probably get a second copy, though, for the person who sits next to you, so they don't feel left out. Good job, everybody! Need more BUB? Get your
#bilbobubbins
fix:
Online:
lilbub.com
Instagram:
@iamlilbub
Facebook:
Facebook.com/iamlilbub
Twitter:
@iamlilbub
Lil BUB even has her own
YouTube channel
AND her own TV show. Her first guest was Whoopi Goldberg. Check it out! [HTML1] -------------- June is also Lil BUB's birthday month. On June 21, BUB will be leaving her terribly-CUTE-twos and is turning three! By the end of this month, BUB is hoping to raise $50,000 for Lil BUB's Big FUND for the ASPCA. By buying her book at
store.lilbub.com
, you're helping extra special animals like BUB, find forever homes with other Dudes and Dudettes.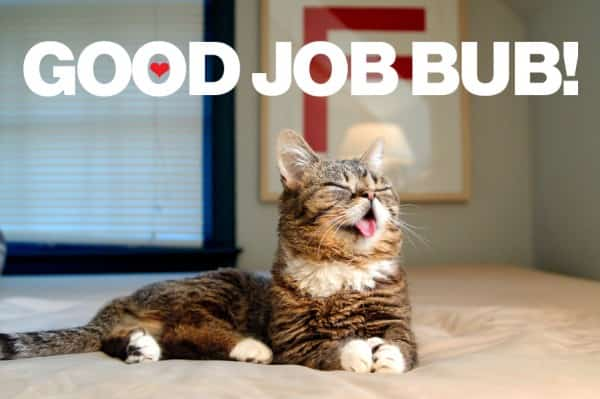 Images courtesy of Penguin Canada (2014)