Culture & Entertainment
New Brunswick: The Best Fall Colours Ever!
Culture & Entertainment
New Brunswick: The Best Fall Colours Ever!
A magical splash of colours. Thanks Mother Nature!
Where else in the world can you step out of your car, or hop off your bike, and just stand in a kaleidoscopic whirlwind of all-natural colour.
Fall foliage
is to North America what cherry blossom season is to Japan. Magical and mystical. Several years ago I did a weeklong
inn-to-inn hike in Vermont at the height of fall colour
s, that magical time when leaves turn colour and progress through various shades of the rainbow...before eventually falling to the ground. A slightly-orange carpet would drape a mountain side one day, only to turn crimson red the next. In Northern Ontario, I once stood under a stand of old maple in
Algonquin Park
on a windy afternoon in mid-September and was caught up in a miniature tornado of swirling pure-yellow leaves. I felt I was on the set of a Disney film. But one fall-colour mecca that was off my radar until two years ago:
New Brunswick.
I swear the entire province becomes on patchwork of red, amber, orange, yellow, rusty magnificence. Here are a few shots of
fall foliage in New Brunswick
. It's worth the trip!
•••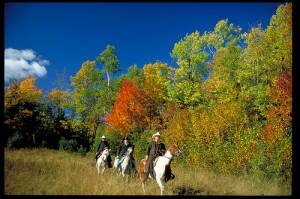 •••
•••
•••
You can easily customize your own autumn foliage tour in New Brunswick by following their
online fall leaf report.
You can great snapshots and driving routes of the best fall colours in the province. I'm still looking for other fall foliage options in Canada. Suggestions welcome!