Culture & Entertainment
Our Fabulous Destination Wedding!
Culture & Entertainment
Our Fabulous Destination Wedding!
Saying "I do" to a destination wedding
Last year Jamie Gentry and her fiancé, Rob McConnachie, of Sooke, BC, were the winners of a fabulous
destination wedding
package through a contest on Canadian Living. Thanks to the expert wedding planners at
www.destinationweddings.com
, Jamie and Rob were married at the beautiful
El Dorado Casitas Royale, one of the Karisma resort properties
(a quick jaunt from Cancun International Airport.)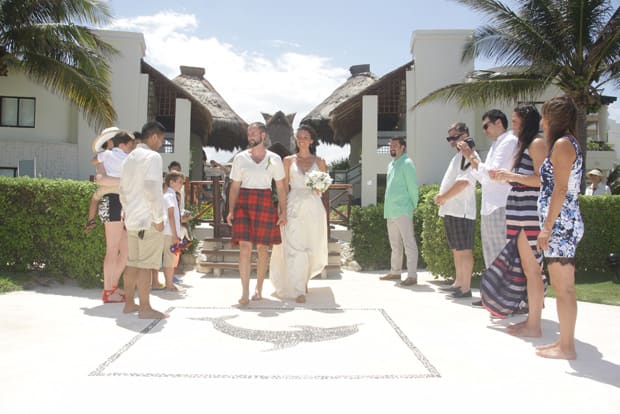 Jamie and Rob combined a family getaway with their wedding. The beachside ceremony on the
Riviera Maya
meant that a handful of loved ones got to enjoy a great holiday that included gourmet cuisine, secluded beaches, and lounge time at the property's 13 pools – not to mention the Mexcian Caribbean right in front of them.
Canadian Living:
Jamie, what was the best part of you destination wedding?
Jamie
: Aside from winning it, arriving at the destination was amazing! We waited over a year for our wedding, and because we won it, the whole thing felt surreal. So when we walked into the resort and were greeted with chilled drinks, even the choice of pillow firmness, and aromatherapy scents for our room, the reality of this amazing prize sunk in, and we were all overjoyed.
Canadian Living: What was most memorable moment?
Jamie
: I can't pinpoint one moment as the whole trip was memorable, and every time I think of it I am overpowered by feelings of sheer joy. We spent hours swimming in the pools (yes that is plural), eating food until our bellies felt like they would burst, played volleyball, went shopping in Playa del Carmen, visited the ruins of
Chichen Itza
, made new friends and had a massage in the beautiful spa.
Canadian Living:
Would you recommend a destination wedding to others?
Jamie:
Yes! For me the wedding was more than just a wedding. It was an opportunity to create a lasting memory with our loved ones, and that was most definitely accomplished.
Azul Beach
is marvellous. The staff are friendly and helpful. I can't say enough positive things about the resort.
Canadian Living: What
element about your destination wedding surprised you the most?
Jamie
: Walking into our suite and seeing the beauty and luxury of it.
Azul Beach
is incredible and we were overwhelmed by the exquisiteness of it.
Canadian Living:
How did your husband react when you were given the opportunity?
Jamie
: He won us the wedding, but I was the one who received the phone call – on my birthday! We were all very excited. I think we both cried many tears of joy. The bonus was being able to bring our children with us. That was such a gift. If you or someone you know is considering a destination wedding, do spend some time on
www.destinationweddings.com
web site. The site is an excellent handbook that answers all manner of questions ranging from legal requirements and documentation, to tips on planning and booking, and details on resort properties which are equipped to handle destination weddings and, of course, honey moons.
Have you ever attended a destination wedding?
Where did you go?