Culture & Entertainment
Putting on the Ritz in Montreal
Culture & Entertainment
Putting on the Ritz in Montreal
Uncorking the first Dom Pérignon Champagne bar in Canada. I'll raise a toast to that!
It's impossible to remain indifferent to
champagne
. Our tastes buds just aren't built that way. Like anchovies, this classic bubbly drink is either something you have an unquenchable thirst for – or avoid at all costs. But history tells us that champagne is pretty much universally adored. Ponder the the words of the inimitable Bette Davis: "There comes a time in every woman's life when the only thing that helps is a glass of champagne." She only echoed the love of champagne held by Napoleon Bonaparte, who decried, "Champagne! In victory one deserves it, in defeat one needs it." I'm funny when it comes to drinking champagne. I never...ever...have it in the house. Not on New Year's Eve. Never to toast a friend's engagement in my livingroom. I only (truly) enjoy champagne if three conditions are met: (a) It's in a decent-sized crowd, (b) never sitting down at a table – always standing – and (c) I'm drinking it in a classic setting. So you'll understand why I'm all agog about the opening of the first
Dom Pérignon Champagne bar in Canada at the Ritz-Carlton in Montreal,
where all three of my admittedly quirky conditions are met. And it's not just any champagne you can enjoy at "The Ritz," you can order Rosé and Brut Dom Pérignon by the glass and bottle. And where better to imbibe your delicious bubbly than the
Ritz-Carlton Montreal
, which, since 1912, has been hosting the likes of the Prince of Wales, Queen Marie of Romania, Prince Felix of Luxembourg, Prince George, Duke of Kent, actress Lillie Langtry, movie idols Mary Pickford and Douglas Fairbanks, Winston Churchill, Marlene Dietrich, Liberace and Maurice Chevalier. If the Ritz was good enough for them...
The recently-restored Ritz-Carlton is the grande dame of Montreal Hotels (Courtesy: Ritz-Carlton)
I knew I wasn't the only one who preferred drinking champagne in the vertical position! (Photo: Ritz-Carlton Montreal)
Dom Pérignon – by the bottle or by the glass (Photo: Ritz-Carlton Montreal)
Delicious nibblies provide an excuse to order another glass (Photo: Courtesy Ritz-Carlton)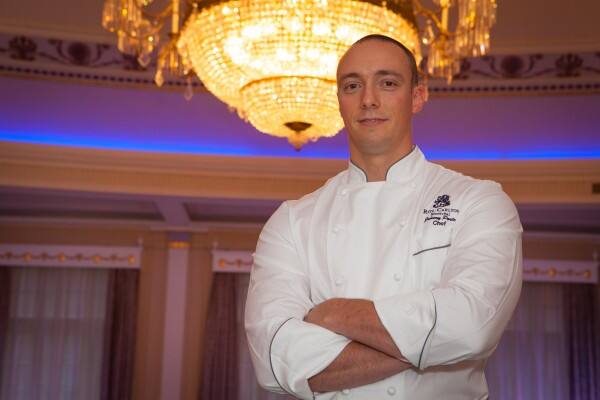 (Photos courtesy of Ritz-Carlton Montreal)
In the immortal words of Charles Dickens, "Champagne is one of the elegant extras in life." It seems to me that a taste of elegance is just one more
reason to visit Montreal
.