Culture & Entertainment
Send This Instead: New app help teens say 'no' to sexting
Culture & Entertainment
Send This Instead: New app help teens say 'no' to sexting
Today we're turning things over to our intern, Erica Rae Chong.
Teens, put your pants back on and delete that naked selfie.
The OPP
has got a better option. The Ontario Child Sexual Exploitation Investigations unit has launched an app called
Send This Instead
to help teens say no to sexting requests. The free app features 57 hilarious and sarcastic picture messages that teens can send to anyone requesting nude photos. For example, this: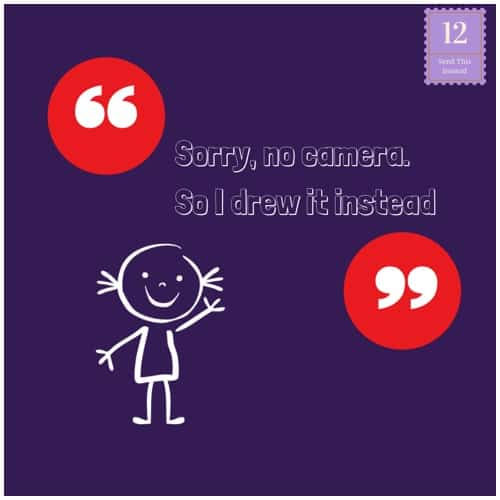 Or this:
But especially, this:
Send This Instead also provides tips on dealing with sexting and links to organizations like Need Help Now and the
Canadian Centre for Child Protection
, where users can make a report. The app was a result of being "bombarded with complaints about sexting in the last couple of years," says Insp. Scott Naylor. It was a follow-up idea to anti-sexting presentations the unit conducted in schools. "What we found was that the cops were saying
no, no, no
to the students and we all know how successful that is," Naylor says. "So we put our heads together and came up with this app." The OPP approached various talent agencies that reached out to comedians and musicians to create the witty one-liners. Within four days, the app saw over 1,000 downloads. "We were even the app of the day
in Mexico
!" Naylor says with amusement. The OPP plans to fully launch the campaign at the Crimes Against Children Conference in Dallas next week. Despite its humorous appearance, Send This Instead carries an important message. "They think it's harmless but once they sent it (the sext), it's out of their control and they cannot get it back," Naylor says. "We are getting four to five sexting self or peer exploitation calls per week. Generally it's from the parent of a young girl who has taken a compromising picture of herself and sent it out and it's gone viral in the high school,
hockey team
, etcetera." While there have been no published studies examining sexting among teens in Canada, a 2012 study by
The Pew Internet & American Life Project
revealed that 15 percent of teen cell phone owners have received sexts on their phone while four per cent of teens have sent one of themselves. Moreover, it is illegal to posses or distribute a nude image of a minor under 18 years of age in Canada. Although the app will not stop sexting, Naylor and the OPP hope teens will think twice before pressing send. "If we can stop one young lady from making a poor decision when she's standing in front of the bathroom mirror with
a camera
in her hand, then I think we've done our job," Naylor says.
If you encounter an uncomfortable situation online, the OPP recommends these steps you can take to avoid it
- Stop what you are doing immediately and speak to an adult, whether it is a parent, a friend or a representative at Need Help Now. - If you are thinking of sending an image to a friend, even one you think you can trust, ask yourself, "Am I ok with anyone (friends, teachers parents or strangers) seeing this photo?" - If you are being pressured into sexting, try making a joke to diffuse the situation, such as sending any of the images in Send This Instead, or simply say no. If he/she persists, talk to an adult. -If you sent a nude image of yourself to someone and are worried that it's been circulated, you can contact the Canadian Centre for Child Protection at
cybertip.ca
or visit
needhelpnow.ca
. Check out these 10 dos and don'ts for
safe and successful sexting
. [HTML1]