Culture & Entertainment
Super-Simple Canada Day Cake
Culture & Entertainment
Super-Simple Canada Day Cake
Canada Day is one of the biggest birthday parties of the year, and every party needs a cake. So, this year I came up with a
super-simple
Canadian Flag Cake
that I can make for my boys on July 1st.
The best part about this cake is that is so easy to make. All you need is a rectangular pan, your favorite cake recipe, white icing, Fruit by the Foot, and a maple leaf cookie cutter. Here's the easy "how to": 1) Bake a white cake in a rectangular pan. You can use a mix, your favorite recipe, or the
Canadian Living Tested Till Perfect White Buttermilk Cake recipe
. Frost the cake with white buttercream icing.
2) Cut strips of Fruit by the Foot (longer than the cookie cutter), and lay on a sheet of wax paper... overlapping slightly. Use the maple leaf cookie cutter to cut out a maple leaf, peel it from the wax paper, and place it in the middle of the cake. (See photo.)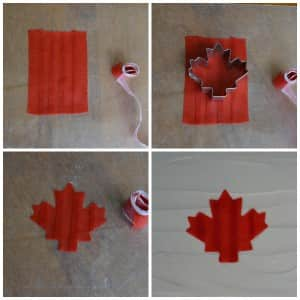 3) Use the same process (as above) to create red strips for the sides of the cake.
Cute,
right
? And while you have the maple leaf cookie cutter out, why not try this easy patriotic lunch made out of a regular grilled cheese sandwich? A maple leaf sandwich is sure to please your pint-sized patriot.
What special food do you serve on Canada Day? Do you make a Canada Day cake? I'd love to hear about it. ♥ Gina (aka
East Coast Mommy
)