Culture & Entertainment
The Couple That Travels Together Stays Together
Culture & Entertainment
The Couple That Travels Together Stays Together
Vancouverites
Nicole and Cameron Wears
quit their jobs in 2009 and have been travelling ever since. At this point, they've visited 50 countries and counting. They've chronicled their amazing journey(s) and share helpful tips and travel expertise on their popular site,
The Traveling Canucks.
. In their own words, they've got a "a slight addiction to world exploration." I was curious about their travels, but I was also keen to know how they manage to spend 24/7 together as a couple on the road. [caption id="attachment_3260" align="aligncenter" width="300" caption="Traveling Canucks Cameron and Nicole Wears"]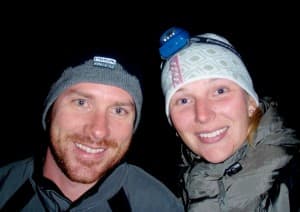 [/caption]
1. What's the number one rule for couples who wish to travel non-stop?
The most important rule that we have when travelling for an extended period of time is to always
compromise
. Although we share a lot of common interests, we still find ourselves disagreeing on where to go, what to see and the best way to go about it. It's important to
define goals for each segment
of the trip and come up with a general game plan. Is it a cultural trip with museums and cathedrals, or is it a relaxation trip with afternoon beers on the beach? Before leaving on an extended trip, we suggest you
write down the top 5 places that you want to visit and compare results.
In our situation, nothing matched so we had to narrow down the list and prioritize. In doing so, we were able to find out what was important to each other. As long as the important stuff is taken care of, the rest is all negotiable. (Read Nicole and Cameron's
Planning A Trip Around The World: 15 Things Not to Forget.
. Their tips are applicable to almost any kind of travel.
2. Can you recall a moment in your travels when you two looked at each other and said, "This is unlike any other place we've ever visited!"
[caption id="attachment_3271" align="aligncenter" width="300" caption="Desert oasis in Peru: An unforgettable travel moment"]
[/caption] Our immediate response would be Easter Island in the South Pacific. The mysterious
Moai Statues
have a strange way of making you feel like you're on another planet. It's so remote and isolated and not many people, relatively speaking, have visited the island. We had very little exposure prior to visiting, so that made it feel that much more extraordinary. However, thinking deeper about this question, were were probably most surprised by
Huacachina, a desert oasis located on the coast of Peru.
We hadn't even heard of it until we were in the Galapagos Islands and a fellow traveller showed us his pictures. Huacachina is surrounded by mile-high sand dunes that gracefully flow in every direction. It is an environment that one would expect to see in Northern Africa or the Middle East, not South America. We were completely blown away that such a unique place existed in the same country that houses the Amazon Rainforest and the lost Inca city of Machu Picchu.
3. Tell us about two places you'd go back to in an instant, even before you've exhausted all the other destinations on your bucket list?
We agree that the
Philippines
would be the front-runner for our first pick. We've actually talked about one day retiring there and opening up a small budget hotel on the beach. With so many stunning tropical islands to explore, it would take us a lifetime to experience them all. We have differing opinions on what our second favourite spot would be. Nicole would like to return to
India
and Sri Lanka, Cameron would like to return to the
Red Sea on the Sinai Peninsula of Egypt.
[caption id="attachment_3255" align="aligncenter" width="400" caption="Snorkelling in Egypt (Photo: Traveling Canucks)"]
[/caption]
4. Best Place To Visit in Canada in Winter?
As lovers of snowboarding, hiking, biking and outdoor adventure, this was an easy one for us -
Whistler, British Columbia
. It's one of our favourite places in the world - for any season. [caption id="attachment_3257" align="aligncenter" width="300" caption="Nicole Wears, one-half of the Traveling Canucks"]
[/caption]
Banff, Alberta
is a close runner up and offers a lot of the same outdoor activities. It does have more wildlife and the
Rocky Mountains views
are hard to beat.
5. In the context of your world travels, what do you feel is Canada's greatest asset for potential visitors?
Canada is so big and so diverse. Living in the temperate rain forest of British Columbia, we are used to seeing tall coniferous trees and mountains. In most parts of Canada you can jump in the car and find nature within 20 minutes, which is one of the things we love most about this country – its great outdoors!
Cue to readers:
What would the Travelling Canucks love about your part of Canada?