Culture & Entertainment
What to do if your dog hates car rides
Culture & Entertainment
What to do if your dog hates car rides
My dog
Maggie Mae
hates a lot of things...strollers, robins, snowplows. But, what she hates the most is car rides. We quickly realized that her panting and pacing in the car was her expressing her anxiety about being in the car. We've tried many
different anxiety treatments
and they've definitely diminished her symptoms, but they haven't completely calmed her and she still seems so miserable when we make the trek to the cottage. So I decided to talk to veterinarian
Renée Charbonneau, to learn how behaviour modification can help Maggie's anxiety. The first thing she told me is not to expect one product to fix Maggie's anxiety. "There's never a miracle cure for dog's behaviour," Dr. Charbonneau said.
But she did give me a helpful guide to help desensitize Maggie to the car. Here are her tips.
Is your dog experiencing motion-sickness?
The first thing Dr. Charbonneau recommends is you
take your dog to the vet
to see if they may be experiencing motion sickness when in the car. Maggie's panting and anxiety may be a sign that she's feeling nauseous. Your vet knows your dog's medical history and will be able to prescribe something to help your dog's motion sickness. If this product doesn't help, then it's most likely your dog has some car anxiety. Or Dr. Charbonneau says it could be a mix of motion sickness and anxiety upsetting your dog.
Desensitize your dog to the car
Dr. Charbonneau warned me that any
behaviour modification
takes time, so don't be deterred if it takes your dog a couple weeks to become desensitized. "It may seem long and difficult, but they pick it up very quickly," she says. She also recommends you put your dog on an anti-anxiety medication throughout the behaviour modification process. Products like
Zylkène
, help dogs with anxiety, but are completely natural (it's a milk protein), so you don't have to worry about it harming your dog. Dr. Charbonneau says keeping your dog on an anti-anxiety product puts them "in a better condition to learn." But always check with your vet before starting a new medication regimen with your dog.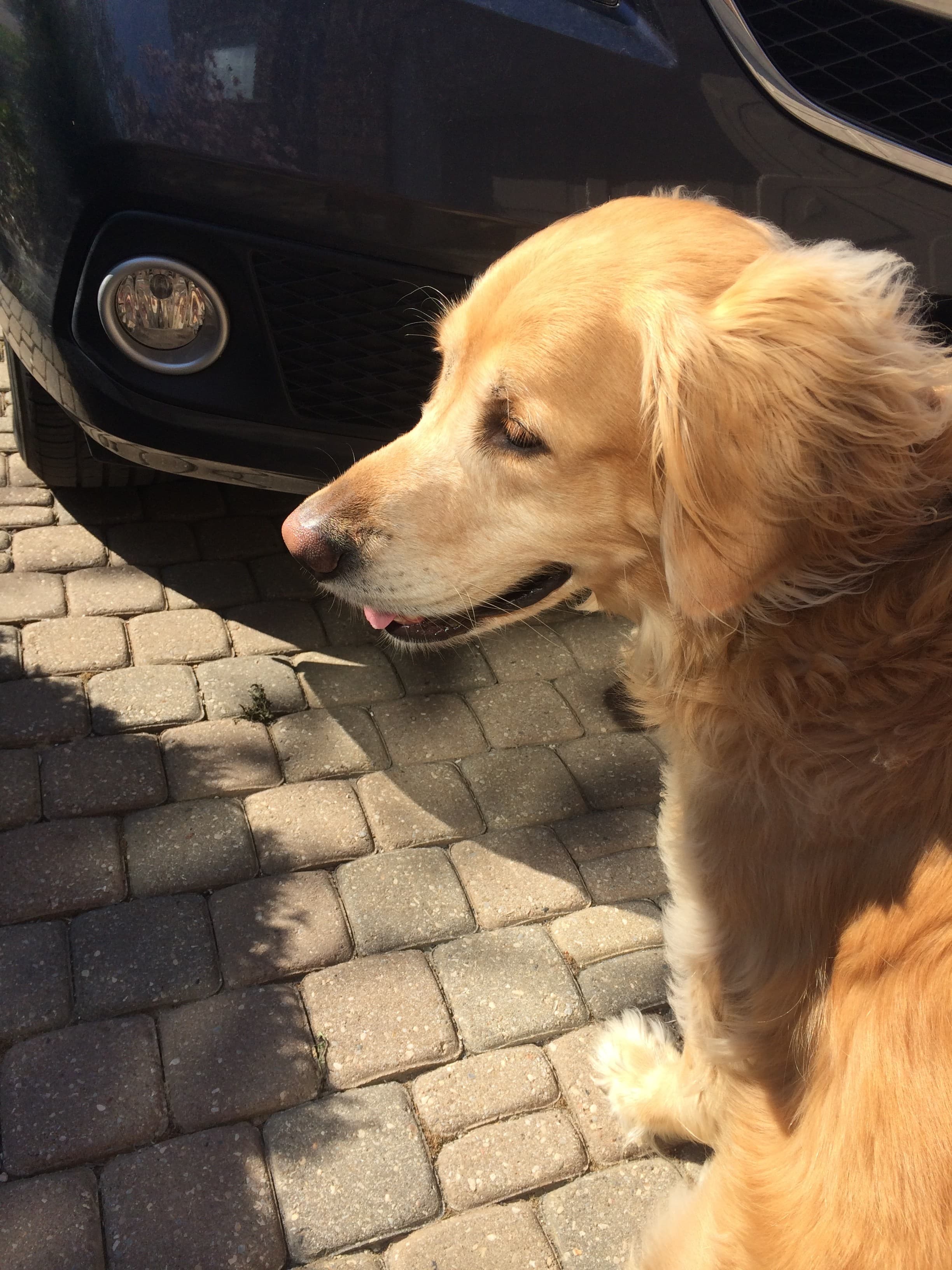 Now it's time to start the desensitization process. First, just walk your dog by the car and get your dog to sit calmly next to it. We clearly have not mastered this step yet. Once they're calm with that step, try sitting outside the car with the door open, then sitting in the car, then short drives, etc. Basically you want to slowly acclimate your dog to the car and show them there is nothing to be afraid of. Before moving on to the next step, make sure your dog is feeling comfortable with the step you've just worked on. Don't push you're dog before they're ready.
Praise
So how do you make your dog feel comfortable with each step? Lots of praise. "Make your dog sit, pet her, say good girl until she doesn't feel stressed," Dr. Charbonneau says. When you praise your dog and give them lots of love, Dr. Charobonneau says they start to "associate a car with something fun."
A special treat
Another trick to getting your dog comfortable with the car is giving them a special treat that they only get when they're in the car, Dr. Charbonneau says. Then they associate car rides with getting something special and they will want to get in the car. We're just starting Maggie's car desensitization. I will let you know how it goes. But I'm hopeful that this will finally be the key to Maggie being calm
in the car
.
Does your dog enjoy car rides?