Culture & Entertainment
Why you need to try Treehugger Cloth Pads
Culture & Entertainment
Why you need to try Treehugger Cloth Pads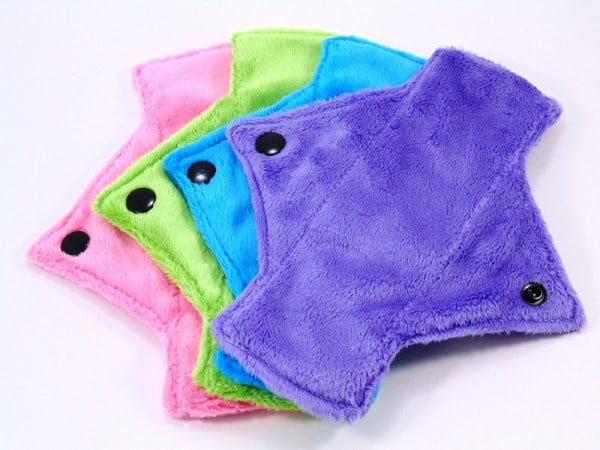 Guest post by Kristen Oelschlagel
A stay-at-home mom from Winnipeg, MB, has revolutionized the one product that women all over the world consistently need (yes, I'm talking about pads). After the birth of her two children, Crystal Burton wanted to find ways to save money and reduce her family's carbon footprint. So she went further than cloth diapers and considered cloth pads. "I sewed up some for myself to try and right from the first time, I was in love. I will never go back to disposables," says Crystal. With some extra fabric she made more pads to sell, and a business was born.
Tree Hugger Cloth Pads
, founded by Crystal in 2008, is now thriving. "The company has grown 50 to 100 percent each year," she says. "My husband joined me full time, so it's our family's main income." Through her business, Crystal has also given others an opportunity to bring in income. "I have a network of stay-at-home moms that sew the pads for me. They're able to work around their kids' schedules, and still be employed." My first thought when I heard about cloth pads was "eww." (There's a reason pads are disposable, right?) But Crystal says that's not the case—there's nothing gross about them. "They don't smell like disposable pads at all. I keep a bag in the bathroom that I put the pads in before washing, and you don't even know they're there." Washing the pads is as simple as shaking the bag into the washer and then throwing them in the dryer. They always come out like new!
The Benefits
First and foremost, cloth pads are comfortable to wear. "Women with skin sensitivities and allergies who are unhappy with disposable pads love the comfort," says Crystal. The majority of Tree Hugger pads are covered with minky—a soft, stain-resistant fabric commonly used for baby blankets. The inner core of the pads is made of a highly absorbent, non-allergenic fabric called Zorb. Zorb contains the same fibers used in cloth diapers: bamboo, cotton, viscose and poly microfiber. There is also a water-resistant fleece backing to stop leaks and snaps on the wings to keep the pad in place. Cloth pads are also cost-efficient and eco-friendly. "Using cloth pads saves women around $1,500 over seven years, so that's a huge selling feature," says Crystal. Cloth pads contain fewer chemicals and create less garbage: One cloth pad can replace about 200 disposables. Tree Hugger Cloth Pads offers the full range of pads you'd find in a store—panty liners, light and heavy flow day pads, and even postpartum and overnight pads—all in stylish colours and patterns. Furthermore, cloth pads are for more than just menstruation; Tree Hugger also offers incontinence pads. While she can't commit to the idea just yet, Crystal says that, due to a growing demand for male incontinence pads, she's started looking into a line of pads for men.
Where to Buy
In addition to the online site, Crystal sells her products in stores across Canada and worldwide (you can find the entire list
here
). To date, Tree Hugger has shipped to 27 countries—the pads being most popular in England and Australia. Crystal says that in Canada, the cloth pads have really caught on in Alberta and Halifax, but she's trying to inspire more sales in other provinces. That's why she and her husband pitched their business on
Dragons' Den
, in an episode that will air next season. "We would love to add more retailers across Canada, but mainly it's to educate women," she says. "There is another option—cloth pads do exist."