Culture & Entertainment
Win a copy of Serena Ryder's new album
Culture & Entertainment
Win a copy of Serena Ryder's new album
UPDATE: This contest is now closed.
Confession: I'm a huge
Serena Ryder
fan. So I was particularly excited to have been one of the lucky guests at a live sneak preview of her new album,
Harmony
(EMI Music Canada), held earlier this week at a Toronto club. [caption id="attachment_14222" align="aligncenter" width="300"]
Harmony
will be released by
EMI Music Canada
[/caption] As much as I've learned about Serena and her music over the years, I discovered that there was more to know about the Millbrook, Ont., native.
Here are three things I learned about Serena at her show:
1. She likes the comforts of home.
"I made this record in my garage," Serena told the crowd early on. Much of the new album was recorded in her home studio, The Cottage.
2. She possesses some mad percussion skills.
The house was effectively brought down during the new song "Baby Come Back."
3. Even Juno Award–winning performers get a little nervous debuting new music for an audience.
After performing her 2009 single "All for Love," Serena confessed to worrying so much about remembering the lyrics to her new songs that she may have mixed up the verses of this fan favourite. [caption id="attachment_14223" align="aligncenter" width="234"]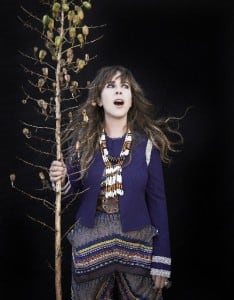 (photo: courtesy of EMI Music Canada)[/caption]
Harmony will not be released until Tuesday, November 27, but you can win a copy before then. We have 3 copies of Serena's new album to give away.
Here's how to enter:
•
Leave a comment on this post
telling me: What's your favourite Serena Ryder song? (Or, you can check out the live stream of her new album
here
and tell me what song has got you really psyched up! It's "Mary Go Round" for me.) •
The deadline to enter is 11:59 pm on Tuesday, November 27, 2012.
• Make sure to leave your name and email address so that we can contact you if you win. We will randomly select three winners on Wednesday.
The contest is open only to residents of Canada.
Good luck!
**UPDATE: This contest in now closed and our winners have been notified. Thank you to everyone who entered!