Culture & Entertainment
What women want: A new documentary about female desire
Culture & Entertainment
What women want: A new documentary about female desire
We surveyed over 7000 people in
our 2014 Canadian Living Sex Survey
and the results were quite surprising. People from across the country shared information on everything from the number of sexual partners they've had in their lifetime, to their favourite sexual positions. Here's just a sample of the most shocking stats that came through: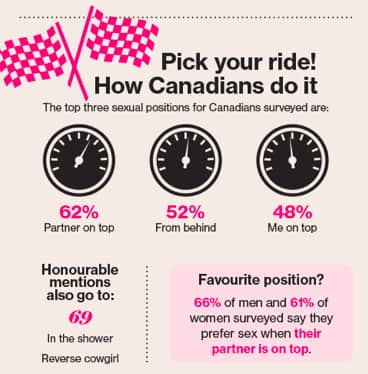 And there's so much more!
Check out our cool infographic
, which features so many interesting stats from our survey, plus a roundup of the funniest pickup lines we've heard from across the country. And the best part? Our stats were featured in a documentary that's set to air on the CBC in February, 2015.
The Truth About Female Desire
is a documentary exploration of the journey women have taken since American author
Helen Gurley Brown
took female desire out of the closet. It focus on a new generation of women who are taking control of their own sexuality, without inhibition. In a sentence, "
The Truth About Female Desire
confronts the last barrier that holds women back from truly pursuing their desire: old-fashioned slut-shaming with a modern twist – social media."
Click here to watch the trailer
. So mark your calendars! The documentary airs on
February 12, 2015 at 9 p.m. EST on the CBC.
(Just in time for Valentine's Day and the release of
Fifty Shades of Grey
!) Check your local listings for more information. Plus, make sure to visit
canadianliving.com/sexsurvey
starting February 1st
to see the stats from our latest survey, focused on sex and technology.