Money & Career
15 Canadian female CEOs and entrepreneurs share their invaluable advice
Money & Career
15 Canadian female CEOs and entrepreneurs share their invaluable advice
Some of the coolest women in Canadian business have a thing or two to say about being a female entrepreneur, making things happen and never giving up.
If these amazing women are proof of anything, it's that you don't need a commerce or finance degree to be successful in business and you can do it while you have a family—if that's what you want to do. Being a woman is an asset, and don't you ever forget it. Check out their thoughts on everything from dealing with unwanted advice, finding motivation and starting over.
EVA WONG, CO-FOUNDER AND COO OF BORROWELL
With her co-founder Andrew Graham, Eva Wong launched what is now one of the largest financial technology (fintech) companies in Canada, Borrowell. It was the first company to give Canadians credit scores for free, and also provides financial advice, personal loans and recommendations for credit cards and mortgages. As a woman, Eva continues to be a minority in the tech world.
Photography: Tom and Keidi Photography
On applying for jobs without all the qualifications: I've had many jobs over my career, and there was a steep learning curve for all of them. In other words, I've never been 100-percent qualified for any job I've had. But I think that's a good thing, because I got comfortable with not knowing exactly how to do something, learning quickly and asking questions.
On being a woman: In some ways being a woman has been an advantage, especially in a male-dominated industry like tech. At least people remember who I am! I know I likely get more than my fair share of speaking opportunities because there aren't as many women in the tech start-up world, especially in financial services, and many events rightly prioritize having a diverse roster of speakers.
On finding the right team: Prioritize diversity. It can be easy to hire from your own network, but it's likely people in your network have similar backgrounds to yourself. It's really important to have people who have different ideas and will challenge you. We look for people who love to learn, are smart and humble.
On future goals: I want to grow Borrowell and empower even more people to make great financial decisions. And meditate regularly, make a croquembouche and go on Jeopardy!
On her mantra: "To those whom much is given, much is expected." I've been given the gift of being born in Canada, plus having a great education and lots of other opportunities. With all that, I feel a responsibility to help others.
Before stepping into her shoes as CEO of 48North, Alison Gordon co-founded ReThink Breast Cancer, a not-for-profit charitable organization with a focus on younger women diagnosed with the disease. Since, she's been named one of Canada's Top 10 Marketers by Marketing magazine and now brings her unique set of brand-building skills to the cannabis industry.
Image courtesy of Alison Gordon
On her journey to 48North: I'm a PhD dropout with a specialty in philosophy, which is not exactly a practical degree. That said, philosophy requires critical and analytical thinking, and these skills are essential for an entrepreneur. Co-founding Rethink Breast Cancer also gave me the ability to market and brand on the cheap. I'm a firm believer that great ideas are not necessarily the most expensive ones.
On being a woman: Women are great collaborators and bring a different set of values to the workplace, like a belief in teamwork and creating a positive, communal work culture. I'm a woman in a male-dominated space, which has helped me to stand out in a crowded industry. I find it helpful to accentuate the differences rather than try to fit in.
On proving herself: There are a ton of people who think only finance people can run a business. My background is academic as well as marketing and brand-building, so I've had to fight harder to prove that my skills make me well-suited to leading a company.
On kids and career: My biggest accomplishment is raising my kids while juggling my career, friends, family and running a business. It's a miracle that I've been able to have success in any of these areas. It can be exhausting and does take its toll on your business and/or your kids, depending on the day.
On her mantra: "Always be hustling." The cannabis industry is like the wild west. You always have to be on your toes and ready for anything.
With a medi-spa and skin-care line based in Calgary, facialist and business owner Annie Graham is committed to giving her clients the best results with the latest and greatest lasers and products (including three serums, two cleansers, a skin mist and a moisturizer that she formulated herself). Come for a treatment, stay for her charm and good humour.
Image courtesy of Annie Graham
On starting out: I think talent plus knowledge with a dash of rebelliousness can equal great things. I'm grateful for my naiveté in the beginning. I was not intimidated and had huge ideas. I took small steps in all directions and followed what fit.
On being a woman: I've worked in male-dominated industries my entire life. There were times I felt overlooked, and I can now see how that kept me hungry. Being in the beauty industry now, I am surrounded by talented women that work so hard. I'm sure many of them rose from the same place.
On unwanted advice: People love to give their two cents, but you really need to listen to yourself in the end because the risk and reward are yours alone.
On learning to cope with stress: I think once you've thrown yourself completely into your business, you learn to function with a certain amount of stress. It feels normal to me now. Drop me a bomb, and I won't even roll my eyes.
On motivation: On tough days, I tell myself "just keep moving forward." If you stand still, you will sink. I've been given some wonderful opportunities and owe it to them not to waste them. I have to keep going.
On her mantra: "You have to be odd, to be number one," by Dr. Seuss. It lets me be me every day—weird and rebellious.
CALEIGH RYKISS, founder and CEO of BOLO Inc.
Once a writer and producer at eTalk and The Social, former competitive boxer Caleigh Rykiss has since opened a personality-filled Toronto boxing, boot-camp and hot-room gym that also features a café, blow-dry bar and selection of sweet giftables (think cheeky cards and succulents). A certified personal trainer and coach, she also teaches several of the classes.
Image courtesy of Caleigh Rykiss
On her big idea: I came up with the BOLO concept during my time as a freelance writer because I needed a place where I could get more done: finish an article, get a sick workout, sip on a smoothie, connect to fast Wi-Fi and get a blowout so I could move onto my next event feeling fresh and confident.
On self-doubt: My husband is my business partner, and I've leaned on him to help with the financial analytics and investor conversations. This is an area where I've felt my own self-doubt as a woman—clinging to the idea that I'm good at the creative and branding stuff, but "I'm no good at the math." I'm learning to work on my internal dialogue, get more confident in my abilities and encourage myself to get more familiar with this aspect of the business.
On the naysayers: BOLO may have been an ambitious idea, but I was committed to making it a reality, though it became clear through the process that many people didn't think I'd follow through with it. My business plan was flat-out rejected many times—by investors who didn't want to get involved financially, businesses that didn't want to collaborate and by real estate companies who didn't want us in their buildings. I've learned to shake it off and keep pushing.
On her lowest low: A lot of people don't know that our very first location fell through the night before we were meant to move into the space. I had already hired trainers and staff and announced the business on Instagram. I was mortified, disappointed a lot of people and hit a very low point in my journey.
On her future goals: I plan to expand BOLO within the GTA and then across the country. My five-year plan is to open BOLO Miami, and I will make this happen! I'm also excited to expand our business online. We launched a blog and a podcast is coming soon so that people can connect with our fam from all parts of the world.
DR. GINA CODY, PHILANTHROPIST AND FORMER PRESIDENT OF CONSTRUCTION CONTROL INC.
Iranian immigrant Dr. Gina Cody was the first woman in Canada to earn a PhD in Concordia University's building engineering program and the first to have an engineering faculty named after her (the Gina Cody School of Engineering and Computer Science following her $15-million gift to her alma mater in fall 2018). It has long been her goal to set a positive example for her daughters and other women who might follow in her footsteps.
Image courtesy of Gina Cody
On her biggest assets: From a young age, I was very competitive and wanted to be the best. Once you set your mind to something, nothing should stop you from achieving it. Having a clear vision and drive is the key. But I also think that success sometimes just happens. A lot of my own success in running a business was being at the right place at the right time and making something out of my luck.
On being a woman: I had to be on my toes at all times to make sure I delivered and that everything I said was properly worded, documented and accurate. As a woman, there is more onus on you to be a better engineer than your male peers.
On her advice to women interested in STEM: Do not be afraid. STEM (science, technology, engineering and mathematics) is for women as much as it is for men. Hard work is required but if you set your mind to it, there is nothing you cannot achieve. I really hope that in 10 to 15 years we won't be talking about women in STEM as the exception; it will just be the norm.
On life-long education: I was the youngest of five children and my mother always made sure her two daughters understood the importance of education and that stuck with me throughout my lifetime. The more I educated myself at school and in my field, the better I was prepared to deal with anything that came my way.
On her $15-million donation: The gift will go towards student scholarships at both undergraduate and graduate levels. It will also support the Canada Excellence Research Chair in Smart and Resilient Cities and Communities, and will enable three research chairs. Concordia supported me and made me feel welcomed. This is my way of paying it forward to the next generation so more people can succeed like I did.
JOANNA GRIFFITHS, founder and CEO of Knix
"Reinventing intimates for real life." It's Knix's slogan and Joanna Griffiths' main goal when creating bras, sports bras, bodysuits and underwear that help women embrace their bodies as they are. With her body-positive advertising campaigns and innovative pieces (she recently launched the Catalyst sports bra with adjustable band and straps that boasts major support without underwire), she's changing the intimates game one item at a time.
Photography by Katherine Holland
On completing her MBA: When I went to do my MBA at INSEAD in 2011, I came up with the idea for Knix and spent the next year researching and talking to women about the gaps in the industry and what they wanted to see in their intimates. My school had a business venture competition where we would pitch our business ideas and have a chance to win money. I pitched Knix and won, securing $20,000 to launch the business. Completing my MBA gave me the space to think and the community of support to set out on my own path.
On being a woman: Being a woman with my own unique experiences is what drives me to create products that directly address women's needs. It also ignites my passion to create a community that enables women to feel empowered to share their stories with each other, which we did with our #FacesofFertility campaign recently. We created a space dedicated to the wide-ranging topic of fertility and for every mention of the hashtag, we are giving a dollar to FertilityMatters.ca.
On starting from scratch: Setbacks are a consistent thing in the design and implementation phase of our product development. We'll often think a product is close to final, only to realize it could be improved upon with a new fabric or a type of technology. We are consistently trying, adapting and evolving, and at times that level of attention to product development can feel like a setback when something like the Catalyst sports bra takes three years to complete.
On her mantra: My best friend taught me the concept of "no hands, no cookies," meaning no one is going to walk up to you and hand you a cookie. You have to know what you want and be bold enough to go out there and get it.
DEBRA GOLDBLATT-SADOWSKI, founder and president of rock-it promotions
Debra Goldblatt-Sadowski started her boutique PR firm, rock-it promotions, 18 years ago from her parents' bedroom. Since then, her team has grown at breakneck speed and now serves a wide range of Canadian clients such as Casper, Hudson's Bay, Toronto Fashion Week and the Junos, as well as mega-brands like Adidas and L'Oréal Paris. The company has been ranked in the Growth 500: Canada's Fastest-Growing Companies for the past three years.
Photography by Sarjoun Faour
On real-life experience: I had very little experience in PR when I started out. My degree was in creative writing, which I'm proud of, but it sure would have been nice to have had a business degree instead! However, that experience in university taught me how to live on my own, budget, research, study, perform in front of a crowd and find confidence in my voice, so I think every experience we have has a lot of value towards our future.
On her mother's impact: When I started rock-it promotions, I had just turned 26, my mom was dying, and I was pretty lost. Discovering I loved public relations was a spark of light for me during a really dark time. I remember how supportive my mom was. She said, "You can do anything you want to do. As long as you work as hard as you can."
On the highs and lows: When I hit sales of $1 million, it was a big day for me. Now we've passed $2 million and the next goal is $3 million. My biggest setback was a period of growth in 2013. The business was growing faster than I could keep up with and I didn't have the right advisors to help me. Once I found those experts, we boomed. We had to do a major reorganization, but it was the best thing I've ever done for the company.
On family: I turn to my husband, who is the yin to my yang, when I need motivation. He often puts things in perspective and reminds me of other bumpy times that I've gotten through. My kids are also a huge motivation. They fill my heart and soul completely and I want to provide for them and set a good example.
SARAH DEITCHER & KATE GERTNER, co-founders of The Pieces
A pair of mothers with two young kids apiece, Sarah Deitcher and Kate Gertner realized that the world of children's play spaces was decidedly unfashionable. While on mat leave as a fashion-and-accessories buyer and magazine editor, respectively, they came up with the idea of stylish patterned play mats that "elevate playtime" in any home. They've since launched bath kneelers and continue to grow into markets like Australia and South Africa.
Photography: Trish Mannell | Kate Gertner (L) and Sarah Deitcher (R)
On being women in Canada: Sarah: Kate and I were set up by a mutual friend on a blind mommy date a few months into our first maternity leaves. If we were not women, in Canada, where we are fortunate to be given a year of leave, we probably would have never met.
On the support of friends: Kate: We had a really positive reaction when we started telling people about our idea—probably because our friends were looking for the exact thing we were creating. That positive reinforcement is what pushed us to keep working on the product when we felt stalled. It took us almost a year to find the right factory, but we felt immense pressure not to let our friends and family down. It continually nudged us forward.
On their partnership: Sarah: We're not only business partners but we are also really good friends. We look out for each other and each other's kids, we can talk about anything and everything and we genuinely like spending time together.
On copycats: Kate: Earlier this year, we discovered another Canadian brand was copying our designs. We have since resolved the issue, but it took time, energy and money away from other things we wanted to focus on. On the upside, it reminded us that we can't get too comfortable. We need to keep designing and putting out new products while keeping an eye out for those on our heels.
ADRIANA DE LUCA, founder, and MICHELLE LALONDE, president of Tiber River Naturals
Almost 20 years ago, Adriana De Luca wanted to start a business that would allow her to work from home while caring for her children. She started crafting her own natural line of products in her kitchen, which has since expanded to over 300 SKUs including bath items, household cleaning supplies, hair-care products and more. Michelle Lalonde joined the brand in 2005 and Tiber River now has two spa locations in Winnipeg and direct-to-customer sales through Tiber River sales consultants. It's also part of the Growth 500: Canada's Fastest-Growing Companies.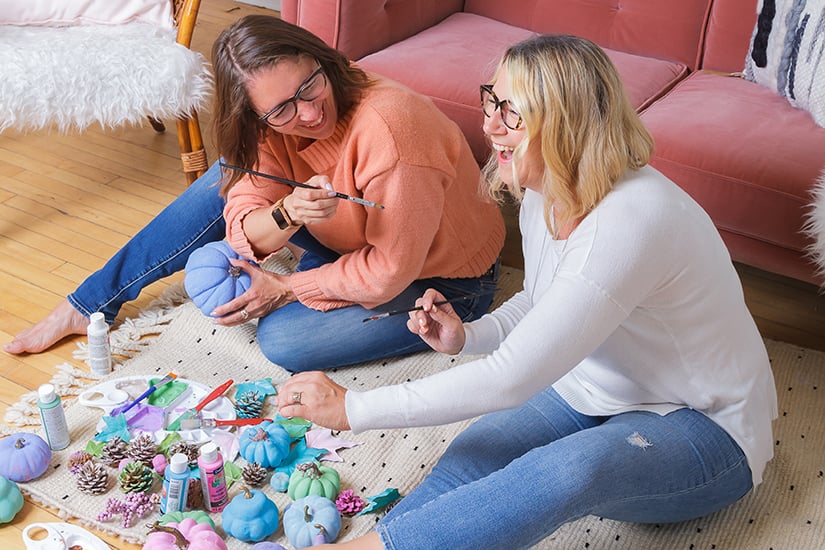 Image courtesy of Adriana De Luca (L) and Michelle Lalonde (R)
On believing in the possibilities: Adriana: I had absolutely no business experience whatsoever when I started Tiber River, but I have always believed things are possible. It is because of that belief I have been extremely tenacious in everything I do.
On being a mother: Michelle: Our business has grown slower because of raising our families, but we've had the flexibility to create balance in our personal lives and for our team. I've never bought into the idea that you have to work 12+ hours a day and give up everything else in life to build a successful company.
On the naysayers: Adriana: When I started Tiber River, I had concerned friends who were worried I'd be wasting my money and that banks wouldn't lend to me. I listened to their concerns and tried to make plans to consider those concerns, but in the end, I have never let someone tell me what my abilities are.
On finding the right team: Michelle: You can train skill; you can't train attitude. You can have someone that's talented but they can destroy the team if they're not the right fit for the culture of the company.
On never giving up: Michelle: I've put everything I have into Tiber River because of my unwavering belief in what we can create and how we can impact the world. There have been many years without a paycheck (or a very small one). All of my personal funds and equity in my home are in the business, so the future of my family depends on successful growth.
MICHELLE AUGUST, founder and owner of SPINCO
At just 22, Kelowna-based Michelle August missed the team spirit of her varsity basketball days and had lost all interest in working out. She decided to open up a spin studio and used the space to create a community of men and women that would encourage and inspire one another. Michelle later moved east to expand the business and now has ten SPINCO locations (three in B.C., five in Ontario and two in Nova Scotia) with more locations (including Montreal and Westshore) coming soon.
Image courtesy of Michelle August
On just listening: Most of my learning has come from being part of team sports and listening to my dad and brother talk around the dinner table. I learn a lot from taking a backseat and listening to others, hearing their ideas and perspectives. There's so much value in just listening.
On her dad's support: My dad has always been my best friend and mentor. He often challenges me by asking questions like "How are you going to get 5000 people through the door every month?" I thank him for my drive and my ability to challenge ideas even when they seem right.
On finding the right team: We look for passionate individuals that breathe the lifestyle—individuals that are committed to not only their journey, but every rider's journey. Our mission is to empower individuals to realize their personal strength while feeling completely supported by their SPINCO family.
On motivation: I motivate myself by spending time in the trenches of the community—checking in riders, experiencing the room, talking to people… just being present in the studios. It reminds me why I will never stop fighting for this community.
HEATHER REIER, founder and creative director of Cake Beauty
Turn back the clock over 15 years and Heather Reier was busy mixing beauty confections in her home kitchen. Her goal: to create playful, pretty products that were safe, vegan and cruelty-free. Today, some of those products, which are sold across Canada at Shoppers Drug Mart, include The 'Do Gooder Volumizing Dry Shampoo Spray, The Wave Maker Texturizing Beach Spray and the Milk Made Velveteen Hand Cream.
Image courtesy of Heather Reier
On her pre-Cake job experience: My first job out of university was overseeing a country-wide group of salons. I had zero experience when I landed the job and there was a huge learning curve. I was forced to figure it out—it was a bit of a sink-or-swim situation—and I was determined to perform. During this time, I got a solid sense of what it took to run a profitable business and had hands-on experience in how difficult that can be.
On the naysayers: I had a job when I started Cake and eventually resigned to commit my full attention to my new business. When I gave my boss the news, he replied by telling me that it was a "cute" idea but recommended that I use my weekends for my idea, like a hobby, and continue on with my Monday-to-Friday job. His response didn't rattle me; it motivated me.
On finding the right team: Look for people that have skills that complement yours. I think many people have the inclination to hire people who are just like them—think like them, act like them, have the same abilities as them. But what you really need are people who can do things that you don't do well; people who are smarter than you in certain areas.
On staying flexible: When times are difficult or wrought with challenges, I approach them as an opportunity to figure out my next move and make a pivot. Tweaking the path is super motivating because it is always attached to a slightly new goal to chase.
On her best advice: Nothing in business is the end of the world. Harness the power of gratitude as often as you can. When you take yourself here, you'll end up making better decisions, think more clearly and critically and open up a flood of creativity.
ANDREA CARLSON, chef and owner of Burdock & Co.
Vancouver-based chef Andrea Carlson has spent over two decades working in the B.C. food industry as a bakery owner, sous-chef, pastry chef and chef de cuisine. In 2013, she opened her own restaurant that supports hyper-local growers and foragers, spotlights raw ingredients and promotes natural wines.
Photography by Janis Nicolay
On the skills and experience necessary to start her business: My open-mindedness and tremendous support from my partner, Kevin, were key. We also had a bread bakery on Savary Island, B.C., back in the day, so that took a bit of the edge off the Burdock & Co. adventure.
On being a woman: There have been opportunities not granted to me because I'm a woman, but at this point in my career there are also opportunities given because of it.
On setbacks: Financing is the hardest thing to obtain—especially on terms that don't compromise your values. I was very fortunate to have backing from Vancity when they were interested in developing and supporting the organics sector.
On her proudest moments: Having two female natural winemakers, who are icons of their world, express gratitude and love for my cooking, describing it as "alive," when they were in Vancouver this year was a highlight. It was a true honour to connect with people who are stewards of land and agriculture on that level. Also, I was offered a cookbook deal, which is a fantastic opportunity. [Watch for the Burdock & Co. cookbook next fall.]
On finding the right team: Hopefully, you find people who are drawn to your values and will support them. It's a hard job if you're not surrounded by people who understand and value the essence of organic food and winemaking.
On motivation: Stay busy, keep moving forward and find the bigger picture to see what can be accomplished by your community.
When Lexi Miles was a managing consultant with a busy travel schedule, she realized that the market lacked waxing services that were luxe, speedy and affordable. Enter WAXON Waxbar in 2012, which has since expanded to 12 locations in Ontario and one in Halifax, all with the signature yellow-and-grey interior and impeccable service. This fall, all 13 destinations also launched laser hair removal services.
Photography by Katherine Holland
On her proudest accomplishment: My biggest accomplishment will always be that every new door we open at WAXON equals another opportunity given to more incredible women building careers within our walls.
On the naysayers: Back when I only had one location, I had people who would roll their eyes when I told them that my plan was to be the No.1 destination for hair removal across Canada. And I still have people who think it's a far-fetched dream. But now we have 13 locations in six years and I know we will get there. I love to prove people wrong.
On finding good people: R.E.S.P.E.C.T. (Cue Aretha Franklin.) Build a culture based on mutual respect and people will show up for you and bring their best, hardest working self, every time.
On motivation: My team and my family are what motivate me and keep me striving for more. I recently welcomed my daughter into the world, which brings a whole new motivation to my life—making her proud. I'm also just incredibly stubborn and competitive, which always helps.
On her mantra: Before every big meeting or speaking engagement, I set my intention for the desired outcome that I am working to achieve and then repeat my three Cs to myself: to be clear, concise and confident. It's the recipe to achieve your desired outcome.