Travel
10 reasons you need to add Dublin to your travel bucket list
Photography by Josh Cornell
Travel
10 reasons you need to add Dublin to your travel bucket list
Foodie destinations, charming markets and a touch of history—the Emerald Isle's capital city of Dublin has plenty to offer visitors. (And, yes, that includes long-standing pubs and a few pints of Guinness.)
1. River Liffey
The murky River Liffey runs through the heart of Dublin and separates the northern and southern halves of the city. Locals like to joke that Guinness is brewed with water drawn from the river's depths.
2. Howth Market
Each weekend, the fishing village of Howth hosts a market with delicious eats, handmade jewellery and gorgeous antiques. Nosh on nuts and baked goods while you search for a souvenir, then spend the rest of the day in town on a scenic walking tour, where you can take in the Hurdy Gurdy Museum of Vintage Radio, a huge collection of gramophones, radios and other cool communication- related finds, curated by a local radio enthusiast.
Photography by Andrea Karr
Howth Market, 3 Harbour Rd., Howth, howthmarket.ie.
3. The Old Library
The awe-inspiring Old Library at Trinity College is the perfect destination for anyone who wishes Hogwarts was a real place. It houses spiral staircases, more than 200,000 precious books and the Book of Kells, an ornately illustrated ninth-century manuscript of the Four Gospels.
The Old Library, Trinity College, College Green, Dublin, tcd.ie.
4. St. Patrick's Day Parade
Every St. Paddy's Day, a public holiday in Ireland, elaborate floats and costumes flow through the streets, while children perch atop fences, teens wave from treetops and families hang out of windows to catch the action.
5. Guinness Storehouse
The most popular tourist attraction in Ireland, the seven-storey facilities offer hours of entertainment in the form of interactive exhibits, fascinating tutorials (learn how to pour the perfect pint of Guinness, which takes exactly 119.5 seconds) and plenty of taste-testing. Stop at The Gravity Bar on the top floor for a 365-degree view of the city, book a tasting in the private Connoisseur Bar (sláinte!) or sit down at one of three on-site restaurants for oysters, burgers, beef stew and more.
Guinness Storehouse, St. James's Gate, Dublin, guinness-storehouse.com.
6. Skerries Harbour
Rain or shine, the harbour in the picturesque seaside town of Skerries offers a pretty view of the sea—and it's just over a half-hour drive from Dublin's city centre. After snapping a few photos, pop into Blue Bar for the best buffalo wings of your life, then head over to the tiny and charming Storm in a Teacup for ice cream, crêpes and other sweets.
7. Anne's Lane
One of the most colourful Instagram-worthy sights in Dublin is the walk up to Zozimus Bar, where dozens of umbrellas create a canopy over the street.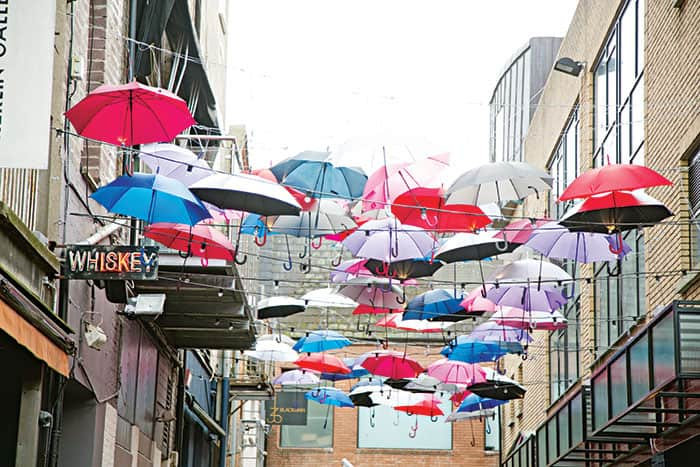 8. Dublin Castle
Opened in 1230 as a military fortress and prison, the historic venue is now used for receptions and presidential inaugurations. Visit throughout the week for a guided tour of the elegant state apartments, medieval undercroft (an underground cellar or storage chamber) and Chapel Royal.
Dublin Castle, Dame Street, Dublin, dublincastle.ie.
9. Saint Patrick's Cathedral
Whether you're looking for a worship service during your stay in Dublin or you simply want a tour rich in history and stained-glass windows, this cathedral is a must-see.
Saint Patrick's Cathedral, St. Patrick's Close, Wood Quay, Dublin, stpatrickscathedral.ie.
10. Ardgillan Castle and Gardens
If there's a more perfect place than this 18thcentury mansion to have some tea and treats, we haven't found it. Served on Thursdays, Saturdays and Sundays in the Downton Abbey–like drawing room, it's the ideal way to while away an hour or two. Afterward, tour the home and stroll the extensive grounds, which include three immaculate gardens and a pedestrian footbridge—the Lady's Stairs— which is rumoured to be haunted. Bonus: The grounds offer stunning views of the coastline.
Ardgillan Castle, Strifeland, Balbriggan, ardgillancastle.ie.