Travel
21 Christmas vacations for every price point
Travel
21 Christmas vacations for every price point
If you live in Abbotsford, B.C.

Drive: Stanwood, Wash.
It's less than two hours on the road to Warm Beach Camp and Conference Center in Stanwood, Wash., and the community's annual Lights of Christmas celebration. Visitors (estimated at 72,000) come to sample eats from an assortment of vendors, watch shows, peek at the more than one million lights and ride the Polar Express. Not ready to go home? Choose from cottages, rooms and suites for an overnight stay. A family of four can book a room, starting at US$116, and stop in Bellingham for some last-minute shopping deals on the way home.


Image courtesy of Warm Beach Camp

Quick flight: Las Vegas
Sin City has successfully rebranded itself as more than a gambler's paradise. Couples looking for a holiday that includes incredible shows ( Michael Jackson One features the King of Pop's biggest hits, along with acrobatics by world-famous troupe Cirque du soleil), shopping and gourmet dining (head to Michael Mina at the Bellagio, home to the city's best seafood from the award-winning celebrity chef) won't be disappointed. The Venetian's Christmas tree and The Linq Promenade's Winter Parq—a holiday-season event that includes carollers, decorations and a 30-foot snow hill for tubing—will keep you in the spirit. Warning: Winters in Vegas can be sweater-worthy, but most of the fun happens indoors, so you'll barely notice chilly temps.


Image courtesy of Thinkstock

Splurge: Rangiroa, French Polynesia
Ready to run away from it all? Buckle in for the eight-hour flight to Tahiti and the short commuter flight to Rangiroa. The island is a diver's and snorkeler's haven—and those who love a good view will be delighted, too. Bungalows at Le Maitai Rangiroa (starting at US$300 per night) offer understated accommodations. Staff can help you secure tours of nearby village Tiputa or plan trips to a local pearl farm. Expect a quiet Christmas on the island with a celebratory dinner. Dine on crêpes au miel (pancakes with local honey), or enjoy a secluded evening on the shores of that translucent blue lagoon.


Image courtesy of Thinkstock

If you live in Cochrane, ALTA.

Drive: Kananaskis Country and Canmore, Alta.
A one-hour drive lands you in Canmore, a great spot to start exploring the mountains of the Kananaskis Range or Kananaskis Village itself. Check in at Mount Engadine Lodge (winter rates for two adults start at $400 per night) and hike through the backcountry of surrounding Spray Valley Provincial Park, keeping an eye out for moose and bears as you go. On your drive in from Canmore, detour for a helicopter tour over the Rocky Mountains with Rockies Heli Canada. If you're after a solo retreat with delicious locally sourced meals and sparse small talk, this is your spot.


Image courtesy of Thinkstock

Quick flight: Scottsdale, Ariz.
Swap snowy mountains for arid weather and challenging hikes with a three-hour flight from Calgary to Scottsdale. Trails in the morning and spas in the afternoon will have you rethinking the whole white-Christmas thing. Set your sights on a romance package at the Royal Palms Resort's enclave of cute casitas (starting at around US$300 per night). Or go retro in the 1950s-style Hotel Valley Ho (US$200) and try the VH Spa's simple reflexology treatment (US$65) or the Leading Lady package (US$235 for a 60-minute facial and deluxe nail service).


Image courtesy of Hotel Valley Ho

Splurge: San José Del Cabo, Mexico
Since San José del Cabo is a 4 1/2-hour direct flight away, you could be on the beach in five. The area is exploding with growth, creating plenty of options for all tastes and personalities. Travelling with extended family? Head for Hyatt Ziva Los Cabos (rooms start at US$360 per night), featuring two pools, three hot tubs and a dozen bars and restaurants. Boutique Hotel Casa, in Cabo San Lucas, starts at US$160 per night. You'll have a 15- to 20-minute walk to the beach, but, steps from your simple yet comfortable room, there's an on-site pool in a garden setting.


Image courtesy of Thinkstock

If you live in Arbor Creek, Sask.

Drive: Prince Albert National Park
Local landscape artist Catherine Perehudoff Fowler, 56, drives the 2 1/2 hours to this park, located deep in the boreal forest. The draw? Great scenery to paint or photograph. "It's our weekend getaway spot," says Perehudoff Fowler. "The December landscape is a dreamy ice-filled wonderland." Nature lovers can visit for the day or stay overnight. Those looking for a more active holiday visit will also enjoy the park's many trails ( cross-country skiing and snowshoeing), skating rink and ice fishing. Unlike at more popular national parks, here, you won't need to fight for space. Winter is typically quiet—perfect for those seeking solitude and those who enjoy listening to wolves' evening howls.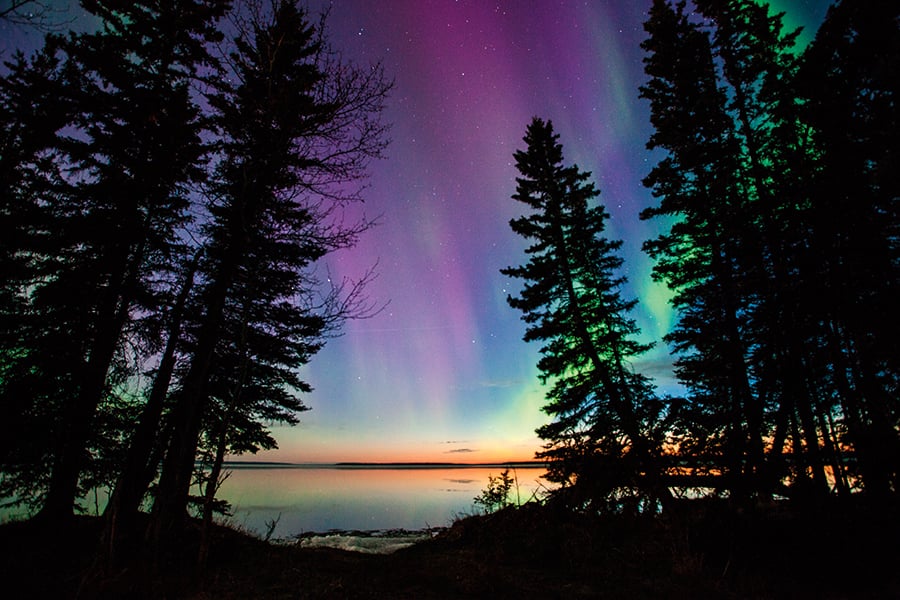 Image courtesy of Curtis Matwishyn

Quick flight: Minneapolis
Hop onto a flight that will whisk you across the border, then keep warm while you finish your holiday shopping in the largest indoor mall in the United States. Start at the Mall of the Americas, but make sure to add in stops at some of the trendy city shops, like the Goorin Bros. hat shop (where lids are made to order). Once your shopping list is satisfied, turn your attention to the city's holiday shows at various Minneapolis theatres, winter activities (try Theodore Wirth Regional Park for sledding, tubing and cross-country skiing) and foodie indulgences. Book early but dine late to sample 112 Eatery; the restaurant, which opened in 2005, wows with a delightful (and affordable) menu including tagliatelle with foie gras meatballs and tres leches cake.


Image courtesy of 112 Eatery

Splurge: Puerto Vallarta, Mexico
Puerto Vallarta is a great holiday destination for travellers who love a celebration—cultural events are almost weekly through December and January. Christmas Eve, or Nochebuena, is a highlight, as locals celebrate with piñatas and feasts that last until dawn. Between parties, visit El Malecon, a boardwalk that offers a glimpse of local art, sand carvings, musicians and more. A stay at Los Arcos Suites (rates start at about US$80 per night) will keep you in the heart of local activity and steps from the sea.


Image courtesy of Thinkstock

If you live in Mississauga, Ont.

Drive: Muskoka
Summer is long over, but cottage season doesn't have to be. Head two hours northeast of home base to Arrowhead Provincial Park and snuggle with your favourite friend in an all-season cabin. Cozy up under a blanket with a book and a coffee, or head outside with snowshoes, a snow tube or skis. You'll come home to creature comforts such as a kitchenette and an outdoor grill.


Image courtesy of Thinkstock

Quick flight: New Orleans
A three-hour flight from Toronto is all that stands between you and a romantic long weekend in the Big Easy. Swap chilly Canadian winds for Louisiana warmth in the form of seafood gumbo and fresh beignets. Think beyond the famous (but often crowded) French Quarter and board a hop-on–hop-off tour bus, with stops at historical Jackson Square, Harrah's casino and the St. Louis Cemetery; you'll not only have fun but also gain a deeper sense of the city's culture and history. Don't miss class at the New Orleans School of Cooking to learn how to make your favourites at home—there's nothing like chocolate pralines to get you through the winter. Book your stay at Hotel Monteleone, where the revolving Carousel Bar & Lounge was a favourite of literary giants Ernest Hemingway and Truman Capote. Hotel rates start at around US$200 per night.


Image courtesy of Thinkstock

Splurge: Providenciales, Turks and Caicos
Looking to get away with a multigenerational group? Turks and Caicos is just a four-hour flight from Toronto. It's been proposed by some that the popular tourist destination become a Canadian territory, and, upon arriving on the island of Providenciales, you'll immediately wish it was. Multiroom villas come in a variety of sizes and price ranges: Expect to pay at least US$1,300 per night for a property that accommodates eight guests. Or opt for a hotel stay at the Sands at Grace Bay, where beachside rooms start at US$295, or the budget-friendly Turtle Cove Hotel & Residence, with its clean, simple rooms that start at about US$160 per night. Providenciales is the perfect solution to this year's gift-giving conundrum: Neither a 13-year-old nor a retiree will complain about a beach view on Christmas morning.


Image courtesy of The Sands at Grace Bay

If you live in Navan, Ont.

Drive: Quebec
Even nonskiers will enjoy a getaway at Mont-Tremblant. The ski village, set at the base of one of the Laurentian Mountains, gives you the feeling of being far from home, despite the mere two hours it takes to drive there. Spend some downtime at nearby Scandinave Spa (one of four locations across the country), where you can indulge in hydrotherapy (circulation-boosting full-body dips into a series of hot and cold pools), a massage and a tranquil view of falling snow through the glass walls in the relaxation area. When you're ready for more, the village won't disappoint: There are more than 25 bars, cafés and restaurants in or near the village and plenty of opportunities to try something new—mountain biking in the snow, anyone?


Image courtesy of Mont Tremblant Ski Resort

Quick flight: Orlando, Fla.
There probably isn't a Canadian who hasn't considered Christmas in Florida. Direct flights are about three hours, and deals can be had if you leave before Dec. 23 or after Boxing Day. Whether you rent a house (prices vary but, for US$230 per night or less, you can find a three-bedroom townhome to share with extended family or friends) or book a hotel room, you'll get the best of both worlds: Florida sunshine and all of the holiday decorations, parades and shopping you can handle.


Image courtesy of Thinkstock

Splurge: Port Antonio, Jamaica
Direct flights to Montego Bay from Ottawa (about four hours) make it easy to enjoy the tropical vibe that welcomes you as soon as you arrive. The farther out you let your car and driver take you, the more you'll find in terms of tourist-free relaxation. Geejam Hotel (rates start at US$650 per night during peak season), close to Port Antonio, offers the potential to bump into international celebs at dinner. Meanwhile, Jakes hotel, with its range of rooms, cottages and villas (high-season rates start at US$150 per night and climb to US$900), offers family-style dinners on the beach and reggae nights under the stars. Jamaicans love Christmas, so, wherever you stay on Dec. 25, expect a breakfast—ackee and salt fish (salted cod), fried dumplings, seasoned callaloo (spinach) and more—that will keep you full until dinnertime.


Image courtesy of Geejam Hotel

If you live in Laval, Que.

Drive: Quebec City
Quebec City is known for its romantic charms, especially those of the holiday season, when snow-dusted horses make their way along cobblestone streets. Christmas in Old Quebec, a UNESCO World Heritage treasure, offers tours with costumed historical characters sharing local traditions. Enjoy the area's products, like maple syrup, or a candlelight mass at Cathedral-Basilica of Notre-Dame de Québec. Crafts at the Christmas Market at the Old Port are worth a look, as are the modern twists on decor at boutique auberges around town. Check in to Auberge Saint-Antoine (starting at $220 per night) for a quaint stay in the the city.


Image courtesy of Masterfile

Quick flight: Chicago
Chicago—which is a 2 1/2-hour flight from Montreal—is perfect for people who like winter's outdoor good times tempered with indoor fun. With fewer tourists this time of year, it's easier to visit the city's popular museums ( The Field Museum and the Adler Planetarium are good bets). Then, don your tuque and see the creative light displays along The Magnificent Mile, the city's famous shopping street. Stay at the historic Drake Hotel (from US$199 per night) and enjoy a Christmas brunch that's popular with locals. Also worth a peek: Christkindlmarket Chicago, a German Christmas market at Daley Plaza that's one of the largest in the country. For dinner, head to The Walnut Room restaurant in Macy's. Tip: Arrive early. You'll be rewarded with a delicious meal (the famous chicken pot pie is based on a recipe from 1890) and an outstanding view of the store's 45-foot Christmas tree.


Image courtesy of The Drake Hotel Chicago
Splurge: Savannah, Ga.
Let yourself be smitten by southern hospitality in Savannah, where chivalry still reigns and seersucker suits never go out of style. Twinkling lights, historic homes and churches dressed in their Christmas best make an evening walk through any of the 24 historical squares a treat. The annual holiday tour of private homes is in early December, but you'll find holiday-themed horse-drawn-carriage or trolley tours to enjoy throughout the season. And there's no shortage of restaurants and bars to help you find your festive spirit. The one caveat: Book as early as you can. The Bohemian Hotel Savannah Waterfront is a modern luxury offering (about US$200 per night).


Image courtesy of Thinkstock

If you live in Sussex, N.B.

Drive: St. Andrews By-The-Sea, N.B.
Play tourist in this quaint village that's less than a two-hour drive from home. Take in the classic Christmas decor at The Algonquin Resort, where rooms start at around $189 per night. From mid-November through December, enjoy the Season of Light and Wonder festival, including the Firemen's Candlelight Parade, a tree-lighting ceremony and concerts. Settle in for a meal with a view at Harbour Front Restaurant, then head out to the nearby Bay of Fundy for snowshoeing or cross-country skiing.


Image courtesy of The Algonquin Resort

Quick flight: Philadelphia
The City of Brotherly Love has an abundance of upscale lodging, free museums and community events—from the annual light show to the historical Mummers Parade on New Year's Day. Snap a photo in Love Park, don your skates during Winterfest or take in a performance by the Philadelphia Orchestra.


Image courtesy of Derek Brad

Splurge: Nashville
Whether your idea of Christmas includes a carol-laden cruise on the General Jackson showboat or a country-music bonanza at the city's biggest street party on New Year's Eve, a trip to Music City will get your toes tapping. Indulge at restaurants such as Cochon Butcher (try the brisket sliders) and Josephine (fried oysters!). Stay at Union Station Hotel Autograph Collection by Marriott (about US$300 per night) or the boutique Hotel Preston, with its impressive art collection (starting at US$100 per night).


Image courtesy of Union Station Hotel

Looking to travel overseas? Check out these five Europeans vacations for your next adventure.

This story was originally part of "Holiday Getaway Guide" in the January 2016 issue.

Subscribe to Canadian Living today and never miss an issue!