Travel
7 budget-friendly trips to escape the cold
Travel
7 budget-friendly trips to escape the cold
If you're looking to escape the harsh Canadian winter, look no further. We've rounded up some of the best and most affordable destinations to help you cure those cold weather woes.
As if the mind-numbing wind chills weren't bad enough, weather forecasts are predicting more winter weather lasting until March, a warm-weather getaway sounds like a good idea.
We spoke with Jeff Element, the president of The Travel Corporation Canada — which includes more than 30 groups including Trafalgar and Insight Vacations — to get his top last-minute winter getaways that won't break the bank, as well as his insider tips that will save you even more money.
Portugal
Pena National Palace, Sintra | The Travel Corporation
Often overlooked for its popular European cousins, Portugal is a gem for budget-conscious Canadians. Offering laid-back charm, it has everything travellers would expect from a European vacation at a fraction of the cost of flashier destinations. If hanging out on a sunny beach is your thing (we don't see why it wouldn't be), you're in luck—Portugal boasts over 900km of stunning coastlines and beaches that rival those found elsewhere. It's a great family-friendly option for those in your party that want some beach, sun and tons of European culture. It's no wonder why snowbirds flock here!
Pro tip: While you can still expect cost-effective mouthwatering meals (a meal and a glass of wine can be found for around €5 each), say "no" to bread if offered at the dinner table. Most servers will bring over bread and olives without letting you know that it will be an extra charge.
Ecuador
The Travel Corporation
For those looking for a South American adventure, Ecuador is a great off-the-beaten-track destination. From a trek in the Andes to an unforgettable adventure to the Galapagos Islands (a paradise for wildlife enthusiasts), Ecuador is often overlooked by travellers who opt for Peru or Costa Rica. Take advantage of Ecuador's low crowds and inexpensive prices while you still can.
Pro tip: Travellers can eat like royalty on a dime throughout the country. Meals typically cost around $5 for local food and you can find food stalls on the street for around $1-$2 for a local experience. Many restaurants have almuerzos, cheap lunches from a set menu and are usually just a couple of dollars — drink included!
South Africa
The Travel Corporation
Black-maned lions framed against Kalahari dunes; powdery beaches lapped by two oceans; star-studded desert skies; jagged, lush mountains — South Africa is truly a country of astounding diversity. A great sunny destination with superb weather (you can expect hot temperatures in the daytime during the autumn months — February/March), you'll find tons of activities for the entire family — scuba/dive surf for the kids, cultural museum tours and plenty of time to unwind with a nice glass of wine and good food.
Pro tip: Take advantage of the current currency exchange rate and pay in local money. The loonie goes much further in South Africa than in Florida (the whole of US for that matter) and some other Caribbean spots. The South African Rand has been in the doldrums of the currency exchange world, so our loonie is strong in comparison (eg. 100 Rand converts to around $10 as of January 11, 2018) — even a stay at a 5-star luxury hotel in Cape Town will cost a fraction of the price for Canadians!
Thailand
The Travel Corporation
Thailand — famous for its pristine white beaches, pulsating cities and fascinating culture — is a dream destination for many travellers. From bucket-list worthy temple visits in Chiang Mai to the remote beaches found in Koh Phi Phi (where "The Beach" was filmed + 80 other islands that are nearby), it's a country that will invigorate the senses without blowing your budget.
Pro tip: You'll find the best of Thailand's food on the street and it will cost you a fraction of what you pay at a restaurant. Also, 7-Eleven will be your new best friend. They are ubiquitous in Thailand and you can easily find one at any given corner. Stock up on supplies for the best prices — including water bottles (a 1.5l bottle is around 13 bahts which converts to 51 cents CAD), ice cream and sandwiches.
The Mediterranean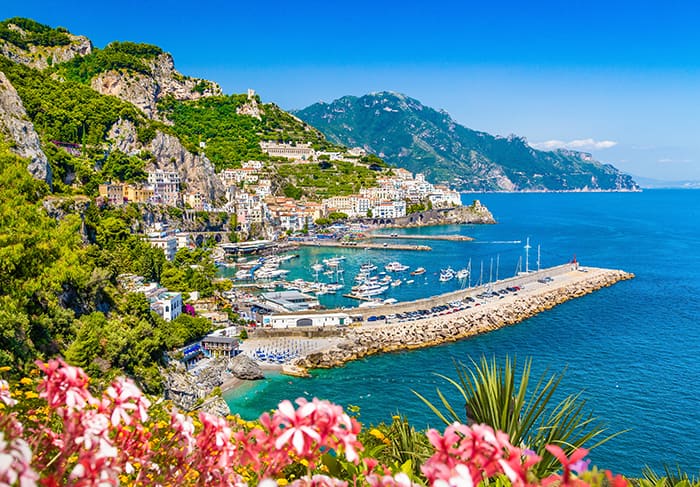 The Amalfi Coast | The Travel Corporation
Ancient ruins, awe-inspiring art, legendary cities and sun-kissed beaches — Mediterranean Europe is a visual and sensual experience. The region encompasses 20 different countries including Spain, Italy, Croatia, Greece and southern France. While the Mediterranean often conjures up the promise of summer sun and long, lazy days on the beach, winter weather is generally warm in the Canadian context (with daytime temperatures hitting the mid-teens) for those that don't like smouldering heat.
Pro tip: Most people tend to visit the Mediterranean during the summer months, so try and visit during the "off-season" (fall, spring and winter). It's much more affordable and less crowded, so you're likely to get instant access to many of the region's most popular eateries. Flights and packages are also less expensive during this time compared to the high-peak summer season.
Vietnam
The Travel Corporation
Despite its rise in popularity over the last few years, Vietnam is still an inexpensive travel destination, and a beautiful country of lush mountainscapes and sweeping white sands. It's also a great sun destination if you're looking to escape winter temperatures and boasts some of the cheapest beaches in the world. If you forgot to pack your sunscreen, purchase a bottle in Vietnam– a 100ml bottle will only cost you less than $5.
Pro tip: Don't be afraid to bargain. Tourists tend to be charged more than locals for everything from cycles (a three-wheel bicycle taxi) to clothes and street food. Bargain harder than you would, and don't underestimate the value of walking away. You'll likely land the best deal of your life.
Hong Kong
The Travel Corporation
With an iconic skyline, a legendary kitchen, and lush, protected nature where rare birds and colourful traditions thrive, Hong Kong is the perfect winter escape for those looking for cosmopolitan charm. Many Chinese-Canadians can trace their family roots to this former British colony and welcomes visitors from all over the world. It has a humid subtropical climate, so it never snows and very rarely gets below 15°C. January to March is the perfect time to visit as average highs around this time are around 21°C without the stifling near 100% humidity that will arrive beginning May.
Pro tip: Home to one of the world's busiest airports, Hong Kong is often the gateway to the rest of Asia for Canadian travellers. Take advantage of this and opt for a couple days layover in this gorgeous metropolis before heading to Thailand or Vietnam. While famous for its luxury eateries, you can also find affordable dining. Opt to have your meals at either a local "cha chaan teng" (tea house/bistro) or "dai pai dong" (open-air food stall found in Central). You'll notice locals flocking here to eat lunch and dinner — "cha chaan tengs" offer a variety of dishes at affordable prices and "dai pai dongs" offer more quick-serve staples such as noodles and macaroni soup meals.