Travel
9 Hotspots to Hit on a Grown-Up Getaway to Winnipeg
Travel
9 Hotspots to Hit on a Grown-Up Getaway to Winnipeg
Plan an unforgettable vacation in the heart of the country with the best food, culture, nature and spa experiences that Winnipeg has to offer.
Break away from ordinary with an urban getaway that speaks to your soul. Canada's prairie hub has world-class parks, spas, museums, shopping and restaurants that will leave you craving just a little bit more time in this gem of a city.
Unwind and reset: Indulge your senses with an afternoon at the spa, a stroll through a sculpture garden or a paddle through one of the city's wetlands.
Thermëa; Photo by Leif Norman
Thermëa by Nordik Spa-Nature
Based on a relaxation ritual with a 2,000-year history in Nordic countries, Thermëa features a range of saunas, pools and rest areas meant to be enjoyed in sequence. Following the thermal cycle—which suggests alternating hot and cold temperatures followed by a period of rest—helps to improve circulation, soothe muscles and encourage better sleep. Extend your stay with a hydrotherapy massage or Himalayan salt exfoliating treatment.
Leo Mol Sculpture Garden; Photo Courtesy of Travel Manitoba
Leo Mol Sculpture Garden
National treasure Dr. Leo Mol gave a collection of his bronze sculptures to Assiniboine Park, where they are now displayed in the serene, fountain-filled Leo Mol Sculpture Garden. Walk the pathways and enjoy his artistic creations, or step into the School House Studio to see his moulds, plaster casts and additional works of art.
Oak Hammock Marsh; Photo Courtesy of Travel Manitoba
Oak Hammock Marsh
Rent a large voyageur canoe and paddle around Oak Hammock Marsh, a large wetland and wildlife viewing site just 20 kilometres north of Winnipeg. During the fall, you'll see thousands of Canada geese land at the marsh before beginning their migration south.
Get cultured: Learn a thing or two about human rights, Manitoba history and local artists at Winnipeg's numerous museums, historic sites and art galleries.
Canadian Museum for Human Rights; Photo by Joel Boily
Canadian Museum for Human Rights
Whatever your human rights interest—whether Canadian or global—you can learn more about it at the only museum devoted to human rights for all. Explore the galleries filled with thousands of hours of continually updated content, and even book a tour to learn about how the museum's stories inspired the building's unique architecture.
Manitoba Legislative Building; Photo Courtesy of Travel Manitoba
Hermetic Code Tour of the Manitoba Legislative Building
Spend an evening with Dr. Frank Albo, author and architecture historian, at the Manitoba Legislative Building on a tour unlike anything you've ever experienced. You'll discover the hieroglyphic inscriptions, numerological codes and Freemasonic symbols hidden inside the majestic structure and walk away with an entirely new appreciation for Canadian architecture.
The Exchange District; Photo Courtesy of Travel Manitoba
Exchange District
A National Historic Site of Canada, Winnipeg's downtown Exchange District is packed with cool architecture, trendy shops and independent art galleries. Sip a coffee at Forth or a tea cocktail at Amsterdam Tea Room, shop for paper goods and homewares at Tiny Feast and art and gifts at Tara Davis Studio Boutique, then book a board-game night at Across the Board Game Café. On the first Friday of each month, stores and galleries in the area are open from 5 to 9 p.m., meaning you can spend a little extra time poring over creations of Canadian artists.
Fill your belly and your soul: Winnipeg's food-and-drink scene is vibrant, varied and a key part of any visit to the region.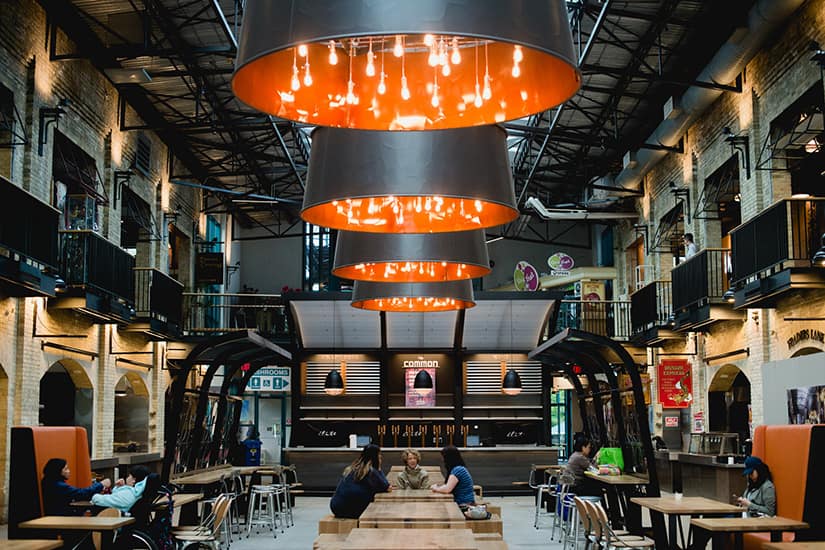 The Common; Photo Courtesy of The Forks Winnipeg
The Common at The Forks Market
The Common is a beer-and-wine kiosk at The Forks food hall that's known for its laidback atmosphere and beverage flights. Choose from a carefully curated list of 20 wines and 20 craft beers (including five Manitoban options) and sip and savour to your heart's content. Round out your visit with dinner at Passero, a decadent Italian restaurant with delectable plates made to share.
Clementine; Photo by Momme Halbe, Destination Canada
Clementine
The hottest brunch spot in the city, Clementine is an Exchange District resto that boasts an extensive coffee-and-cocktail menu, plus tasty morsels like braised bacon benedict, smoked Arctic char and fried chicken on toast.
Feast Café Bistro; Photo Courtesy of Travel Manitoba
Feast Café Bistro
Feast Café Bistro brings Indigenous-inspired food made with local ingredients to Winnipeg's inner city. Try the butternut squash bannock pizza or the grass-fed bison ribs, tacos, chili or burger and see why everyone raves about this community staple.
For even more inspiration and information for planning a fall vacation in Winnipeg, visit travelmanitoba.com.