Travel
10 Ontario Museums You Have to See
Travel
10 Ontario Museums You Have to See
Ontario's history is just as enticing as its natural wonders. This summer, you can feed the mind as well as the soul with a trip to one of these heritage-rich sites.
1. ROYAL ONTARIO MUSEUM
TORONTO No trip to Toronto is complete without a visit to this juggernaut of art, culture and natural history. Canada's most comprehensive museum houses a collection of more than 13 million artifacts; it's easy to get lost in stories from our own country's past as well as those from around the world. Don't forget to take a walk through the Bat Cave—if you dare!
ROM.ON.CA
null

2. MUSEUM OF ONTARIO ARCHAEOLOGY
LONDON Twelve thousand years of First Nations history come alive at this museum that explores the cultures of Ontario's Indigenous peoples, from the Ice Age up to the arrival of the first Europeans. Right next door is a faithful recreation of a longhouse situated on the Lawson Site, a 500-year-old village that was home to more than 2,000 people. The site, still being excavated, has yielded remnants of 19 longhouses, several middens and a defensive wall, as well as more than 30,000 artifacts.
ARCHAEOLOGYMUSEUM.CA
3. BUXTON NATIONAL HISTORIC SITE AND MUSEUM
NORTH BUXTON North Buxton, just southwest of Chatham-Kent, is the location of the Elgin Settlement, the name given to a tract of land purchased in 1849 by 15 former African-American slaves and several abolitionists. The tract became a thriving agrarian community built by refugees who came to Canada via the Underground Railroad. Now a National Historic Site, the museum preserves that legacy with buildings, archives and exhibits dedicated to those settlers.
BUXTON MUSEUM.COM
4. CANADIAN BUSHPLANE HERITAGE CENTRE
SAULT STE. MARIE Who doesn't love a great Canadian adventure story? At this family-favourite destination, you'll learn about the history of the intrepid pilots that fly over our remote areas, delivering people and cargo and fighting fires. This museum is perfect for flight fans of all ages—you can crawl into the aircraft, check out the cockpits and climb into cargo holds to your heart's delight.
BUSHPLANE.COM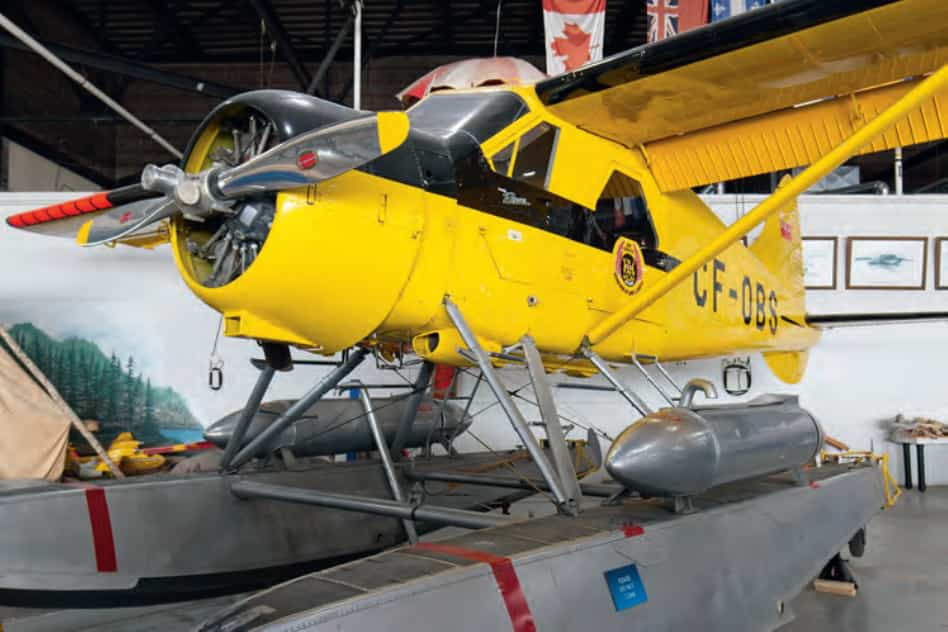 5. CANADIAN AUTOMOTIVE MUSEUM
OSHAWA Car buffs in your family? Look no further for a successful outing than this paean to the history of the automobile industry in Canada. Vehicles dating from 1903 to present day—including a number of Rolls-Royces famous for ferrying around aristocratic visitors—are on display, both made here and major automotive-producing countries such as England, Italy and the United States.
CANADIANAUTOMOTIVEMUSEUM.COM
6. THUNDER BAY ART GALLERY
THUNDER BAY Works by contemporary Indigenous artists find a home in this worldrenowned gallery, the largest in northern Ontario. More than 1,600 pieces of art, from sculpture and paintings to photography and beadwork, make up the collection, and are exhibited with careful curation to promote and preserve northern Ontario's cultural heritage.
THEAG.CA
7. SS KEEWATIN
PORT MCNICOLL Rainy day at the cottage? Pack up the kids and head over to this Edwardian passenger steamship for a tour of how people crossed the upper Great Lakes from Port McNicoll to Fort William and Port Arthur (now Thunder Bay). This trip took two-and-a-half days to complete, so posh passengers holed up in places like the Flower Pot Lounge, ballroom and ladies smoking room, all on display.
SSKEEWATIN.COM
8. CANADIAN WAR MUSEUM

OTTAWA Prepare to spend an entire day at this fascinating facility dedicated to learning about our country's military heritage and remembering those who served. Four main-floor galleries take visitors through historic conflicts between First Nations peoples right up to international battles of the present day, while the LeBreton Gallery on the lower level provides an up-close exploration of war machines that's sure to thrill the kid in all of us.
WARMUSEUM.CA
9. MUSEUM OF NORTHERN HISTORY
KIRKLAND LAKE Housed in the home of Sir Harry Oakes, who made his fortune in gold discovered near Kirkland Lake, this charming museum offers visitors a glimpse into the 20th-century world of mining in northeastern Ontario. The Kirkland Lake Gold Camp and the inner workings of the area's mines, as well as the natural history of the region and the lives of local settlers are highlights.
KIRKLANDLAKE.HOSTED.CIVICLIVE.COM
10. OIL MUSEUM OF CANADA
OIL SPRINGS Who knew that Ontario was the site of the first commercial oil well in North America? Intrigued? Swing by this National Historic Site located in Lambton County, southeast of Sarnia, for a boo at the centre's 6,000 artifacts, housed in seven buildings, that preserve our history as the location of the world's first petroleum company, first commercial oil well in North America, first commercial oil field in the world, and first oil and gas gushers in Canada. Bonus: You can take in the heritage of our oil industry during a selfguided driving tour of the Oil Heritage District.
LAMBTONMUSEUMS.CA
null