Travel
Outdoorsy Summer Adventures in Manitoba—from Mild to Wild
Pisew Falls; Photo by Co-Pilot Collective, Courtesy of Travel Manitoba
Travel
Outdoorsy Summer Adventures in Manitoba—from Mild to Wild
Whether you're a beach bum or an adrenaline junkie, these under-the-radar day trips and weekend getaways will jumpstart your appreciation of the great outdoors.
You: Crave an authentic taste of Canada with wide-open spaces, scenic vistas and untouched beauty waiting to be explored. Manitoba: Has it all—like sandy beaches, white-water rapids, vibrant sunsets and woodsy cabins nestled in the beating heart of the Great White North. What to do: Choose your own adventure from these six quintessentially Manitoban experiences and plan a trip to the prairies that you'll never forget.
For the Nature Newbie: The city is your oyster, but you're looking to dip your toes in the outdoor adventure trend you've been seeing all over Instagram.
Gimli Beach; Photo by Brian Sytnyk
A day trip to Gimli
Pack your towel and your sunscreen because it's time to catch some rays. Gimli, a small Icelandic town north of Winnipeg, is a classic Manitoba hotspot for noshing on pickerel (a freshwater fish popular in the region) and ice cream while lounging on the sand next to Lake Winnipeg. Visit at the right time and you might also get a dose of culture with a sunset film on the beach at the Gimli Film Festival (July 24 to 28, 2019) or a taste of Iceland in the form of vínarterta (layered prune cake) and pönnukökur (crepes) at the Icelandic Festival of Manitoba (August 2 to 5, 2019).
The Drive: 1 hour and 5 minutes north of Winnipeg
Birds Hill Provincial Park; Photo by Sandeep Singh, Courtesy of Travel Manitoba
An overnight camping excursion at Birds Hill Provincial Park
Just a short drive from Winnipeg, this large regional wonder features 30 kilometres of hiking trails and 7.2 kilometres of paved pathways for biking and rollerblading. Pitch your tent in the campground and spend the weekend exploring, swimming in the lake or taking a horse for a gallop at the
Birds Hill Park Ranch
. When it's time to eat, visit
Pineridge Hollow
, a quaint local restaurant and boutique that hosts Saturday farmers' markets throughout the summer. And if your visit falls in mid-July, you might even set your picnic blanket at one of the nine outdoor stages at the
Winnipeg Folk Festival
(July 11 to 14, 2019) and listen to some live music.
The Drive: 40 minutes northeast of Winnipeg
For the Intermediate Outdoors(wo)man: Spending time in nature gives you a buzz, but you're not a huge fan of bugs or sleeping on the ground.
Eco cabin at Falcon Trails Resort; Photo by Max Muench, Courtesy of Travel Manitoba
A weeklong retreat at Falcon Trails Resort
Get off the grid and book your stay in Whiteshell Provincial Park at one of Falcon Trails Resort's luxury eco cabins on High Lake, located a 45-minute forest hike from the resort's welcome centre. There are only six cabins on the entire lake, so you can revel in solitude while enjoying a paddle in your private canoe, taking a scenic walk through the woods or reading a book on your screened-in porch surrounded by the sound of birds. You may even wish to light a fire (in your wood stove or outdoor fire pit) to keep warm on cool evenings.
The Drive: 1 hour and 45 minutes east of Winnipeg
Caddy Lake Tunnels; Photo Courtesy of Travel Manitoba
A canoe trip through the Caddy Lake Rock Tunnels
Long rock caverns blasted out of granite during railroad construction, the Caddy Lake Rock Tunnels in Whiteshell Provincial Park add an extra frisson of excitement to a daytime lake excursion. Rent a canoe from
Green Bay Resort
or
Caddy Lake Resort
and paddle to the northern tip of Caddy Lake to discover the hidden entrance of the first tunnel, which leads through to South Cross Lake. Even longer and lower than the first (and known to house a bat or two), the second tunnel sits at the north side of South Cross and leads into North Cross Lake. Feel like a full-day trip? Visit both tunnels and rest on the shore for a picnic lunch.
The Drive: 1 hour and 50 minutes east of Winnipeg
For the Wilderness Wild Child: You love it all, from long drives out to the boonies to day-long hikes and camping under the stars.
Pisew Falls Provincial Park; Photo Co-Pilot Collective, Courtesy of Travel Manitoba
A hike/swim adventure at Pisew Falls Provincial Park
If the thought of wading through the rapids alongside a picturesque waterfall, casting your line to fish in the rumbling waters and lunching on the shore gets your heart beating, Pisew Falls Provincial Park is the place to drop your picnic basket. It's far enough north that it never seems crowded, which means you'll be able to enjoy the crash of the water without too much disturbance. Plus, there is a boardwalk with trails leading to Pisew Falls and another trail with suspension bridge that leads to Manitoba's highest waterfall, Kwasitchewan Falls. You'll want to pack your camera for the self-guided hikes, which will fill you with a sense of awe at the natural world around you.
The Drive: 7 hours northwest of Winnipeg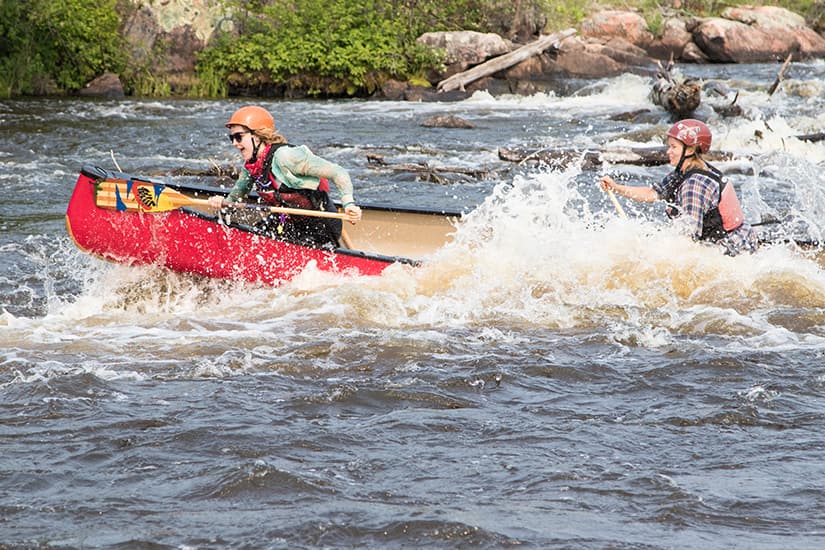 Manigotagan River; Photo by Wildhouse Media, Courtesy of Travel Manitoba
A five-day white-water canoe journey with Twin River Travel
Imagine the thrill of pushing through class I, II and III rapids, water flying over the sides of your canoe as your muscles pulsate after nine hours of paddling. Each night, you huddle around the campfire, surrounded by shadowy trees with sparkling stars overhead, then zip up your tent with the soothing sounds of the forest to lull you to sleep. If that seems like pure paradise, a five-night tour on the Manigotagan River with Twin River Travel should be at the top of your bucket list. All food, equipment and transportation to the trip's starting point in Nopiming Provincial Park are included, so all you have to do is paddle and enjoy the view.
The Drive: Transportation provided, 2 hours and 25 minutes northeast of Winnipeg
For even more inspiration and information for planning a summer adventure in the prairies, visit travelmanitoba.com.