Travel
Sandra's mini cottage getaway
Photography by Sandra E. Martin Image by: Photography by Sandra E. Martin
Travel
Sandra's mini cottage getaway
I didn't grow up with a family
cottage
but, boy, do I love the idea of one: waking up to a glittering lake framed by droopy evergreens, going for long hikes, playing raucously competitive rounds of euchre, getting the kind of restful sleep you only achieve amid deep, opaque darkness.
While we've been invited to friends' places a few times (and have always been
good guests
and remember to bring
hostess gifts)
, the desire to escape to a place that felt like our own has led us, on occasion, to rent.
Well. There's nothing quite like cooking three meals a day (plus snacks!) to cramp the vacation-y feeling out of your vacation. If you knowingly guffawed along with me at
this satirical article
in
The Onion
, you know what I'm talking about. Scrubbing the remnants of scrambled eggs from a non-nonstick frying pan in our last rented cottage (because there never seem to be nonstick pans in rented cottages), I thought, there's got to be a way to enjoy all the best parts of cottaging without having to endure the parts that feel like work.
Now, still fresh from our long weekend in Northern Ontario, I'm happy to say that I've found the answer.
Set on the shores of an island in Ontario's Lake Temagami, Ojibway Family Lodge has all the escape-from-the city woodsiness I've been craving, with absolutely none of the hard work that comes with cottaging or camping. When we arrived, after a five-hour drive from Toronto to the marina, followed by a 30-minute boat ride to Devil's Island at the north end of the lake, our bags were whisked away to a cabin with charmingly mismatched furniture—still rustic (there are oil lamps for light; no electricity and definitely nowhere to charge a mobile device), but with a thick-mattressed bed at the centre.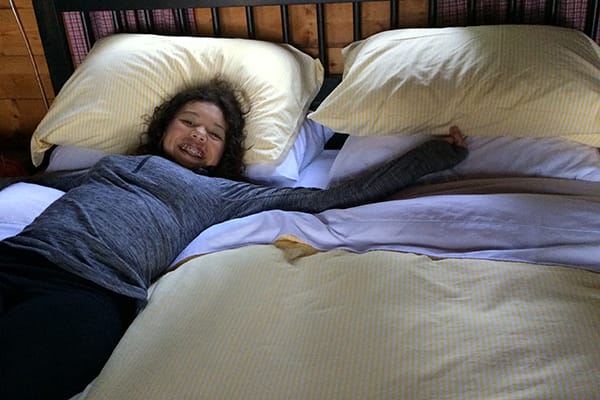 We opened the door to the bathroom: Yes—indoor plumbing! And hot water for showers in the stand-up metal shower stall.
"Dinner is at six," we're told helpfully. "We ring the bell half an hour before, then a warning bell five minutes before, and the final bell on the hour."
With an hour before mealtime, my eight-year-old, fidgety from the long journey, asks, "NOW can we go out in a canoe?" Given that I may have eaten a few too many road-trip snacks in the car, I'm happy to oblige; nothing like a brisk paddle to work up an appetite! Isobel and I head over to the dock while Bronwyn and their dad take advantage of the time to lounge inside our cabin's screened porch. I learn later that Ojibway Lodge has one of the largest fleets of traditional cedar-strip canoes. They're a novelty for this city girl.
Isobel and I pull into the dock just as the five-minute dinner warning bell sounds, and the meal is divine: saucy Parmesan-topped shrimp for the grownups and coconut-crusted chicken fingers ostensibly for the kids (many of the parents partake, too), with flourless chocolate cake for dessert. The Lodge doesn't serve wine, but will open your bottle (purchased on the mainland ahead of time) if you'd like to partake with your meal. Breakfast, lunch and dinner each day are included in the booking rates.
Two ladies we met that night—friends who do an outdoorsy vacation together one week each year, and this time picked Ojibway—tip us off to a motherlode of wild blueberries on an island that's about a 45-minute paddle and a 600-metre portage away from where we're staying.
There's
also an incredible view from Devil's Mountain just around the bed—a short paddle, but a challenging uphill climb. Suddenly, we have two goals for the weekend. In both cases, the journey is sweaty (good thing both my kids love canoeing!), but the payoff is completely worthwhile.
In between canoe treks, we try out the stand-up paddleboards and swim off the dock. The kids try their hand at fishing with borrowed rods and tackle; they even catch a few, but fall short of their goal, which is to catch a dinner-size bass.
After three of the best nights of sleep we've had in ages, none of us is quite ready to leave, but our little slice of cottaging-without-cottaging is over. (A nice feature for families with a tighter travel budget, or who are tight on vacation time, is that you can book a cabin for just three days during the peak weeks of the season, while most rental cottages have a one-week minimum.)
We've offered the majority of the blueberries we picked to the cook—who adds them to our Sunday-morning pancakes.
They
taste like summer.