Travel
Travel Canada: Winter vacations for people who hate skiing
Travel
Travel Canada: Winter vacations for people who hate skiing
It may seem like a love of winter is reserved only for those comfortable hurtling down the side of a mountain strapped to two skinny pieces of carbon fibre, but why should skiers have all the fun? This season, embrace the chilly temperatures and start a love affair with winter at one of these amazing Canadian destinations. From coast to coast to true north, there's something to suit every taste—no ski pass required.
Courtesy of The Niagara Parks Commission
Niagara Parks, Ont.
Perfect for: Family time
Everyone is familiar with the falls, but Niagara Parks offers a full lineup of adventures and activities for the entire family all year long. Escape to the tropics with a visit to the
Butterfly Conservatory
, where more than 2,000 butterflies can be found among the rainforest setting. Discover a stunning spectacle on the
Journey Behind the Falls
with reduced winter rates. And through to January 29, check out
Aura: Let It Glow
, the 33rd annual Winter Festival of Lights event that features a weekly fireworks series, seasonal blooms at the Floral Showhouse and a five-kilometre outdoor display of millions of dazzling lights.
@explorecanada
on Instagram
St. John's, N.L.
Perfect for: A pick-me-up
The grey winter months can leave you feeling less than inspired, but a trip to Jellybean Row in St. John's, N.L., will brighten things up faster than you can say "eh." The brightly coloured Victorian row houses aren't the only thing making people smile in St. John's. Canada's oldest city is home to unique boutiques, vibrant galleries and a whole host of local cuisine. You can watch icebergs drift past from atop Signal Hill or get closer with a boat tour through
Iceberg Alley
, where you'll spot 12,000-year-old chunks of Greenland glaciers and the occasional underbelly of a
humpback whale
.
Courtesy of
East Coast Surf School
Halifax, N.S.
Perfect for: Extreme adventure
Most people think of surfing as a summer sport, but the Eastern Shore region of Nova Scotia is gaining an international reputation as one of the best cold-water surf spots in the world. Don a wetsuit, gloves and booties, then take the plunge into the near-perfect swells at Lawrencetown Beach, 25 kilometres south of Halifax. There are plenty of surf schools and
rental shops
that will help you hang 10. When you've had enough of the waves (or you can't feel your fingers and toes), warm up with hot chocolate or a pint of locally brewed beer in one of the Halifax's lively pubs.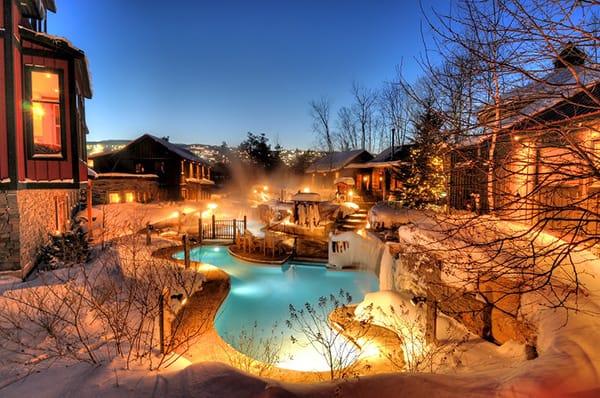 Courtesy of Scandinave
Collingwood, Ont.
Perfect for: A girls' weekend
The bustling town of Collingwood might be the best of all worlds for a winter vacation. Located on the shores of Georgian Bay, the area offers a plethora of shops, restaurants and cultural events, plus easy access to several ski resorts, if your friends just have to get in a day on the slopes. Start the weekend with a
moonlit sleigh ride and campfire
under the stars, then schedule a day at
Scandinave
, the outdoor Nordic spa, where you can hop from the sauna to the steam room to the cold plunge and back again, all with Blue Mountain as your backdrop.
@explorecanada
on Instagram
Yellowknife, N.W.T.
Perfect for: A romantic getaway
What could be more romantic than taking off with your sweetheart to an oasis of eco-luxury on the edge of the Arctic? Head to Yellowknife and visit
Blachford Lake Lodge
, where you can skate on frozen lakes, dogsled through the snow and gaze at the breathtaking lights of the aurora borealis, a cosmic phenomenon that can be seen from a steamy hot tub. Pick up a reminder of the journey in the form of an Inuit stone carving or, better still, a locally mined diamond, complete with its official Canadian polar bear insignia. After all, diamonds are a girl's best friend.
Courtesy of Paul Morrison/Whistler Blackcomb
Whistler, B.C.
Perfect for: Ski-bunny fun
f your travel partners insist on hitting the slopes, head to Whistler Blackcomb; a full calendar of winter events will keep you occupied while everyone else is freezing their buns off on the hills. Check out the weekly
Fire and Ice
Show, where the resort's best skiers and riders put on a free show involving big air jumps and a blazing ring of fire. Next, satisfy your tastebuds with
local wines and gourmet cuisine at 6,000 feet
, or soak up good vibes and good tunes at
Mostly Marley
, a birthday tribute to the legend himself.
Read more:
Why log cabins are the new beach resort
21 winter vacations at every price point